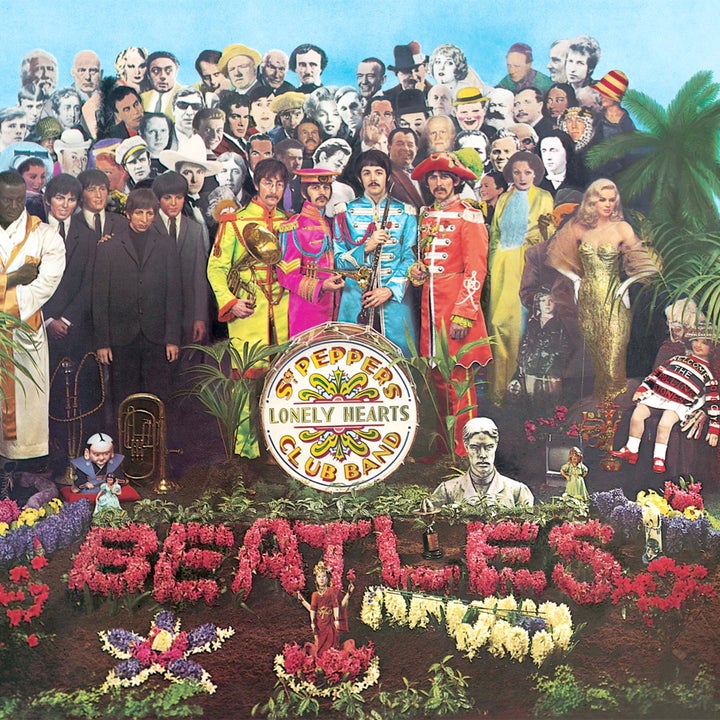 I was never much of a connoisseur about sound quality when listening to music. I admit that I don't always get excited when music-loving friends kvell about a detail in this or that remaster. But the remix of Sgt. Pepper, that album we've known for all these years, offers nothing less than a new emotional experience. It's not quite like hearing it for the first time, of course, yet it impacts as new. I haven't listened to Sgt. Pepper for a while, and as Beatles fans know, listening to Beatles music you haven't heard for a while can be startling—Wow, this!—so some of my reaction to the remix could be due to that effect, but I don't think so. "She's Leaving Home" never sent shivers down my arms before.
The remixed Pepper is a more perfect version of something that was already pretty perfect. It's extraordinarily familiar, but with more detail, more clarity, and more magic. Back in the '90s, the spacious feeling created by this album helped me through the claustrophobia of a full body MRI. The remix would serve that purpose even better.
As I listen, I find myself shifting perspectives, from an almost 61-year-old to an almost 11-year-old, and remembering how this record blew us away. The joyful anticipation of the next Beatles album was quickly followed by the delight of having our expectations exceeded—something the Beatles had been reliably doing for three-and-a-half years.
We played Sgt. Pepper over and over and over, scrutinizing the cover, as though it held all the secrets of the universe. We sang along and poured over the lyrics, quickly memorizing them. There was earnestness in our belief that the Beatles wanted us to read the words and think about their meaning­—why else would they have put them there?
The whole notion of Sgt. Pepper's Lonely Hearts Club Band, the band within a band thing, was playful and engaging. Paul's vision was that the album, as a physical object, would be "a magic presentation." And it was—even before a note was heard. When the needle hit the groove, the layered sound, generously sprinkled with surprising flourishes, made music come alive in a way we hadn't heard before. It was utterly novel. Gatefold cover, colored insert paper, cut-outs, and the music itself—the experience of the entire package—was exhilarating and challenging.
The richness of each song inspired the imagination—we saw the characters, the streets, the train station, and the settee in Rita's parlor.
The richness of each song inspired the imagination—we saw the characters, the streets, the train station, and the settee in Rita's parlor. We saw the cellophane flowers, and we saw Paul, with his ciggie, on a red double-decker bus.The theatricality of it, the lively variety show it presented, encouraged us to generate our own rich imagery. Fourteen years later MTV would forever change the way we listen to music and deprive us of that experience.
Rubber Soul and Revolver are most often said to be the Beatles' best, while Sgt. Pepper is accused of pretension, overproduction, and self-consciousness. Perhaps. But it's those qualities, and its audacity and authority, that add to its appeal. It's a dazzling display of creativity. It's also humorous and stern, and doesn't cut you any slack.
One of the most striking differences in the remix is the vocals, which sound more colorful, crisp, and pure. John and Paul's best vocals may be on this record. The backing vocals, too, are cleaner and clearer. The moments of call and response, Greek chorus-like commentary, and even simple "ooh" and "aah" filler seem more dynamic and laden with meaning.
The drums are also noticeably different—more present and definitive, but never overwhelming. We clearly hear and feel Ringo's drumming, perfect as always, elegantly serving the song. His vocal on "With A Little Help From My Friends" may be his best, too, as he again brings forth the endearing childlike persona we heard the previous year in "Yellow Submarine".
Sgt. Pepper is the supreme artifact of the Summer of Love. White middle-class teenagers were already flocking to San Francisco when the record appeared, and the work as a whole, especially "She's Leaving Home", reflected and further encouraged the new observations and new consciousness young people were embracing. Time magazine's July 7, 1967 cover story, an in-depth look at the "hippie subculture," said the movement had no real leaders, but that the Beatles were the closest thing. Indeed, even those of us too young to be real hippies recognized the Beatles as Hippies-In-Chief and could see and feel them driving the new cultural spectacles.
Sgt. Pepper serves as the colorful soundtrack to a brief moment in history when millions of Baby Boomers around the world questioned the dull, destructive ways of post-war Western culture and sought—with or without drugs—transcendent experiences and a more meaningful, authentic existence.
While every song on the record has its charming peculiarities, "Within You Without You" is a thing apart. Boomers I interviewed for my book Beatleness: How the Beatles and Their Fans Remade the World, recall loving it, hating it, being awed by it, and confused by it. Many just skipped it. It's always been one of my favorites, but listening to it today, at a moment so removed from 1967's optimism, the song seems most emblematic of the album's historical moment. Continuing the thread of "We Can Work It Out", "The Word", "Nowhere Man", "Rain", and Revolver's strangeness, it's the Beatles most overtly political and spiritual statement, whether intentional or not. It suddenly feels like the album's centerpiece, and it sounds exquisite.
If you grew up with Sgt. Pepper and haven't heard it for a while, you're in for a treat. But whatever your feelings about the Beatles, whatever kind of music you enjoy, I, along with the Beatles, guarantee, half a century later, that it will raise a smile and be an even more splendid time.
Calling all HuffPost superfans!
Sign up for membership to become a founding member and help shape HuffPost's next chapter
BEFORE YOU GO