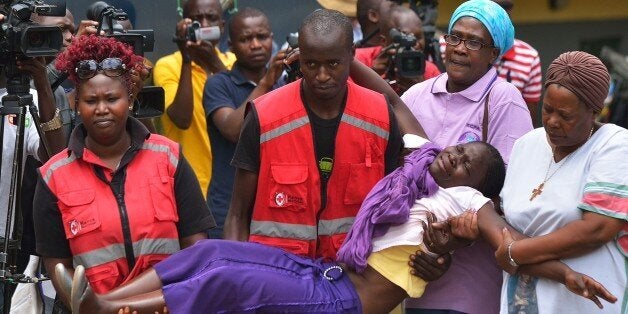 Every week, we bring you one overlooked aspect of the stories that made news in recent days. You noticed the media forgot all about another story's basic facts? Tweet @TheWorldPost or let us know on our Facebook page.
As dawn broke Thursday, some students at Garissa University in northeast Kenya were already at early morning prayers, while others remained fast asleep in their dormitories.
Then, all hell broke loose. Gunmen stormed the campus, executing students as they prayed, pleaded for their lives, or hid in closets and under beds. At least 147 people were killed in the 13-hour assault, before the four attackers blew themselves up as security forces closed in.
The Somali Islamist group al Shabab took responsibility for the attack, the deadliest in the African nation since al Qaeda bombed the U.S. embassy in Nairobi in 1998.
The group is a breakaway faction from the Islamic Courts Union, which briefly ruled Somalia in 2006 before it was ousted by U.S.-backed African forces. Al Shabab pledged allegiance to al Qaeda in 2012.
While al Shabab is based in neighboring Somalia, it has increasingly exported its campaign of violence into Kenya.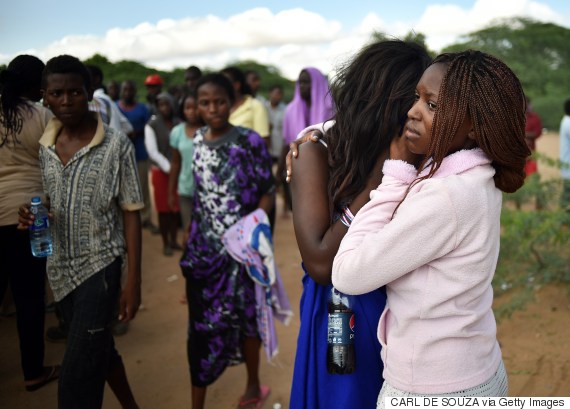 Students evacuated from Garissa University gather on April 3 before being transported to their home regions. (Carl de Souza/AFP/Getty Images
More than 600 people have been killed in al Shabab attacks in Kenya since 2012, including the 2013 assault on Nairobi's Westgate mall, the New York Times reports.
The group's operations in Kenya increased after Nairobi sent troops to help oust al Shabab from several of its strongholds in Somalia in 2011.
Under pressure in Somalia, the militants have stepped up recruitment of disaffected and impoverished youth in Kenya itself. One analyst told the BBC that around one-quarter of al-Shabab fighters are Kenyan. The man whom Kenyan authorities suspect of masterminding Thursday's attack, Muhammad Kuno, is a Kenyan of Somali heritage and a former headmaster of a school in Garissa.
An al-Shabab spokesman said the group attacked Garissa University because "the Christian government of Kenya has invaded our country."
Such sectarian rhetoric is a dangerous ploy to exploit religious tensions in Kenya. The nation's Muslim minority, around 10 percent of the population, bears the brunt of discrimination and police brutality, according to human rights groups. Al-Shabab militants target Kenyan Muslims with propaganda that compares their suffering with the problems in Somalia, Foreign Affairs explains.
Echoing earlier attacks, the militants who attacked Garissa University singled out Christians for execution, sparing some Muslim students.
On Friday, Kenyan Muslims gathered in Garissa holding signs reading: "We are all Kenyans. No to terrorism."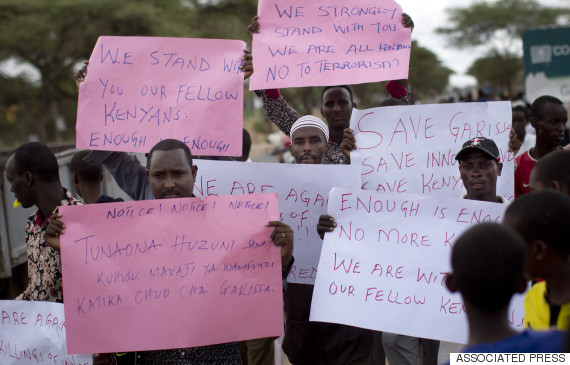 Kenyan Muslims demonstrate against the attack and in solidarity with those Christians targeted in the attack, on a street in Garissa, Kenya, on April 3. (AP Photo/Ben Curtis)
Despite its setbacks in Somalia, the group is still able to wreak havoc in the heart of the Somali capital. Just last week, the militant group besieged a Mogadishu hotel for 12 hours, killing 17 people, including Somalia's ambassador to Switzerland.
Calling all HuffPost superfans!
Sign up for membership to become a founding member and help shape HuffPost's next chapter
BEFORE YOU GO
PHOTO GALLERY
Garissa University Attack