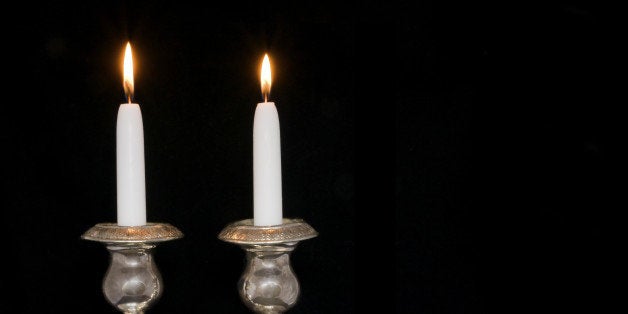 We're both powerfully drawn to the idea of a day of rest, particularly in an age when it seems increasingly unlikely that we can power down or ever power off. We spoke about our different ways of observing the Sabbath and what it has come to mean to us personally and to our families.
EB: How do you observe the Sabbath in your own home?
DG: Our observance is limited to Friday night dinner. It started very slowly, and in the beginning was not terribly meaningful. The kids threw the bread and talked during the prayers. But our ritual grew and has blossomed into a wonderful meal at our dining room table. The kids wear nice clothing, and we often invite guests, Jews and non-Jews alike.
My favorite time is the quiet while the kids are getting dressed and my wife is on the way home from the office. I make myself a martini and sit in the living room reading the weekly parsha [Torah portion] and commentary from Rabbi Jonathan Sacks. I really feel the week ending and my mind quieting. I find myself looking forward to this time like never before in my life. It's not just the meal we love -- featuring challah and hummus -- it's our conversation about who needs our special thoughts and prayers this week and what we are thankful for. What are your favorite rituals?
EB: I love lighting Shabbat candles at the onset of Shabbat. It helps me create a strong and firm demarcation of time. The next 25 hours in our home will be free of working, driving, cooking, using any type of screens or electricity. In fact, because I am very time conscious and want to make the most of every moment, I make it a practice to remove my watch before I light the candles as if to suggest that for this brief period, my life must transcend time. If we are indeed created in God's image, then we, too, must create and then we, too, must rest. My husband and I also bless each of our children every Friday night. Even when our children travel and have been halfway around the world, they call for a blessing every Friday.
David, did you find it difficult to start a Sabbath practice?
DG: It was difficult because I wanted it more than anyone else. And I was impatient. When the children were young I had just launched on this path of learning and deepening my faith, I was ambitious about making big leaps of progress. They were less interested. My children were more interested in sitting on Beth's lap or making strange noises during the prayers. Beth counseled me on more than one occasion to be patient and allow the ritual to grow.
We moved from having quick candle lighting, to very fast dinners at the dining room table to what we have now which is quite meaningful. And by the way, one of our traditions is having the kids clear the entire table. It's fantastic. And you?
EB: Although my family became much more observant in my late teenage years, I took to religion at about age 12; it was very hard for me to be Sabbath observant as a kid in a home which was not Sabbath observant. I think my parents thought the whole Jewish thing was a phase. Instead I made a life of it. I would advise anyone who is at the start of a rest ritual like the Sabbath, to take it slowly and grow incrementally into it. Recognize that it will be hard at first. It's a discipline but then it is a true and deep joy.
My oldest daughter wrote her college essay about our Shabbat table. I read it and had a good cry and realized that we had succeeded -- I hope -- in passing down the beauty of rest to the next generation. Without question, it's the glue of our family life. What made you persist from those difficult first attempts, David?
DG: What stands out for me is the sound of our children's voices in prayer. Each of them saying the prayer over the candles, the Kiddush or the Motzi (blessings over wine and bread). To hear these young kids learning the prayer and reciting it with intention creates for us a deep connection that speaks to the soulful bond we have through our tradition. The connection to something larger during Shabbat and at the same time deepening our family time together is also important.
EB: Are there any prayers which speak to you about Shabbat or that you say on Shabbat?
DG: We begin with a meditation that I find very special from the Sim Shalom siddur (prayerbook): "As I light these Shabbat candles, I feel the frenzied momentum of the week slowly draining from my body. I thank you, Creator, for the peace and relaxation of Shabbat, for moments to redirect my energies toward those treasures in my life which I hold most dear. Had You not in Your infinite wisdom created this Shabbat day, I may not have stopped in time."
I like this because Shabbat asks us to stop and observe rather than build and do. It asks us to pay attention to the need for rest and reflection in our lives and to consider the Divine Presence and what it means to us. And, of course, like your family, the blessing of the children creates a very powerful moment for us.
EB: I love going to synagogue on Friday night and being swept in the melodies. Everyone seems more friendly and unburdened by the week and ready to be taken elsewhere. Does any particular Shabbat memory have staying power with you?
DG: I spent a special Shabbat with my twins Ava and Jed while visiting my Dad and stepmother Kaye in Florida last winter. I suggested that we have a meal Friday night, and we invited my father's first cousin Stanley. Kaye made a great rack of lamb. I bought challah from a kosher market in the area. My Dad has never observed Shabbat, so my children and I led the way. Our conversation around the table was blessed.
After dinner, Jed sat with my father, me and Stanley and we looked through old photo albums of my dad's family and saw photos of his father, who died when Dad was just four. It was so clear that night what a void that had left in my dad's life. I was so thankful that he was there for me and that he was there for my kids who so enjoyed sharing an evening spanning across the generations. Days later, my father was really thankful for our Shabbat meal and time together. He felt the entire evening was elevated. These are the evenings when I feel the presence of God hovering.
Calling all HuffPost superfans!
Sign up for membership to become a founding member and help shape HuffPost's next chapter