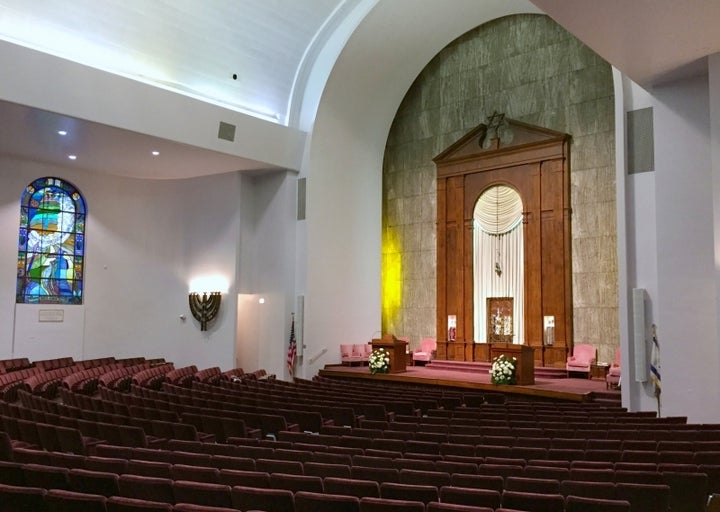 I had the opportunity to speak at Anshe Emet Synagogue in the heart of Wrigleyville in Chicago last night. The experience was nothing short of redemptive, here's why: As I was being introduced, I felt the anxiety I deal with rising—Would I say something wrong? Would I offend a community I have such respect for? Would they respond well to what I had to say about my experiences as a southern person of faith?
All these thoughts were running through my head in a fast-paced, racing fashion until Rabbi Michael Siegel, the Senior Rabbi of the synagogue rose to introduce me. He spoke in Hebrew at first and I quickly realized my seminary work in trying to learn Hebrew, but he took pity on me and explained: In the Jewish tradition, when there are no leaders, God raises up leaders to speak as God did with the prophets.
I took my place and delivered my thought on Ezekiel and the dry bones. I offered the liberating word that had been offered to me by God to them and encouraged them to speak up and speak out in the name of the God we worship. Then, after the service, we went and feasted on a traditional Jewish meal for the festival of Sukkot, a festival immediately following Yom Kippur.
We laughed, we made jokes about the Philadelphia Eagles to the resident Eagles fan, we drank bourbon and whiskey that was the strongest I've ever had. We celebrated the common bonds of friendship, of kindness, of faith, and of fellowship. I was extended hospitality I would never receive in most Mainline churches.
Rabbi Siegel and I spoke of the hope we had for our respective institutions. We laughed over the commonality of my favorite movie Keeping the Faith (2001) and we lamented the state of our country. In their magnificent synagogue, they had a stained-glass window that first read the passage from Genesis that said God created us in God's image and then quoted that famous American line, "All men are created equal." I will never forget that Rabbi Siegel looked at me and said "We still have work to do…"
I couldn't agree more, we still have work to do, and yet today I celebrate the common bonds of faith that brought me to Anshe Emet Synagogue in the first place. Though this has been an evevntful month in my life I found new beginnings last night as my hosts Marsha and Brian took me with their children to Wrigley Field (The Cubs won, by the way, I'm now a good luck charm to them!) I found fresh redemption as I was told over and over I did the right thing.
One of the most important things I experienced was the repetition of the Jewish faith. They repeated God's deeds of power in their lives and in the life of their community. Though I had to work to keep up with the Hebrew, I knew that they were worshipping the living and loving God I serve as well. Deeper than that during their repetitions they were called to remember where they came from and ultimately where they were headed—toward wholeness and completion in their beautiful faith.
My message in the repetition of my story is simple: As Rabbi Siegel said, "When there are no leaders, God raises up leaders to speak as God did with the prophets." May we be bold in our resolve to be raised up as leaders in this country where our leaders are failing us, may we show hospitality to the stranger in our midst. Who knows? We might be entertaining Elijah or angels. This is our common bond, this is our common hope.