This blog post is about women who cook within a religious context.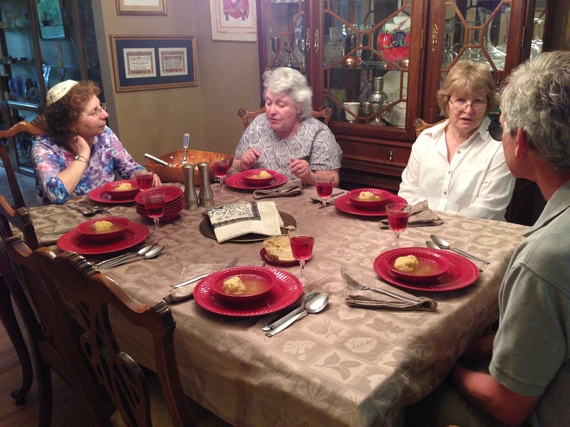 On a warm Friday evening in July, aromas of onions and meat waft through Barbara Meltz's home in Stanhope, New Jersey. She is busy putting the finishing touches to her Shabbat dinner -- Shabbat being the Jewish Sabbath, celebrated every week from sundown on Friday to nightfall on Saturday. She has baked an apricot kugel and is heating an already prepared beef brisket. On the stove, green beans are simmering with tomatoes and onions.
Her table tonight is going to be small, consisting of her husband Donald and a few close friends, including spiritual leader Rabbi Debra Smith, who is chopping cucumbers, peppers, tomatoes and scallions for an Israeli salad.
Just before sunset, the group gathers in the dining room to light two Shabbat candles. The wine (juice) is blessed and is followed by the breaking and sharing of bread (corn muffins). At each juncture of these time-honored rituals, short Hebrew songs are sung. They then sit down to eat.
The dinner consists of traditional dishes like matzoh ball soup, brisket and kugel, accompanied by beans and an Israeli salad.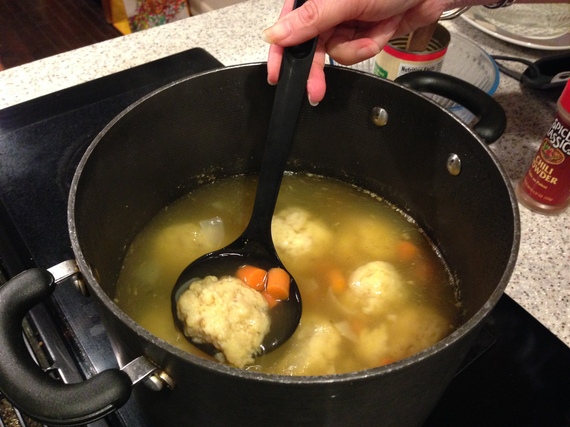 Both Barbara and Donald describe Shabbat as a linchpin of Jewish culture, as it separates the work week from the weekend, the mundane from the spiritual.
"Shabbat is a joyous experience, as you are entering into a spiritual realm," said Donald. "You are not to do any work and are supposed to be holy and concentrate on being a good person, connecting to what your idea of God is and to other people. To do work takes you away from that."
Rabbi Smith created this community, called Or Ha Lev (Light of the Heart), about a year and a half ago to help Jewish families bond with each other. Once a month hosts are matched with guests so that people can share Shabbat at home. When she moved to Stanhope, Sussex County, some 30 years ago, there were very few Jews around. Now they have about 45 families. As food is rarely cooked in synagogues, the home has now become a place to share traditional and ancestral meals.
Donald's ancestry is German, Russian and Viennese. For him, food represents a tangible connection to his lineage.
"For me, all it takes is a bagel and lox to go back to a place where I came from 60 years ago. These foods put me back in the presence of lost grandparents, aunts and uncles. It is a good feeling."
For Barbara, it is not the food that makes the Shabbat holy but the fact that she shares it with family and friends.
"As someone who is Jewish, you are so used to being in the minority that here I don't have to make excuses and to explain. Within this setting I don't feel unwanted or unaccepted."
Ingredients:
1 lb. noodles
1 stick margarine
1 8-oz. package cream cheese
4 eggs
1 cup milk
1 12-oz. jar apricot preserves
Cinnamon
Instructions:
Cook and drain noodles. Mix margarine and cream cheese together, then add milk and eggs. Add to noodles, stir in apricot jam.
Pour into a buttered 9x13-inch pan.  Sprinkle the top with cinnamon.
Bake for 1 hour at 350 degrees.  Let stand 5 minutes before serving.
REAL LIFE. REAL NEWS. REAL VOICES.
Help us tell more of the stories that matter from voices that too often remain unheard.