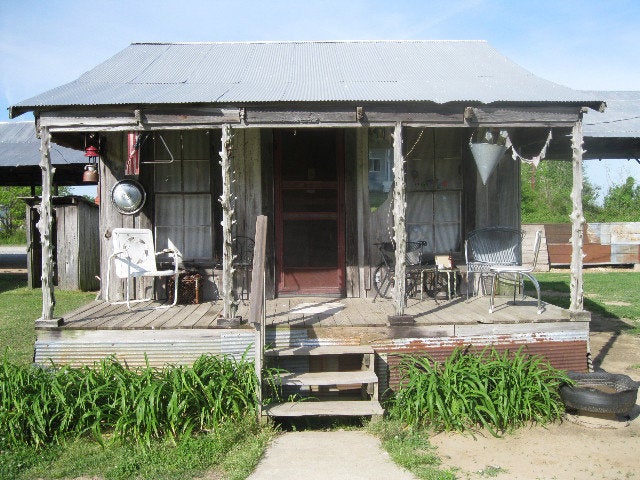 "I went down to the crossroad, fell down on my knees Asked the Lord above, "Have mercy now, save poor Bob if you please" -- Robert Johnson, Cross Road Blues
The spiritual heart of the Mississippi Delta is found at the intersection of routes 61 and 49, the crossroads where it's said that Robert Johnson traded his soul to the devil in exchange for becoming a legendary bluesman.
Satanic mythology aside, the blues grew out of the hardscrabble life of the African-Americans who worked the cotton fields, toiling under the blazing Mississippi sun to eke out a subsistence living. The days of the sharecroppers are long gone, but in the Delta, poverty remains entrenched. It's the poorest region in the poorest state, where illiteracy and infant mortality are high, household incomes are low, and the population shrinks as more storefronts are boarded up and factories are shut down.
Solutions to the Delta's chronic ills are hard to come by, but one small bright spot in recent years has been an uptick in tourism. It's only in the last decade or so that Mississippi saw fit to capitalize on its music heritage, but there is now a well-traveled Blues Trail highlighting important spots throughout the state. One of the most popular stops is Hopson Plantation, the spread where the great (and still alive) Pinetop Perkins once drove a tractor and where wholly mechanized cotton farming was introduced. It changed the Delta economy for good, leaving lots of abandoned sharecropper's shacks as people went north looking for work.
Today, guests of the Shack Up Inn can spend the night in one of those authentic sharecropper's shacks, much like the one Robert Johnson died in, after being poisoned at the age of 27. Owners Bill Talbot and Guy Malvezzi didn't have to make any Faustian bargains to run what may be the coolest hotel in America -- all they needed was the karmic good grace that comes to entrepreneurs yearning to Wang Dang Doodle all night long.
"We started this place because we wanted a spot to drink beer, listen to the blues, and play music whenever we wanted," says Talbot, "You certainly can't accuse of us of thinking this through any step along the way."
Although there are still viable cotton and soybean fields surrounding the Shack Up Inn, the Hopson Plantation sat dormant from roughly 1972 to1995. About that time, Talbot, Malvezzi and three others (one whose family owned part of the land) got the idea to buy a sharecropper's shack, refurbish it to the degree it was sleepover-worthy and recreate a bit of Delta history. One led to two, and soon blues-loving Europeans were asking to let it for the night. (You do know the Rolling Stones are named for a Muddy Waters song, right?)
In 1998, the Shack Up Inn made roughly $15,000, and the owners began to see that the joint could be a whole lot more than a gimmick. What started as a simple place to boogie in peace quickly blossomed, but the banks didn't see it that way. A Small Business Administration rep even broke out laughing at the idea of old beat-up tin-roofed wooden shacks serving as collateral. "A few years into it, one of those bankers called me up, wanted to lend us money, so I asked him why," Malvezzi says. "He said, 'I keep seeing all these new faces, and when I ask what they're doing in town -- 'Shiiittt,' they all say, 'We're stayin' at the Shack Up Inn.'"
The inn's growth has been impressive because they do zero advertising. Revenue is a "few hundred grand a year" -- not too shabby since the rooms go for $65 to $90 a night. Talbot guesses 10,000 visitors stayed the night last year, and they now have their pick of 10 shacks, many of the "shotgun" variety; 10 bins (rooms inside a repurposed cotton gin); a three-bedroom home that used to double as a lobby and Talbot's home; and the 600-square-foot "Sky Shack" suite that overlooks the barebones music stage and dance floor.
Each shack has its own moniker, and my two-night stay was in the "Cadillac," one of the smallest, but coziest rooms. Rustic to be sure, but the Cadillac had the only three modern conveniences that matter: decent Wi-Fi, indoor plumbing and (mercifully) air conditioning. It has its quirks -- the TV only gets a blues channel, the hot and cold knobs in the showers were wrenches, there's an in-room organ, and the wooden walls are covered in guest autographs -- but that's all part of the charm at the Shack Up Inn. "If everything works, you're lucky," Malvezzi says with a chuckle.
Good old-fashioned porch sitting is one of the Shack Up Inn's primary pastimes, so owners go out of their way to keep the grounds low-key. Tour buses aren't allowed, and they actively encourage "drunken frat boys" to find shelter elsewhere. The quirky farmyard chic includes old tractors, plows, cotton-picking contraptions, a large poster encouraging guests to "Let Elvis Rock You to Sleep" and a tree decorated with empty bottles that's supposed to ward off evil spirits. The Shack Up Inn has a lazy country Sunday vibe, but that isn't the owners M.O. Plans in eternal flux include a recording studio for the live performances, "Shackdominiums" and as many rooms as they can fit on their expansive acreage. "During Clarksdale's festival weekends, we could easily fill another 200 rooms," Talbot says. "If there's a saturation point, we don't know what it is, so we'll keep feeding the machine."
One wrinkle with success is that there aren't any shacks left within a 25-mile radius. It gets cost prohibitive if the circle widens, but Talbot says they will keep scouring. In the interim, "new-old" shacks built from scratch have given them the opportunity to plant a green flag. The latest shack, the "Tinth," is the first constructed with eco-friendly materials. The Shack Up Inn is also going to receive federal stimulus funds for solar panels to try and make the place greener -- not an easy task. "We're good at reusing old stuff, but these shacks aren't efficient," Talbot says. "They're hard to heat and hard to cool."
Things have changed a bit since the Shack Up Inn first opened: Malvezzi and Talbot (and one shareholder) are now the owners, and one of the former partners also offers sleeping quarters on the grounds of Hopson Plantation. Anywhere else, that might seem awkward, but it doesn't seem like a big deal. Besides, the squabble is a boon for guests. The Shack Up Inn has no bar, but the Hopson Commissary is open every day for happy hour, serving the tasty local Lazy Magnolia beers and hosting regular cookouts and Sunday music jams.
The Mississippi Delta remains a profoundly sad place, however. The haunting old blues tunes don't seem so anachronistic amidst the endemic rural poverty. It's hard to see how American roots music culture can replace what's been lost in farming and manufacturing, but it's a start. In downtown Clarkdale, Morgan Freeman opened both a fancy restaurant and a blues club, there are a couple of museums, a handful of crafts stores and live music Tuesday-Sunday at a variety of spots, including the incredible real-deal "juke joint," Red's Lounge.
And a few miles south, out on ole' Route 49, sits a true American original helping to breathe life back into the Delta. To live and breathe the blues, don't bother with the devil.
Just Shack Up Inn, y'all.
The original version of this article appeared on AOL Small Business on 7/30/10.
Calling all HuffPost superfans!
Sign up for membership to become a founding member and help shape HuffPost's next chapter