New York state prison authorities have continued the illegal practice of shackling pregnant inmates during labor, fail to provide most female prisoners with enough sanitary napkins and toilet paper, and do not train medical staff to work with trauma survivors -- a crucial oversight, since the majority of incarcerated women have histories of abuse and sexual violence.
These are among the findings of a scathing report released Thursday by a nonprofit group that monitors prison conditions.
Reproductive health care for women in state prisons is "woefully substandard," according to the Correctional Association of New York report. Drawn from interviews with almost 1,000 incarcerated women over a five-year period, the result is a comprehensive and critical look at inmates' experiences with women-specific health care.
"We looked at reproductive health because it's one lens that you can really see the specific experience of women in prison -- not just the dehumanization that defines life in prison in general, but the specific dehumanization that women go through," said Tamar Kraft-Stolar, author of the report and director of the Women in Prison Project at the Correctional Association.
The report concludes that incarcerated women in New York frequently face poor-quality care and "assaults on their basic human dignity and reproductive rights."
A spokesperson for the state Department of Corrections and Community Supervision did not immediately respond to requests for comment on the report.
Of particular note, the report found that 23 of 27 women surveyed who gave birth after 2009 said they were shackled at some point during their childbirth experience, in violation of a state law passed that year prohibiting the use of shackles on pregnant women during labor, delivery and recovery.
Maria Caraballo, a formerly incarcerated woman, said she was illegally shackled during her labor in 2010, and described her harrowing experience in a press call Thursday.
"I had one hand cuffed to the bed through everything," she said. "When I was pushing, when I was in pain, when my daughter actually came out. The whole time, I couldn't even sit up ... they even kept the shackle on me when they were taking out the placenta and stitching me up."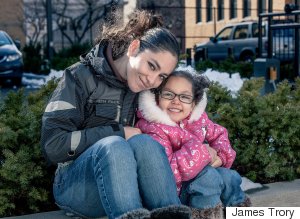 Maria Caraballo, who is now an advocate for women in prison, with her daughter.
She said after her daughter was born, she was only able to hold her in one free arm for a few minutes.
"In total, I was shackled for 8 hours," Caraballo said. "The whole experience was traumatizing, it made me feel awful and like I had no voice."
While the state has reduced the use of shackles on pregnant women between the time they arrive at a hospital and their delivery, women are still routinely shackled on the way to the hospital, immediately after giving birth and on the return trip to prison, the report found.
Shackles can include handcuffs, a black box that grips the chain between the wrists, a waist chain attached to the handcuffs, and ankle shackles.
Three women who gave birth by caesarean section said they were forced to wear waist chains on their way back to prison, just days after surgery. One woman reported that the shackles caused her "a lot of pain."
Most women surveyed said they had a negative experience giving birth while incarcerated, with their main complaint being the inability to have a support person in the hospital with them.
"These childbirth experiences are punishing for women," Kraft-Stolar said. "Women are robbed of having a dignified and safe childbirth."
In New York state, approximately 4,000 women are incarcerated in any given year. Of those, around 40 will be pregnant and 30 will give birth while incarcerated.
One of the most puzzling findings of the study: More than half the women surveyed said they were not given enough sanitary pads each month. To get more supplies, women reported having to apply for a medical permit.
"Women have to go through this humiliating and unjustified process of having to get a medical permit when the underlying issue is that women just aren't getting enough sanitary napkins to begin with," Kraft-Stolar said. "This stems from prison staff viewing women as manipulators and just trying to 'get one over' on staff."
At Bayview Correctional Facility, which closed in 2013, doctors reportedly required women to show a bag filled with used pads if they wanted more.
While pads and tampons can be purchased at prison commissaries, most women can't afford them, Kraft-Stolar said. "A woman making 17 cents per hour (a common prison wage) would have to spend her entire week's earnings to buy a single 20-pack box of tampons or pads," the report notes.
"Also, women don't get enough toilet paper," Kraft-Stolar said. "Women get the same amount of toilet paper as men, although biology dictates that women need more."
The report also identified timely access to gynecological care as a major problem.
A majority of women surveyed said they were unable to see a doctor for gynecological care when they needed it. One significant hurdle appears to be the scarcity of doctors. At Albion, which holds 1,000 women -- New York's largest correctional facility for women -- the only doctor offering on-site gynecological care is available a mere 16 hours a week.
Another issue raised by the Correctional Association is a lack of training for medical staff on how to treat patients who have a history of trauma. The majority of incarcerated women are survivors of abuse or sexual assault, and medical examinations such as pelvic and breast exams can be traumatizing.
According to a 1999 report by the federal Bureau of Justice Statistics, 57 percent of women in state facilities had a history of physical or sexual abuse before being incarcerated. A study that same year looking at Bedford Hills Correctional Facility, New York's only maximum-security prison, found that 94 percent of women surveyed had experienced physical or sexual abuse. Three-quarters of the women reported they were survivors of domestic violence.
The Correctional Association's report recommends that medical staff be trained to work with survivors of trauma, and that women be allowed to choose female doctors for gynecological care. Incarcerated women are currently unable to choose the gender of their doctor, and many are assigned to men.
Said one woman quoted in the report, "Train the physicians to be more personal and gentle. It's hard enough dealing with being incarcerated. Kindness is essential."
Women in prison also have virtually no access to contraception alternatives, the report found.
Condoms are the only option available to women who spend time in the community, such as those who participate in a work release program, or those who are allowed to spend the night with a partner in a private trailer. "This is problematic for women who do not want to use condoms and for women who are concerned about asking their husbands to use a condom or who have husbands who will not agree to use a condom even if they are asked," the report says.
Even women who use birth control for medical reasons other than to prevent pregnancy face serious challenges in getting it prescribed in prison.
"The 'no birth control' policy seems to extend even when it has nothing to do with pregnancy prevention, and that is to the serious detriment to women's health," Kraft-Stolar said. "These are things that we take for granted on the outside, basic access to things like contraception that are so important for women's overall agency and even economic security."
She said the best way to protect women from the harms outlined in the report is not to incarcerate them to begin with.
"We should be looking at alternatives to incarceration and community-based approaches that are more holistic," Kraft-Stolar said. "This is a real signal that we need to figure out better solutions than just locking people up for issues that are are social and economic and not criminal at their core."
The rate of women incarcerated in the U.S. has shot up over the past four decades. Approximately 111,300 women were in American prisons in 2013 -- a 900 percent increase since 1977. According to the Sentencing Project, the number of women in prison is increasing at nearly double the rate for men.
More than 60 percent of women in New York state prisons are women of color, even though they represent only 35 percent of the state's female population.
Before You Go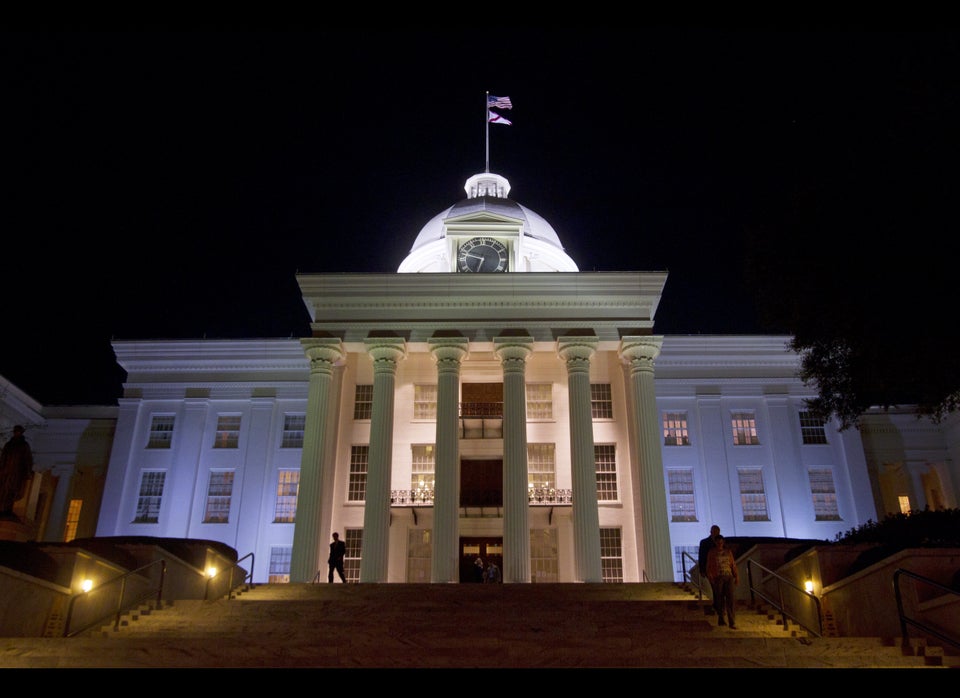 U.S. State Capitol Buildings
Popular in the Community