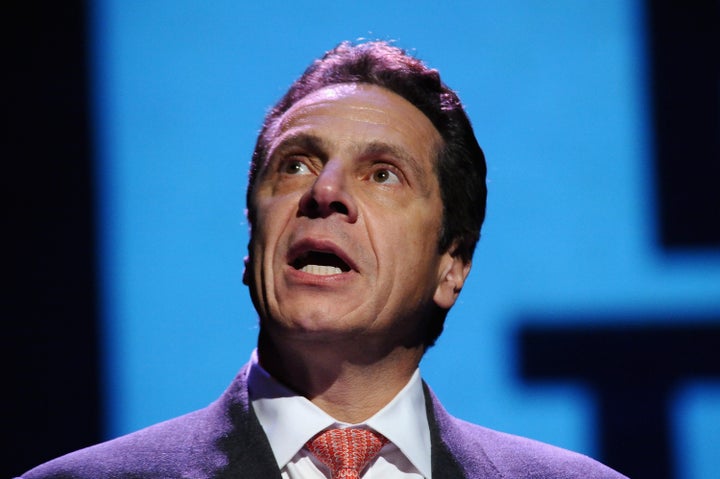 New York Gov. Andrew Cuomo (D) signed legislation on Tuesday banning the practice of shackling incarcerated women in New York during pregnancy.
Under existing law, New York already bans the use of shackles -- which include handcuffs, ankle restraints and heavy waist chains -- on women while they are in labor and immediately afterward. But the new law extends the ban to cover a woman's entire pregnancy and an eight-week period after delivery, making the measure the most progressive in the nation.
"These common sense reforms strike the right balance that protect the health and dignity of a pregnant inmate, while also addressing public safety concerns," Cuomo said in a press release. "This legislation has made New York's criminal justice system fairer and stronger and I thank the sponsors and advocates who worked so hard to get it passed."
The law also bans correctional officers from being in the room while the delivery is taking place, unless specifically requested by the woman in labor.
Currently, pregnant inmates are shackled while being transported, including on trips between prisons -- which Cuomo said can take more than 10 hours -- and on trips to see a physician.
Shackling is associated with health risks that include an increased risk of blot clots and falling, Cuomo said.
"I feel liberated for all the women who will not have to go through what me and so many others had to go through."
Tamar Kraft-Stolar, co-director of the Women and Justice Project and former director of the Correctional Association of New York's Women in Prison Project, called the practice of shackling pregnant women "barbaric." She credited the new law's success to the advocacy of incarcerated women who spoke out about the dehumanizing practice.
"New York standing up and saying 'We will no longer inflict this kind of brutality on women' is fundamental," Kraft-Stolar said. "We see this as a critical step forward to end our destructive policies of mass incarceration of women and all people."
She said that New York's law appears to be the most progressive in the country. Most states don't ban the shackling of pregnant women at all, she said, and others have some restrictions on shackling, but aren't as stringent.
No other state that she knows about bans shackling for the entire pregnancy and eight-week period after a pregnancy's outcome, which includes abortions and miscarriages, Kraft-Stolar said.
Donna Lieberman, executive director of the New York Civil Liberties Union, called it "an embarrassment" that New York was still shackling incarcerated pregnant women at all.
"New York has taken much too long to right this wrong, but in righting it, New York has gone further than any other state, I believe," she said. "Finally, we as a state are reversing course on decades of misguided policies that were all about locking people up, throwing away the key and treating them as harshly as possible."
Miyhosi Benton, 26, a leader in the anti-shackling movement in New York, said she was ecstatic. Benton was shackled during her pregnancy and immediately after her delivery in 2010.
"I personally feel like the shackling is very traumatizing and affected me in ways that I still suffer from today," she said. "I feel liberated for all the women who will not have to go through what me and so many other women had to go through."
Melissa Jeltsen covers domestic violence and other issues related to women's health, safety and security. Tips? Feedback? Send an email or follow her on Twitter.
Popular in the Community