ALEXANDRIA, Va. -- Military officials gave a congressional delegation a tour of Guantanamo's secretive Camp Seven last week and told a visiting congressional delegation that the camp's high-value detainees enjoy the Shades of Grey series, Rep. Jim Moran (D-Va.) told The Huffington Post.
"Rather than the Quran, the book that is requested most by the [high-value detainees] is Fifty Shades of Grey. They've read the entire series in English, but we were willing to translate it," Moran, who advocates for closing the facility, told HuffPost. "I guess there's not much going on, these guys are going nowhere, so what the hell."
The Fifty Shades anecdote came during a tour which included the commander of the base, the deputy commander of the base, the head medical official and the officer in charge of Camp Seven, according to Moran. "We had everybody there, there was no dispute of that," he said.
Though providing the congressional delegation a tour of the camp -- a view of which is also available on Google Maps -- military officials will not acknowledge its existence to the press. When asked about what is also referred to internally as Camp Seven, officials decline to answer questions on or regarding the subject. It's not surprising, then, that officials would not say whether the high-value detainees enjoyed the erotic books. Guantanamo has a detainee library including DVDs and books, but sexual content is typically screened.
"We don't discuss our high-value detainees except in the most generic terms," Lt. Col. Todd Breasseale told HuffPost. "Further, we do not discuss the assertions made by members of Congress."
On the trip with Moran were Sen. Tim Kaine (D-Va.), Reps. Frank Wolf (R-Va.) and Gerry Connolly (D-Va.) and William Lietzau, the Pentagon's chief of detainee policy, who just announced he is stepping down.
Moran, who last visited Guantanamo in 2006, said things seemed much more organized on this trip.
"In 2006, I didn't get the sense they had their act together like they do now, they anticipate every question that's going to be asked, the facilities look fairly clean, they're ready to show you everything that's been discussed outside the prison in terms of force-feeding, isolated confinement versus communal living, etc. and we were able to see the communal living," Moran said. "I was within a foot or two or three of the prisoners in the communal setting, but of course those are the well-behaved ones."
Conditions in Camp Seven more closely resemble maximum security federal prisons, said Moran, who noted that none of the high-value detainees were taking part in the hunger strike. There are believed to be 15 or 16 high-value detainees living in Camp Seven, but military officials wouldn't confirm those numbers directly to the press. Moran said that high-value detainee Ramzi bin al Shibh "screamed the whole time" the delegation was in Camp Seven and prison officials said the other high-value detainees don't like him.
"He hears voices and he complains all the time, and he really is disruptive. So they say if the other 15 could have one wish granted it would to be to get rid of their colleague," Moran said.
Moran said the Obama administration could be doing more to try to close Guantanamo and he doesn't expect upcoming elections will make it more difficult on the congressional side.
"It's not going to change in the elections of 2014, and I just don't see closing it down as working," he said.
"The White House could be doing everything if it wanted to do so, if it chose. It has the executive authority to waive this," he said. "I think there are congressional, legal restrictions, but it's also political pushback. I think the real area is political liability. This whole thing has to be seen in a political context."
Moran said President Obama has the bully pulpit necessary to convince Americans of the need to close Guantanamo.
"I think the president is on the right page, he's of the right mind, but I don't think he's willing to do what would needed to be done," he said. "I'm not sure I understand why, because he's not going to be up for reelection, and I do think this would be something that would matter because it certainly mattered to him when he was running."
Support HuffPost
The Stakes Have Never Been Higher
Before You Go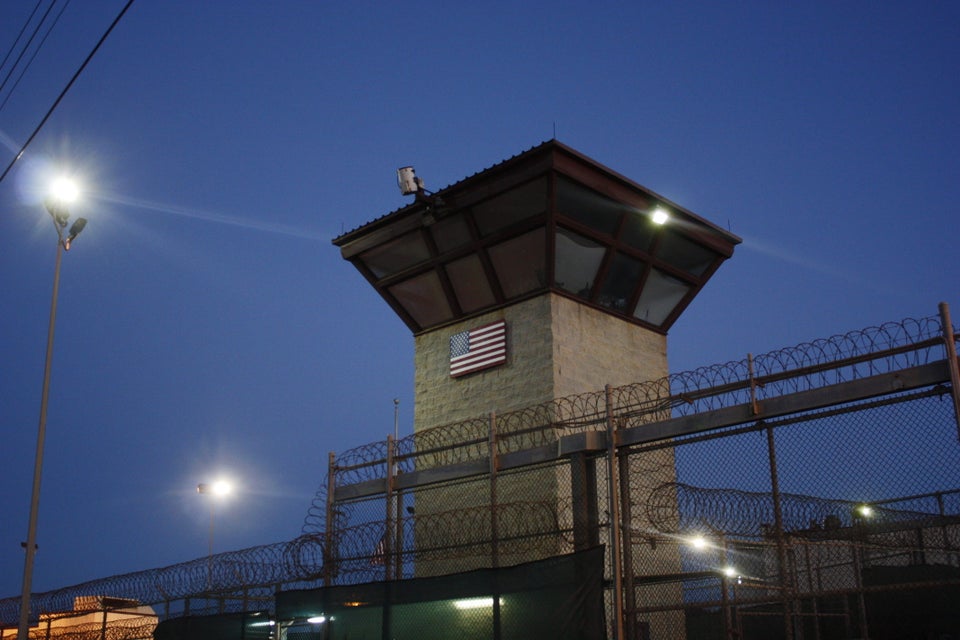 Inside Guantanamo's Prison Facility
Popular in the Community