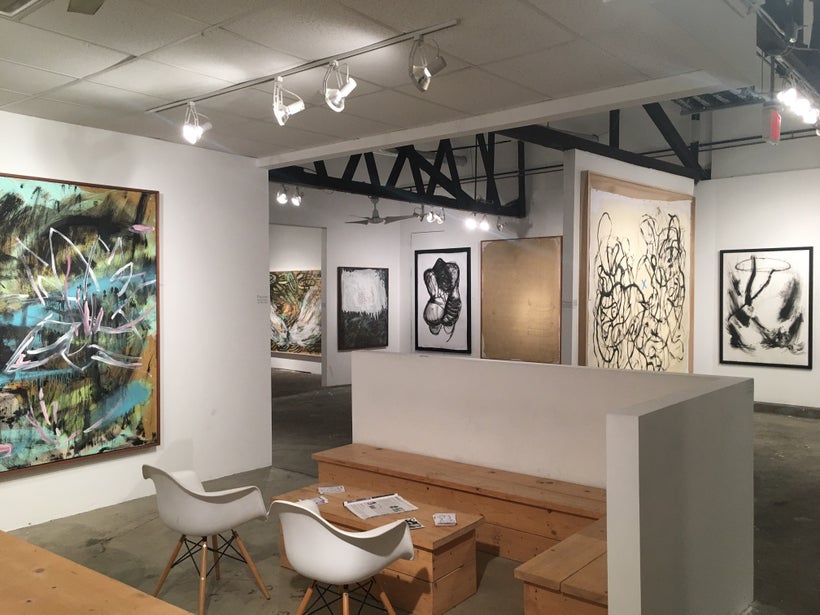 It is always a pleasant surprise to find thought-provoking Contemporary Art when visiting a seaside town, especially when you are expecting to find the all too familiar sleep-inducing seascape offerings. One such space to see art that is challenging and current is OneWay Gallery in Narragansett, Rhode Island. With a tidy amount of twelve artists represented here, in a space that has both a rough and elegant feel, there is more than enough edge and energy to satisfy most any art aficionado. Their current show, Stephen Cook: "Automatic", features over a dozen substantive works that reveal varying shades of spontaneity built around an array of unique experimental compositions. In considering the exhibition's title, one must assume the artist is working as much with his subconscious as he is with any predetermined purposeful directness.
For instance, Counting Chips (2017), a mixed media painting that the artist connects with his observations of the spiritual degradation that materialism can cause, reminds me more of that awkward place between permanence and impermanence. In viewing the sealed or preserved look of a drawing under a direct pour of epoxy, combined with its overall sepia tint, I get more of a sense of fading timelessness, while the drawing itself has a certain familiar iconic presence. If the viewer reads a portion of the artist's statement, "the first incarnation of Counting Chips was sketched in 2000 on a napkin in a New York City bar", they will have a better understanding of the graphic immediacy of the style or approach of the featured drawing.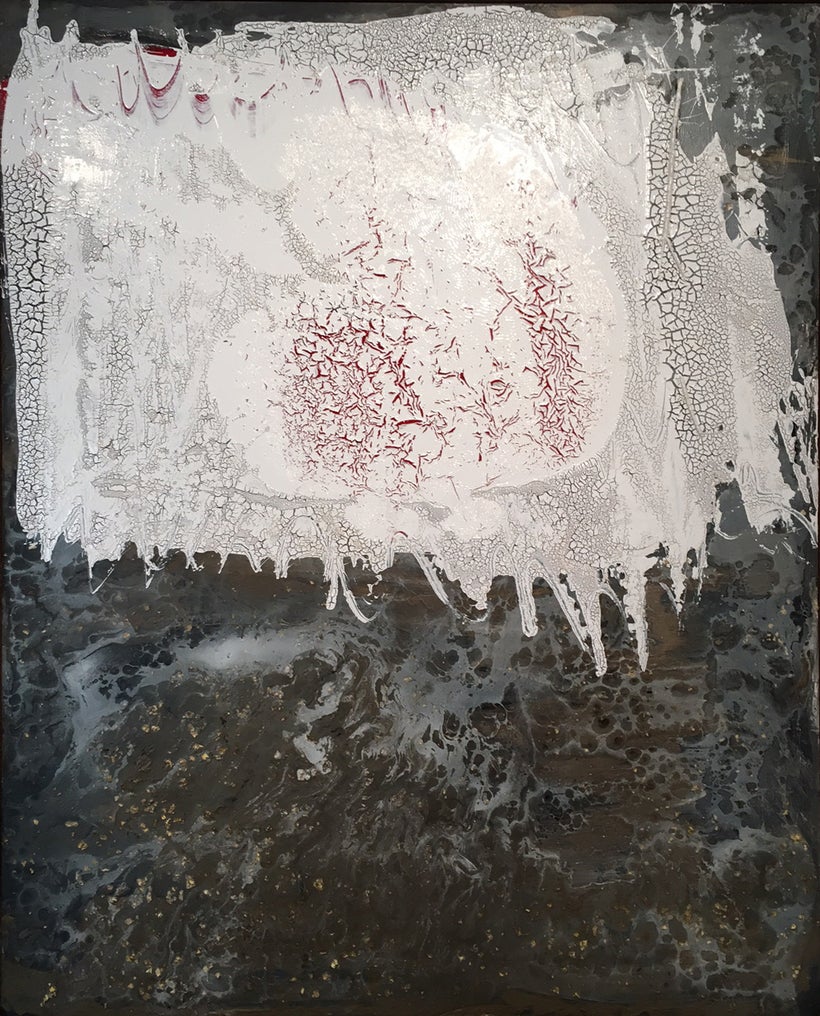 Then you have the very tactile, and perhaps, the most experimental painting in the exhibition 44 (2017). Here, the artist mixes an array of not so compatible media resulting in a number of drying cracks in the predominately white area, while the marble-like swirls of opposing pigment separations in the preliminary gray base have a level of weight that recedes just enough to create depth via contrast. 44 may remind some of the art movement CoBrA, when artists from Copenhagen, Brussels and Amsterdam created some of the most immediate and intuitive experimental art of the post war era.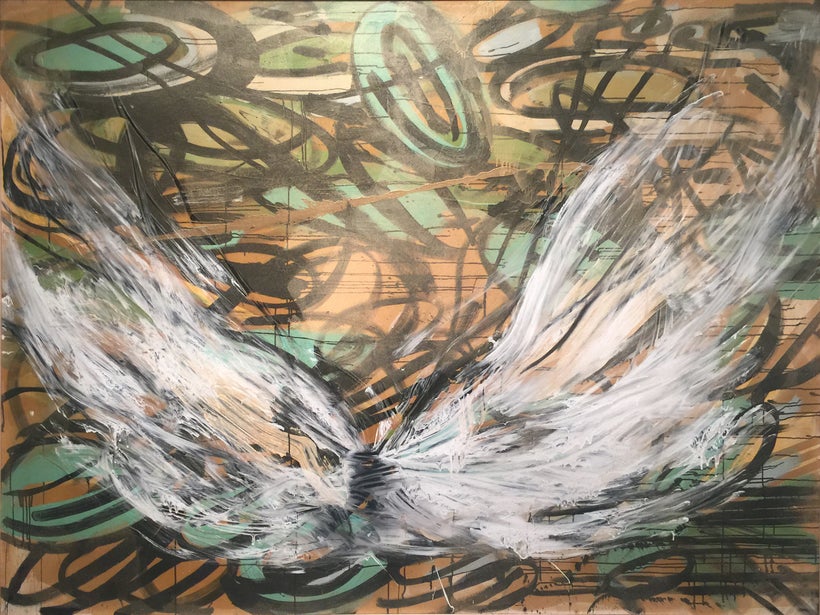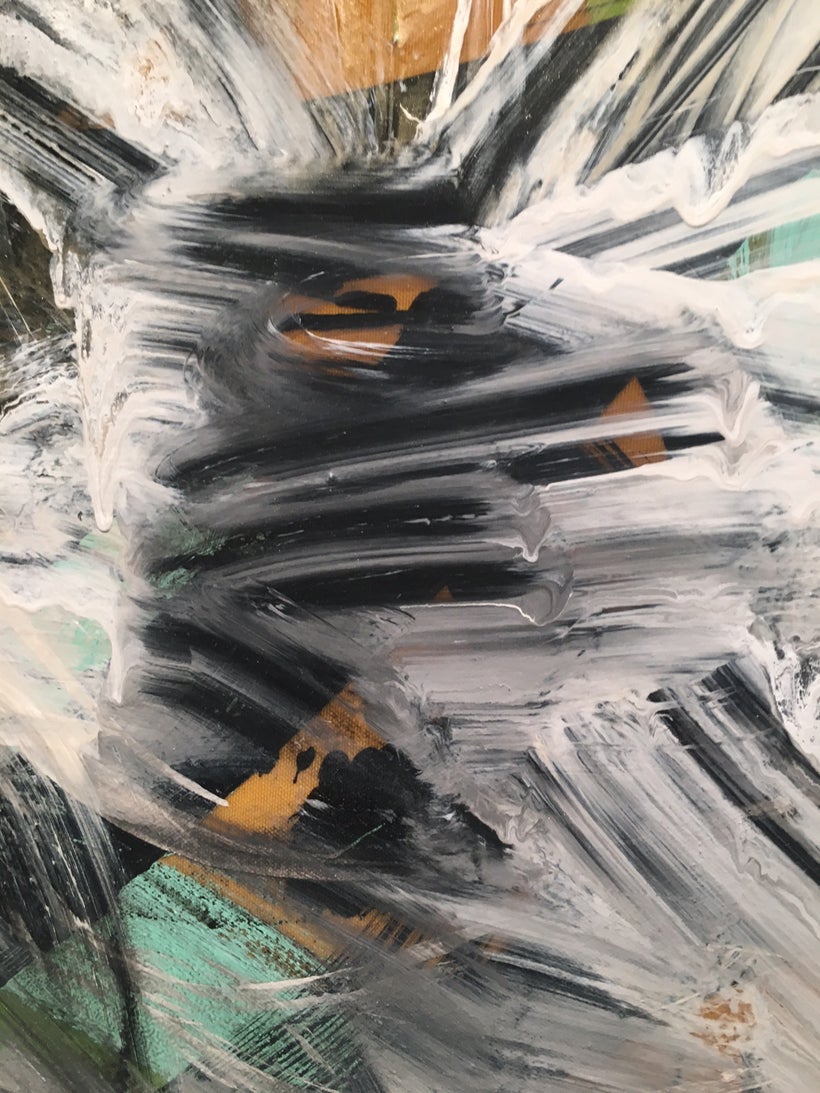 As noted in the wall text, The Becoming (2017) represents to Cook, "the artist's personal metamorphosis over his two decade career." Not seeing or knowing this before hand, The Becoming looks at first glance, like a clash of graffiti art, the kind of thing you see on the street level exteriors of soon to be demolished or revitalized buildings of changing, big-city urban neighborhoods, where there always seems to be a battle between rival artists who quickly deface the efforts of others. Upon further inspection, the lucid and liquid swirls and swarms of paint, especially where the 'wings' meet (detail above), is a tour de force of animated abstraction. As a result, the energy here is palpable and at times even frenzied, while the palette, in contrast, is calming and Modern.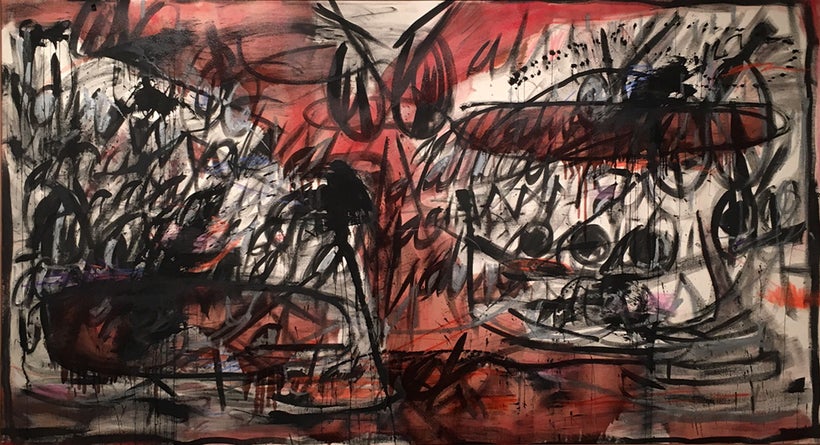 And like The Becoming, The Crow Flies at Midnight… 12:22 (2017) has that same layered, street art look. With The Crow Flies, the artist is looking back at his time in Italy that brought him a different understanding of how Italians, who, in contrast to Americans, welcome the chance to converse and connect with strangers. With its whirlwind jumble of symbols of cartoony eyeballs, cars, rows of rooftops, writing and rage, the forcefulness of the narrative is both imposing and enticing. Like the final seconds of a disastrous dream sequence, we are witness to a crescendo of calamity with little hope of salvation.
Stephen Cook: "Automatic" runs through September 30th. OneWay Gallery is located at 140 Boon Street, Narragansett, Rhode Island.
This post was published on the now-closed HuffPost Contributor platform. Contributors control their own work and posted freely to our site. If you need to flag this entry as abusive,
send us an email
.