From the red carpet benefit for Cape Community School, Sierra Leone to the Senate Democratic Policy Committee
From Austin to N.Y. to Los Angeles, audience response to "Shadow Company" has remained consistently strong and colorful: because it presents both pro and anti perspectives on the subject of PMCs/modern day mercenaries, you can find as many viewers calling it one orientation as you can the other. The overwhelming majority of people, whether strongly supporting or opposing the US presence in Iraq (and the film respects that this is a separate debate) are thankful for the concise and well-rounded presentation of information. It was the directors premise to make a piece that "empowered the audience to make up its own mind" that led me to volunteer to travel with them to Sierra Leone and apply some of my photography skills to the project's footage. Most people fairly assume actresses would rather spend 72 hours getting a pedicure than traveling to a place where certain hotels don't have electricity in their rooms. For myself, every minute spent in and around Freetown, especially meeting the kids of Cape Community Elementary School were a relished enlightening experience.
No one predicted that Ed Zwick would love the film so much and show it to Leonardo di Caprio as research. For myself, the concept of blood diamonds was familiar but since I never really wore diamonds in general, it wasn't until I arrived in Los Angeles and started walking the red carpet for events that it became a big issue. The link between the work that PMCs do and the diamond trade came from visiting Maputo, getting to know the history behind the film and how that synchronized with my own definition as an actress. I believe that to deny that being in the public eye as a celebrity strongly influences culture right now (as an actor or actress) is simply irresponsible. From the clothing you wear to the products you pose for and the things that you choose to speak about, being an actor or actress in the public eye means you can make a difference.

Hosting the red carpet benefit for "Shadow Company" meant representing my involvement with the film but by wearing Elizabeth Moore's beautiful eco-friendly line of "Froote" with Avita clothing, I could also stand for a planet-conscious kind of glamour. Between introducing various supporters and crew of the film, I also got to field a lot of shock and disbelief at the fact that I (this glamorously dressed girl for the evening) had volunteered for and actually traveled to help the crew in Sierra Leone. I had met a lot of actors and actresses in my first 6 months in L.A. who were on the red carpet for various charities but had never been present during that charity's actual work or had not really learned (by traveling or reading) about the places these charities were based on. I guess, at least for myself, I felt like it meant everything to be a legitimate spokesperson for the film makers relationship with the elementary school in Freetown, to have been "on the ground" when this bond was founded. My own choice to be a "face of Froote" instead of other brands represented how much visiting the set of "Blood Diamond" and learning the history of one aspect of a glamorous icon had influenced me. Interestingly, though they only had time in the credits to specify this, "Blood Diamond" did not discourage wearing diamonds altogether but instead consumers ensuring that the sources of their diamonds were legitimately clean.
Another aspect of "Shadow Company"'s lead-up and aftermath of the red carpet event benefit was the media coverage. In a city where standing behind a charity seems almost trendy, the Cape Community School roused a minimal amount of interest from the point of media coverage and sponsorship support. (thank you Lululemon, Dvx User and Ginchgonch) But when the Blackwater "banning in Iraq" hit the headlines on Sunday, director Nick Bicanic suddenly found himself in heated demand for interviews from all sides. The week-long engagement of the film itself in L.A. was overshadowed by the demand for Nick's rare Blackwater footage and on Thursday morning, he was invited to testify in front of the Senate Democratic Policy Committee about the role private security contractors are playing in Iraq. The irony, at least for me outside of the media sphere, was that one of many contractor incidents in Iraq got more attention that the film's involvement with an elementary school in a place that had recently undergone some of the most horrifying atrocities in recent history. "Shadow Company" did not suddenly morph between Blackwater's media attention and our event: its balanced premise has never changed and those of us who have applauded the support from Amnesty along with Morgan Spurlock and Blackwaters former employees, are just hoping that it all leads to more people seeing the film. While it's "non commanding" balanced view is the same reason cited to invite Nick to speak to the committee, this same quality has led to difficulties with finding distribution in a market where buyers look for an obvious right or left angle. The proceeds of the dvd sales are dedicated to the school and my hopes are that the latest news encourages more people to see the film and understand how the rules of war have changed.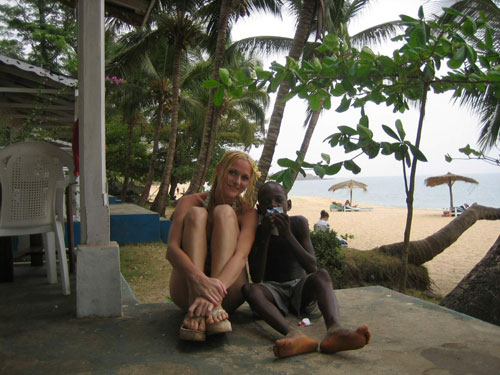 Dominika in Freetown Sierra Leone.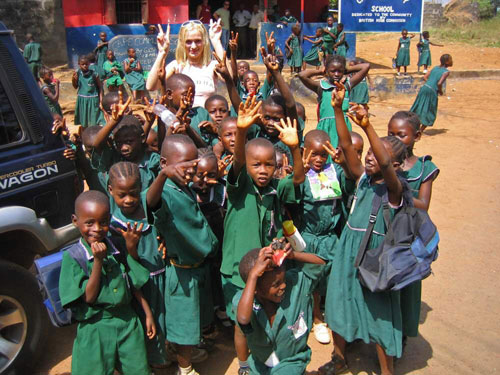 Dominika with the kids of Cape Community School in Freetown
Popular in the Community