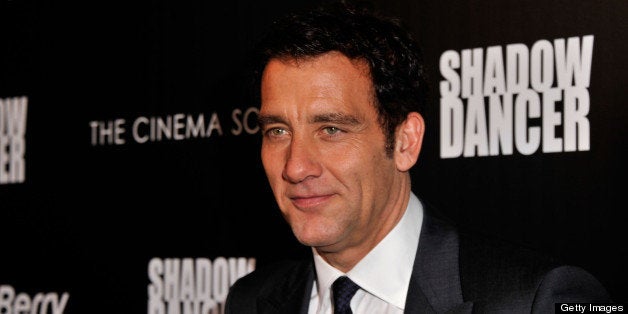 Clive Owen is best known for playing guys with compassionate, conflicted intensity in films like Closer and Croupier, James Marsh as the director of the Oscar-winning documentary Man on Wire, about Philippe Petit's tightrope walk between the Twin Towers, and Andrea Riseborough as the star who actually burnished her reputation by playing Wallis Simpson in Madonna's otherwise critically reviled W.E. Now they've made something unique and wonderful together: the taut, off-your-guard psychological and political thriller Shadow Dancer.
Politics has rarely been as personal as it is in Shadow Dancer, an astute and powerful emotional drama I highly recommend. I recently sat down with the director and stars to talk about the film (that's my disembodied voice on the other side of the camera).
Riseborough plays Colette, a young mother and IRA member in 1990's Belfast. When she is caught by MI-5, an agent -- Owen as an enigmatic man with a conscience, not your usual secret agent -- gives her a choice: inform on the IRA or go to prison. Colette cooperates -- or does she? At the end she comes down unquestionably and dramatically on one side. As you'll see in my interview with Marsh and Riseborough, I don't reveal which side, but I obviously have a lower threshold for calling "spoiler alert" than they do. You'll also see that they are both terrifically articulate and thoughtful -- not always the case with a director and star out to sell a movie.
In my separate one-one-one with Owen, we also chat about the best unknown Clive Owen movie. I nominated Antoine Fuqua's underrated King Arthur, while he chose a smaller, 2009 film in which he plays a widower with two sons. You can see why the film, directed by Scott Hicks (Shine) stumbled commercially. The title, The Boys Are Back, is awful (it was awful as the tagline for Entourage too), and the trailer makes it look treacly and cliched, but this delicate, lovely little film actually avoids those pitfalls.
For more on Shadow Dancer and to see a trailer for the lesser-known Clive Owen film he personally recommends, please go to jamesonscreens.com
Video interviews edited by PERRI SILVER.
Calling all HuffPost superfans!
Sign up for membership to become a founding member and help shape HuffPost's next chapter