There is something romantic about a solar eclipse. The combination of how rare the occurrence is, and the idea that two celestial bodies almost never meet except for those rare times, is overwhelmingly powerful. A love shared by two people, out of 7 billion possibilities in this world, is a direct parallel to the relationship between our sun and moon finally meeting one another.
"You are sunlight and I moon,
Joined by the God's of fortune,
Midnight and high noon, sharing the sky,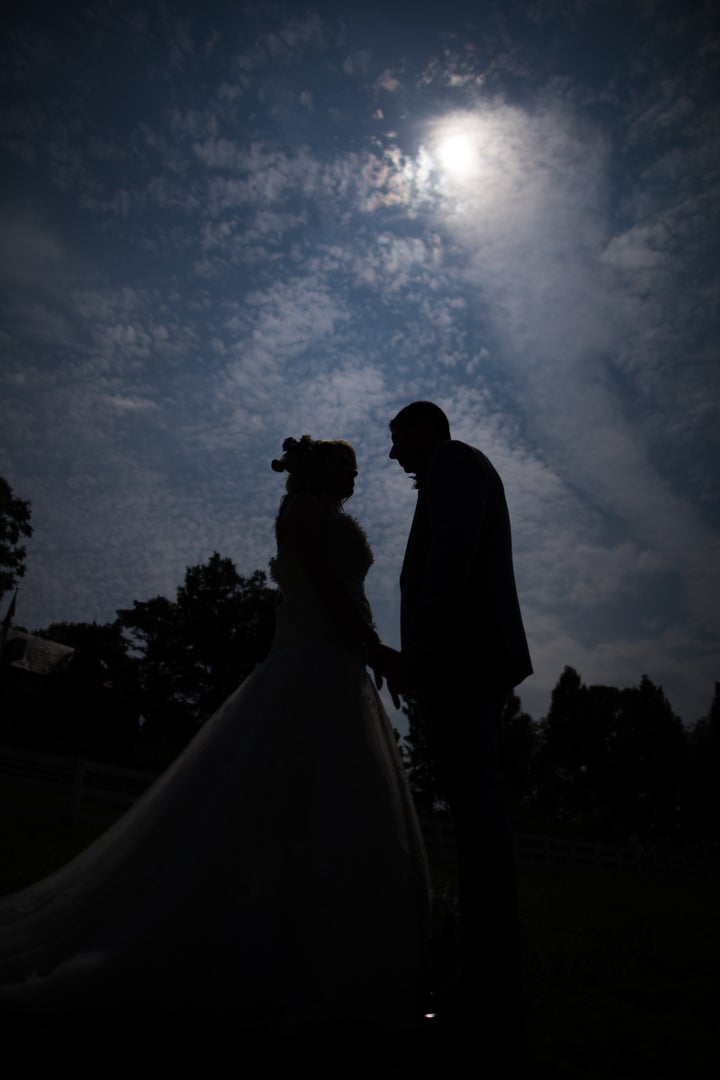 Almost an impossibility, with a mile-long checklist of things that have to happen in order for a solar eclipse to occur, it's fair to say that this "marriage" is more than just a little like our own institution. The timing has to be right and we have to be in that one place at that one time, or we may miss our soulmate. That once in a lifetime love is not unlike that once in a lifetime solar eclipse.
When "The Great American Eclipse" occurred this week, there were parties and gatherings across the country. An experience of this magnitude should be shared with others, much in the same way we share our love of another person at our own weddings with our closest friends and family members.
But what about combining the eclipse with a wedding?
The solar eclipse happened on a Monday, which is not exactly a popular day for weddings. Plus, it's August and you pretty much feel like you're on the surface of the sun no matter which state you're in. So, if not a real wedding, then there's the next best thing: a styled shoot.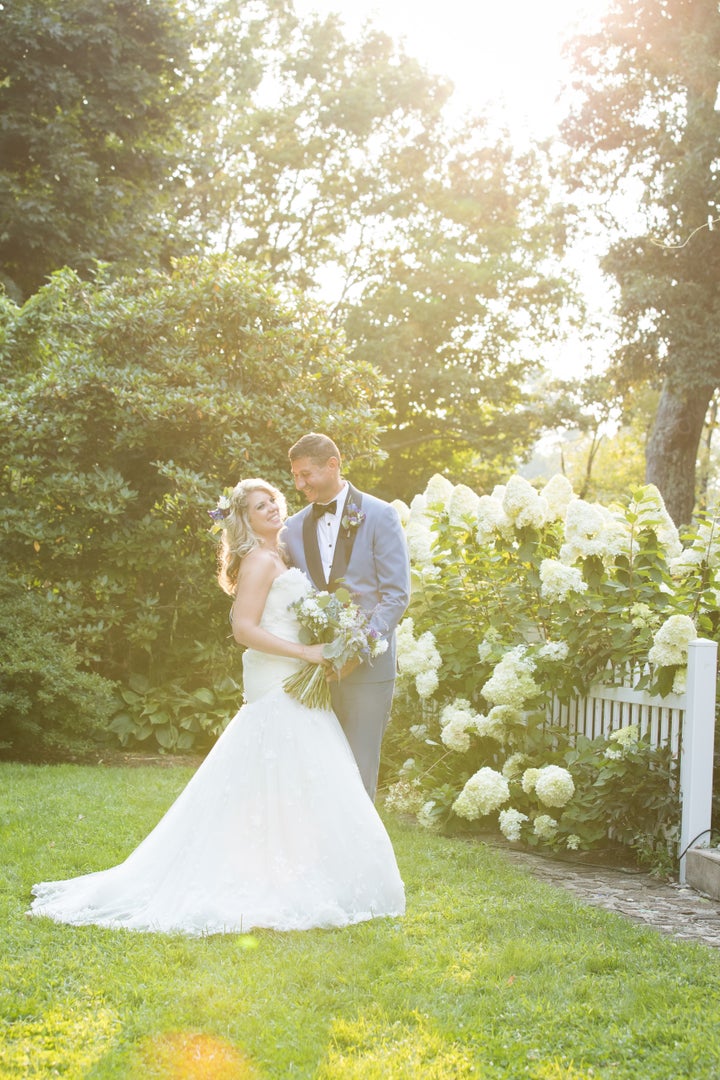 Styled shoots are essentially mock weddings without the 150-500 guests and the pictures from these shoots serve as inspiration for real weddings. In fact, the majority of the photos on Pinterest from "weddings" are really styled shoots. As a designer, I frequent the site for my own inspiration, and when I got the idea to do a solar eclipse styled shoot, I came up empty.
A curse because this was easily the most difficult concept and design I had ever worked on. A blessing because if it's not on Pinterest, that means it hasn't been done yet.
I had no plans to put together a styled shoot for 2017. It is an insane amount of work and unless there is a concept I need to show and (not or) a venue I want to showcase, it's just not worth it. I typically have the concept first and then wait for the right venue, but this time, it happened the other way around.
"It was perfect. A one of a kind event, at a one of a kind location, for a one of a kind "wedding"."
Just like an eclipse or finding your soulmate, the venues I love most, are the ones that are rare finds. Back in June, Fell Stone Manor became that venue for me. A gorgeous, private estate, where you could make anything happen, opened its doors to the wedding and event world. Brand new, and never touched, within 24 hours of finding out about this place, I was there to see it in person.
The challenge now became how to show couples this magnificent place. How to get a couple to see what I could see in my head…..first look photos along a stone pathway, guests gathering to see the horses on the property, a magical ceremony site draped in lights, dinner inside a star covered barn and a field to send their wishes off to come true.
I knew I had a one of a kind venue, and originally this shoot was prepped for July. Then I came to my senses and remembered the solar eclipse I had found out about earlier this year.
It was perfect. A one of a kind event, at a one of a kind location, for a one of a kind "wedding".
"One of a kind rustic chic modern elegant magically non-fairytale independent of all holidays timeless styled shoot."
Creating a vision for a styled shoot isn't just about finally not having to listen to what a couple wants and being able to do my own thing (sorry not sorry). As a designer, I have to keep in mind what the trends are and what they are going to be. This year's color of the year is not relevant and designs that are popular now don't even matter.
So basically, I have to put on my Madam Cleo hat to appeal to couples getting married in 2018, while still keeping a classic look that transcends time.
Sometimes working with couples is easier.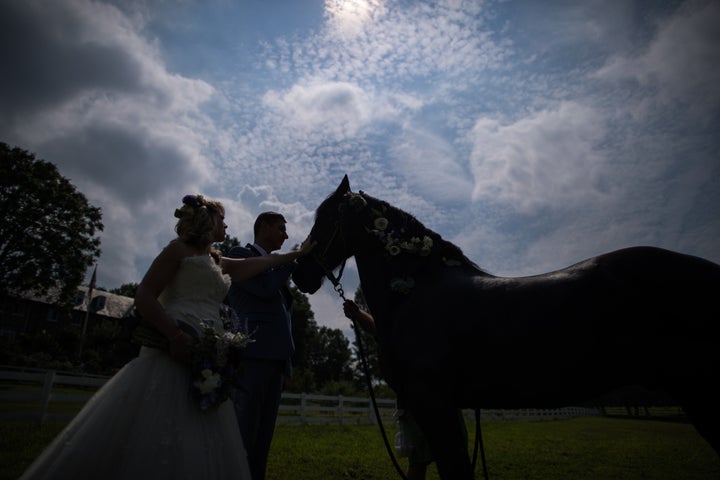 Once the shoot date was established by science and the location was secured, I spent time under swatch books to figure out the colors that were classic looks but not this year's trends, blended with the location and vibed with the whole once in a lifetime solar eclipse thing going on. The list of what I didn't want was longer than what I did, but the color winners were essentially shades of blues and purples with gray and white.
Other things I didn't want to see? Any version of the color pink because OMG enough already. Can we please all bench that color for a season at least? Along with that, I didn't want any gold or silver, or sparkles or bling. No marble or smoky designs because an eclipse is a shadow which is a straight line so let's not make this look like a Halloween party with a fog machine.
One of a kind rustic chic modern elegant magically non-fairytale independent of all holidays timeless styled shoot.
With the look finally put together, I leaned (hard) on my friends at Party Rental LTD. and BBJ Linen. I took trips to both showrooms to look over items I had selected off the websites I frequent every day for my clients. Creating one table was hard enough, but two were necessary in order to show couples that you truly can do anything at this location.
My head was about to explode between selecting the right chair swags and table drapes and I couldn't figure out the napkins for either table. Napkins! So, my conversation with BBJ Linen went a little like this:
Me: (petting the velvet linens) I like these.
Them: We can make these into napkins as a custom order. When is this shoot?
Similar conversations happened when I visited Party Rental in Teterboro, New Jersey:
Them: What charger did you have in mind for this table?
Me: The specialty one with limited availability.
Once the tables were designed, I started discussing the look with The Botanical Box. I provided a flower list with about 4 dozen types of flowers, fully knowing that not everything would be available. They not only provided florals for the tables, but for the dogs, the horse, the swing, and so much more. The more included a bouquet for our bride and with a last-minute dress change (because emergencies are bae) came last minute adjustments for that minor detail.
As weddings become more customized, my grooms are looking for something custom to wear. The amazing thing about the groom's wardrobe is that, unlike the gown, it can be worn again. A tuxedo is a great investment piece and our groom was dressed in a one of a kind tuxedo to mark this one of a kind event.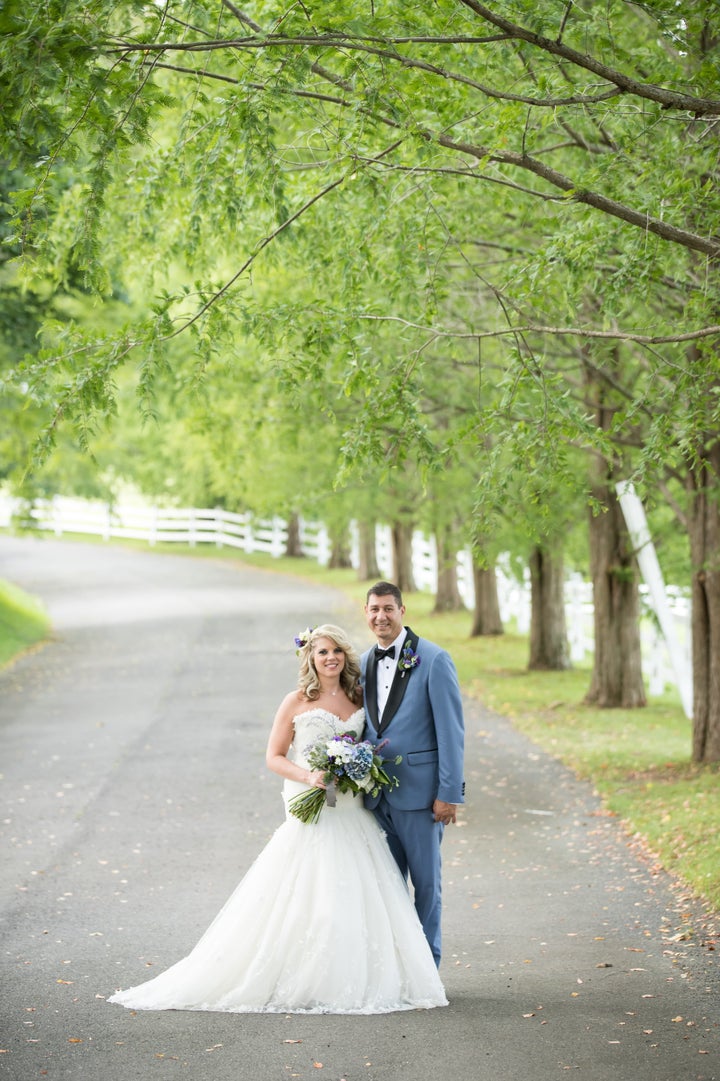 MannaE came to our office to take extensive measurements and we selected every last thing together, right down to the cufflinks that had to be circles and not ovals because the sun and moon are not ovals and I have OCD so shut up. The tuxedo that they essentially put together overnight was perfect. They even stitched the hashtag inside of the jacket because details are life.
Even though the sun was partially blocked, the heat was totally relentless and our bride, dressed in Romona Keveza had it worse than the groom. One of my "you have to" rules as a wedding planner is: hire a professional styling team. They do your hair and make-up because they can do it better and faster. Pink Comb Studio never disappoints and when I asked them for a "just woke up like that" look that worked with the gown and could be retouched in the heat, they worked their magic.
Darling and Pearl, put together all of the stationery including an invitation suite that I am over the moon for (see what I did there?). Because I am impossible, I couldn't commit to the color of the envelope and let them make that decision. Keeping with the idea that details make the world turn, that envelope was adorned with gorgeous stamps and one, very special, solar eclipse stamp.
As the long and hot day went on, we ordered pizza (also round like the shape of an eclipse because I have issues) and Bex Kitchen supplied food and wedding cake. Part of a styled shoot for a new venue has to be showcasing photos of the food to give couples an idea of what to expect. Knowing how amazing their food is, it was slightly painful to watch it be photographed and not be able to eat it…so I had a fourth piece of pizza.
Styled shoots usually last less than 4 hours. The table set ups and much of what winds up on Pinterest are meant as inspiration because you can't expect guests to eat with flowers all over their plates. The pictures and video aren't taken until much later in the day because the sun needs to be lower to get the best light.
This shoot started the day before with lighting set up by JB Lighting Production. With such a large property, there are endless possibilities and we wanted to focus on a few to help give Fell Stone Manor couples some ideas. From the barn uplighting and ceiling designs, to the wash over the ceremony area and pool patterns (yes, pool with light designs), if you're not convinced that lighting elevates your wedding, there is no helping you.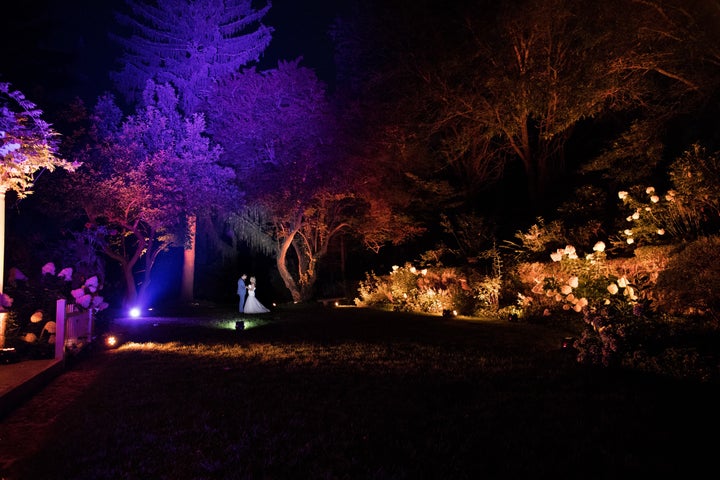 With rentals arriving at 8am on the day of, we started photos at 1pm and went well past sunset. Our kick ass video team, NST Pictures captured extensive footage of the grounds and took advantage of the fact that drones are allowed by flying them down the tree-lined driveway and following the wish lanterns we set off after dark.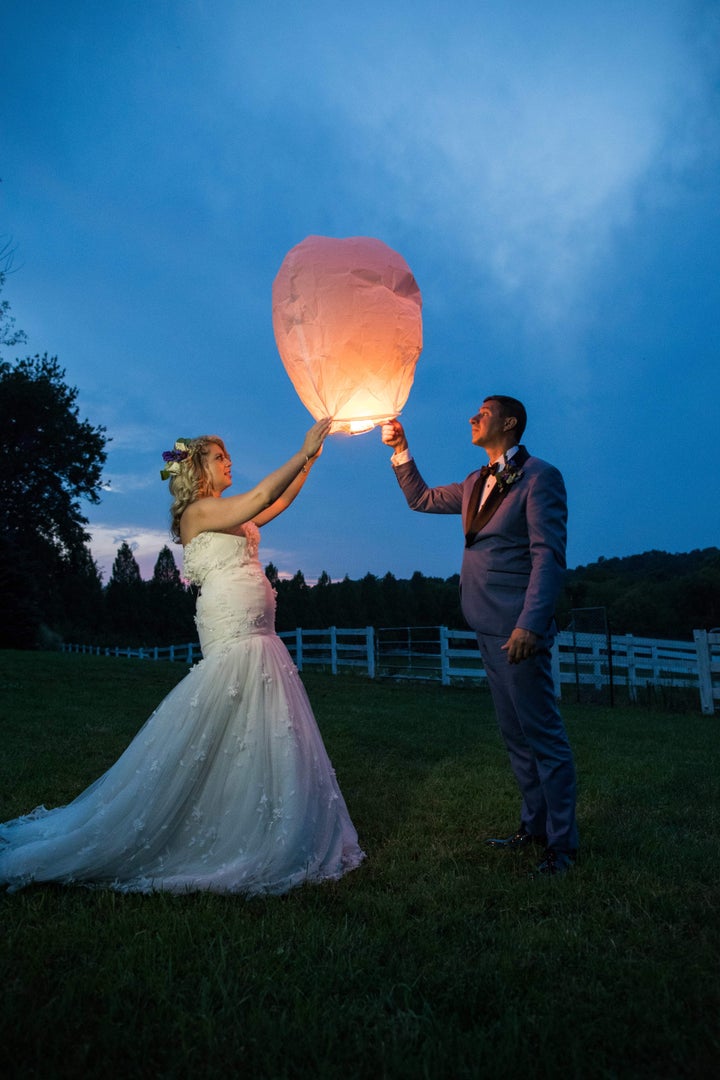 And yes, those are environmentally safe.
I have said it before and will say it again: photos from your wedding last forever, so please hire a talented photographer. You want to be published? Hire an established professional. You want to look back on images and smile? Hire the best. Because you could have the best design ever, but if you don't have the photographs to prove it, then I hope you have the memory of an elephant.
As a wedding planner, I always want my couples to work with the vendors I recommend. I know they are the best, and I know the wedding will be seamless. But one of the vendors I frequently insist on coming from my little black book, is the photographer. For styled shoots, I need better than the best because without the photos, what was the point?
I knew Berit Bizjak of Images by Berit would create the images that showcased the venue and captured the once in a lifetime magic that was happening that day. From rolling in the grass to standing in direct sunlight that photographers hate, she is the example of what you need on your wedding day from a photographer.
While everyone hosted solar eclipse parties or stayed indoors (so their eyes didn't explode like the internet said they would), there is no place I would've rather been than at Fell Stone Manor surrounded by remarkably talented people.
Styled shoots are all about the team, just as weddings are. One bad vendor can pull the entire thing apart. A make-up artist that runs behind, can destroy the timing of the entire day. Wilted flowers can ruin the overall look. Bad lighting can destroy the outcome of your photos and videos.
Like the meeting of two people that are meant to be together for life, or the phenomenon of a solar eclipse, everything has to work together in order for the magic to happen.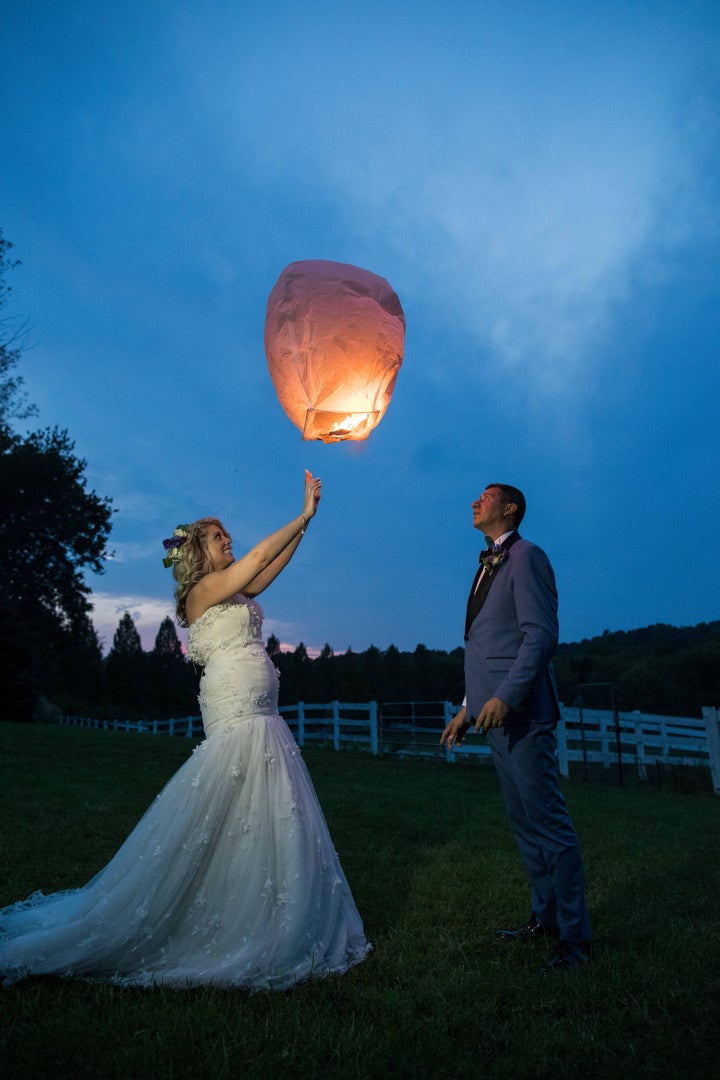 Related
Popular in the Community