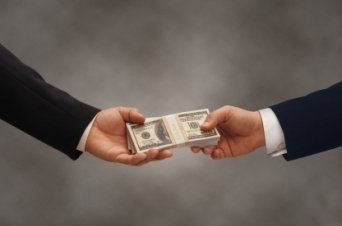 This week, a unknown Virginia-based conservative group founded by an operative with ties to Ohio and run by an official with roots in Kentucky will begin airing a major television ad campaign targeting a Democratic lawmaker based in South Carolina.
Few people in politics, beyond a tight cadre of Republican strategists, have ever heard of the outfit Citizens for a Working America. That's because the benignly-titled political action committee didn't formally exist until this September. Even if you were compelled to learn more about the organization, there wasn't much you would find. The group's no-thrills website describes it as "an unwavering advocate of those principles that together form the bedrock of American prosperity: free markets, economic growth, and job creation." There is, quite literally, nothing else.
The group's federal forms manage to reveal only slightly more. According to the Federal Election Commission, Citizens for a Working America filed its statement of organization on September 10, 2010. Because it occurred so recently, the group has not been obligated to list donors or expenses. Those will come with the next filing in mid-October, two weeks before the November elections.
And yet, with literally no information about its finances, platform, funders or purpose, Citizens for a Working America still seems poised to have a major impact in at least one congressional contest. According to a Democratic ad tracker, the organization has purchased more than $250,000 in airtime for South Carolina's 5th congressional district. The target of the ads will be Rep. John Spratt (D-S.C.), the proverbial dean of the South Carolina delegation who has served in Washington for 28 years. And as it stands now, no one, not even the Spratt campaign, understands why.
"I don't have any clue or any way to guess why they are doing this," said Wil Brown, Spratt's campaign manager. "I assume they are going to be attacking us on the same veins that the other outside groups have attacked us... But it is a huge buy on cable and this next week we have them on broadcast about 735 points in the Charlotte market. That is pretty much saturation or at least close to saturation for a week."
Amid an avalanche of outside group spending on the elections, Citizens for a Working America's ad buy is a drop in the bucket. A quarter of a million dollars may go far in South Carolina, but according to a document circulating in Democratic circles, roughly $31.7 million has or will be spent by third-party groups during the course of campaigns -- $24.4 million of which will be by Republican-leaning organizations. In many respects, however, Citizens for a Working America is a perfect illustration of how a shadowy network of political operatives is managing to alter the electoral landscape under the cloak of secrecy.
"This is a major and growing problem," said Democracy 21 President Fred Wertheimer. "We now have inadequate disclosure laws and groups are taking advantage of that to pop up in districts and states to make large expenditures in federal campaigns without anyone knowing who is putting up the money. As a result, voters in a state have no idea that some group is parachuting in from another part of the country to spend a whole lot of money in their race when they have absolutely no ties to the area or the community."
Citizens for a Working America appears to be founded by Lancaster, Virginia-based Republican operative Norman Cummings. The address on the organization's FEC filing is the same one listed by Cumming's wife on the website of her organization "Working With Congress." It also is the registrant address of another major Norm Cummings initiative, a controversial slot machine campaign in Ohio.
For someone who has been in Republican politics for so long, Cummings is far from a national figure. Starting with the Ohio Republican Party, he worked his way up through the ranks to serve under famed operative Lee Atwater on George H.W. Bush's presidential campaign. From 1989-1992 he was political director and then chief of staff for the Republican National Committee and in 1992 he started the public affairs consulting firm, the Cummings Group.
After that, the public record goes largely dark, until he and his wife Grace co-wrote a chapter for the 2004 book, "Campaigns and Elections American Style" in which described, in glowing terms, the "pervasive" need to raise money in politics.
By 2006, Cummings was playing a more active role in politics, running the gubernatorial campaign of Republican candidate Ken Blackwell. When that failed, he started LetOhioVote.org, a group that was seeking a referendum on whether to add electronic slot machines at horse tracks. The motives of the group were uncommonly secretive, as was the funding, prompting a lengthy and ongoing investigation by Ohio's Secretary of State. The site reported receiving $1.55 million in funding from New Models, a Virginia-based political organization that is run by Timothy Crawford, another behind-the-scenes operative who now happens to head Sarah Palin's political action committee.
What compelled Cummings to get involved in the 2010 campaign isn't entirely known. A message left at a phone number under Grace's name was not returned. Nor were multiple calls to Langdon & Shaffer LLC, the law firm that represents both LetOhioVote.org and Citizens for a Working America (another fairly conspicuous connection). But at some point in time in 2009, Cummings was hired to run Colorado Lt. Gov. Jane Norton's Senate campaign. By April 2010, he had been replaced.
After that, it seems, he decided to join forces with another out-of-work Republican campaign staffer. Jeremy Hughes of Covington, Kentucky had been serving as political director for Kentucky Senate candidate Trey Grayson. But after the Secretary of State lost to Tea Party favorite Rand Paul, he took on the job as Citizens for a Working America's treasurer.
Why these two were drawn together isn't known. Hughes didn't return an email request for comment. But if you dig deep enough, there are enough indications as to what type of operation they will run. A filing Hughes sent to the FEC said that Citizens for Working America intends to "raise funds in unlimited amounts" but not to make contributions to "federal candidates or committees." Rather, television advertisements seem to be the objective. According to the Democratic ad tracker, Citizens for Working America will be blanketing the Columbia and Florence, South Carolina markets this week, followed by another week of ads in Charlotte.
Those who've worked with Cummings in the past, meanwhile, say that flowery and upbeat messaging isn't exactly his style.
"I think the foulest thing he has done that I know about is the ad he tried to get me to run on behalf of the Ohio Taxpayers Association in the 1998 sales tax opposition campaign," said Scott Pullins, a conservative attorney in Columbus, Ohio who, as Ohio Director of the National Taxpayers Union worked closely with the Blackwell campaign. "It was a radio ad of two elderly, disabled African American female voters talking about the sales tax using what I can only describe as a racist, ghetto dialect. One of the ladies is quoted as saying that "she's gonna roll her wheelchair to the polls as fast as she can to vote against that tax increase."
"It was outrageously offensive and I told Norm Cummings to take the ad and the $25,000 and shove it. I told him it would have been less offensive for us to buy $25,000 worth of fried chicken and $5 bills and hand them out on MLK Drive in Cleveland. When I talked with Ken Blackwell's staff about it, they told me that he approved the ad and they saw nothing wrong with it. I told them if that was the case then Ken can put his name on it and not mine. As far as I know, the ad never ran."
Popular in the Community