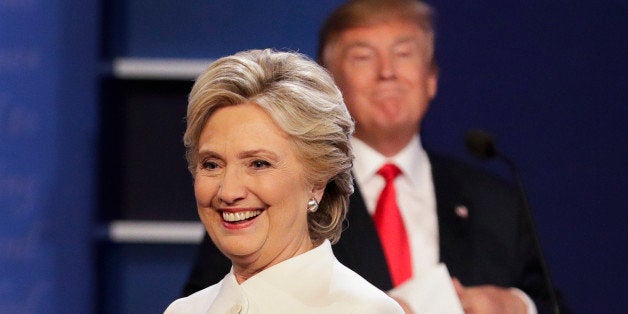 Decades ago -- in the eighties, when I was in my early twenties -- a bumper sticker on my tan economy car read: "A Woman's Place Is In The White House."
Then one day after work I went out to the office parking lot and found that someone had taken a razor blade and cut out the word "White" so the bumper sticker read "A Woman's Place Is In The ... House."
What I remember about the co-worker who I strongly suspected of doing this (but who never admitted it) was that he was extremely racist and sexist and that he was a closeted gay man who made hateful remarks about other gay people. His internalized self loathing frequently spilled outward at the people around him, and that included me.
Fast forward forty years and we have finally have a candidate who has a strong possibility of becoming our first woman president who I am supporting for many reasons -- including the fact that she supports many of the same issues that I do, the U.S. Supreme Court appointees coming up in the next presidential term, and because she is a woman with lots of experience who is qualified to do the job.
Of course, it would help if the president had a Congress she could work with. The Pennsylvania (the state in which I live) Senate race between incumbent republican Pat Toomey and Katie McGinty has been in the national spotlight. As CBS News reports, the democrats need five seats to regain the senate -- "four if they win the White House because a Vice President Tim Kane would break any 50-50 tie."
I was familiar with this race because as a lifelong democrat, a progressive, a second-generation feminist(something I write about in my book Tea Leaves, a memoir of mothers and daughters), and a member of the LGBT community, I've been itching to vote against Pat Toomey -- who is conservative on the social issues that I take personally. I was also familiar with this race because of the nasty television commercials that Toomey has been running against McGinty -- all of which have prompted me to say to my partner and to the television that "I can't wait to vote against Toomey."
Then I was driving one day when I heard an interview on the radio with Katie McGinty -- and I liked what I heard. I liked her stance on the issues, her background, the fact that she was endorsed by Emily's List, and that she talked about the women in the senate collaborating on the last budget crises and "getting the job done." Then she added that "I hope to be privileged to join that group."
After the interview, I realized that I would be voting for someone rather than just against someone in the Pennsylvania senate race.
Some of the negative ads run against Katie McGinty call her "shady" Katie. The parallel between this and "crooked" Hillary (which Hillary's opponent calls her) left me fuming. Then one day I was sitting in a local eatery with my partner when another nasty television commercial against Katie McGinty came on. This time the word "trust" grabbed my full attention.
Could it be that someone is telling us that women are not trustworthy in political office because we have had 2,000 years of male leaders in the history of the world (and therefore the powers that be are telling us we can't trust women)? Could this have something to do with the white, male, cowboy origins of this country?
My partner was casually keeping her eye on me. I have lost it several times during this election, and she is in the unusual situation of having to be the peacekeeper. Maybe I am being overly sensitive. There are some women on the right and left who act like sexism does not exist. I think they are in denial. But the most important issue in this election is whether we can choose the best candidate for the position -- regardless of gender.
Calling all HuffPost superfans!
Sign up for membership to become a founding member and help shape HuffPost's next chapter