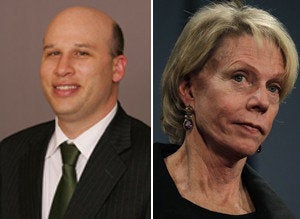 After a panel of eight experts decided that Black, a media executive with no education experience, would not be the ideal choice to serve, David Steiner said he would consider granting Black a waiver only if she had a competent deputy chancellor to bring her up to speed.
The mayor's office has accepted this compromise to save its appointee, and announced Friday it would appoint long-time education expert Shael Polakow-Suransky as deputy chancellor. NY1 lists Polakow-Suransky's qualifications:
Polakow-Suransky, who has worked as a teacher and principal, is a Brown University graduate who holds a master's degree from the Bank Street College of Education and has a supervisor's certificate.

In 2001, Polakow-Suransky opened the Bronx International High School, which focused on the specific needs of recent immigrants who were just learning English.

In 2004, he became vice president for Academic Affairs in the DOE's office of New Schools.

In light of this recent announcement, Mayor Bloomberg wrote in a letter to David Steiner:
"Ms. Black has told me that she intends to have a Senior Deputy Chancellor/Chief Academic Officer throughout her tenure as Chancellor, because she has decided that as a management matter there should be a single Deputy, reporting directly to her as Chancellor, overseeing all pedagogic matters."

The Daily News notes that while this compromise probably ensures Black's appointment, it didn't come easy:
Although Steiner is expected to grant the waiver, experts say the bumpy road to Black's appointment cost Bloomberg.

"In getting what he wanted, [the mayor] certainly suffered a black eye," said Doug Muzzio, a political science professor at Baruch College. "His decision-making style just reminded people what they don't like about him - and that is his autocratic style."

Related
Popular in the Community