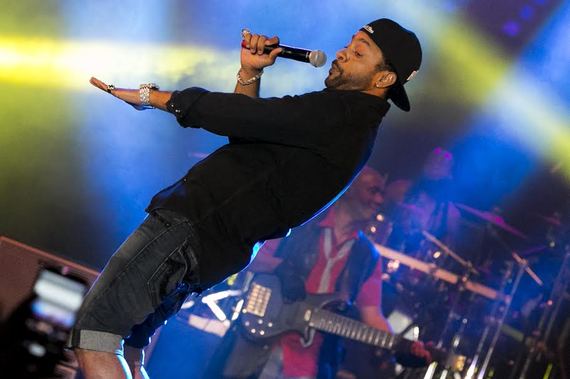 Shaggy performs live at The 2014 Shaggy and
Friends Concert in Kingston, Jamaica. Photo: Sleek Magazine
Take a minute and think: If you were blessed with the gift of fame, how would ensure yourself a positive meaningful legacy? Celebrities are often able to enrich causes with unprecedented publicity, credibility and donations. Driven by some emotional connection, many celebs drive passionate campaigns to effect big change, ensuring a better tomorrow for others. Years ago, U2's Bono was urged to publicize the horrors of extreme poverty affecting various parts of Africa and Sean Penn is known to have dedicated himself to relief and rebuilding efforts on the ground in Haiti. I'd like to share the story of how one very famous man is helping to create a world class public health facility for children in Jamaica, while shaping a legacy that brings smiles to many faces just by the mention of his name.
Just over 10 years ago, Orville Richard Burrell, better known to the world as Shaggy, visited his friend's ill son at the Bustamante Children's Hospital in Kingston, the only hospital of its kind in the English-Speaking Caribbean. Noticing substantial inadequacies, Shaggy made a commitment to ensure positive change at the facility -- under his watch the hospital's needs would be recognized and fulfilled. Since then, Shaggy has gone to great lengths to keep his promise. His efforts birthed the Shaggy Make a Difference Foundation, an organization dedicated to raising funds and awareness for the hospital and its patients.
In 2009, The Foundation hosted the first Shaggy and Friends benefit concert to much acclaim. The concert has grown to become one of the most anticipated events on the local entertainment calendar, attracting a level of diversity and star power rivaled only by Reggae Sumfest, a staple music festival ongoing for 20 years. On the January 4, 2014, the concert was held for the third time in five years to a sold out show of just over 10,000 patrons on the lawns of Jamaica House in Kingston, home to the office of the Prime Minister. The tagline on each staging has been "Dare to Care, One ticket = 1 Life" a call to action which has actually worked in a region where organized causes outside the political arena are rarely able to gather hundreds much less thousands. Shaggy's Foundation recently handed over a surplus of $700,000 raised through the concert to the hospital, a tremendous feat by any measure.
I am especially impressed by the amount of effort it takes to put this concert together -- no doubt with Shaggy's level of fame, a $1000 benefit concert in New York or Miami could yield similar results, but that's not music for the people, that doesn't get the rest of us involved and so while more efficient, has not been the route for Shaggy. On the topic of inclusiveness, the concert streamed free online via various local media websites and on local television. Overseas-based supporters were able to donate through a collaborative effort with "Food for the Poor," dramatically extending the reach of the fund raising campaign.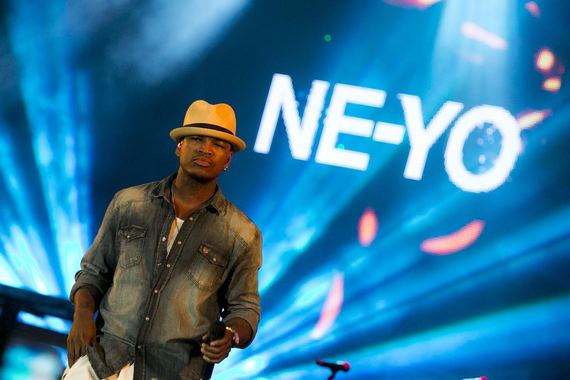 Neyo lends his talents to saving children's lives at
The Shaggy and Friends concert Photo: Sleek Magazine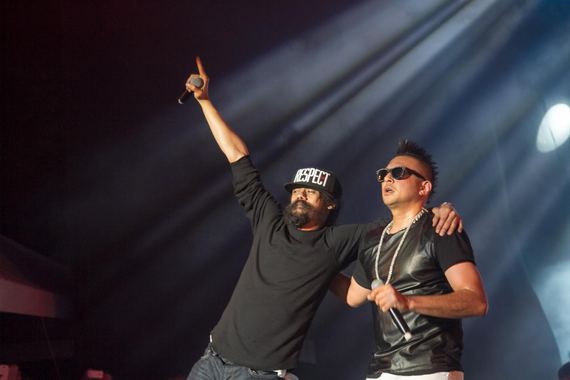 Jamaican music royalty, Damian Marley and Sean Paul
grace the stage at Shaggy and Friends. Photo: Sleek Magazine
Through numerous partnerships, Shaggy has managed to amass a level of support that is somewhat puzzling given various socio-economic circumstances on the island. He clearly believes in collaboration, as his philanthropic model embodies the idea that we will get further together. This seems to be a characteristic carried forth from his music, as Shaggy has developed numerous award-winning collaborative hits over the years. This openness to "shared victory" affords Shaggy the ability to call up on numerous superstars including Neyo, Lauren Hill, Macy Gray, Sean Paul and Damian Marley who happily lend their talents to the cause. Even more amazing is that despite the massive cost of production the organizers of "Shaggy and Friends" have never increased the price of the concert, nor compromised on the quality of the event. The Make a Difference Foundation has also managed to translate this "teamwork" ethic to leveraging some unprecedented corporate partnerships for the concert. Major local sponsors Appleton Jamaica Rum, Redstripe Beer, Digicel, Scotiabank, the Wisynco Group and Restaurants of Jamaica the local KFC and Pizzahut franchisees who seemingly clamour to ensure that Shaggy is able to produce a world-class music event.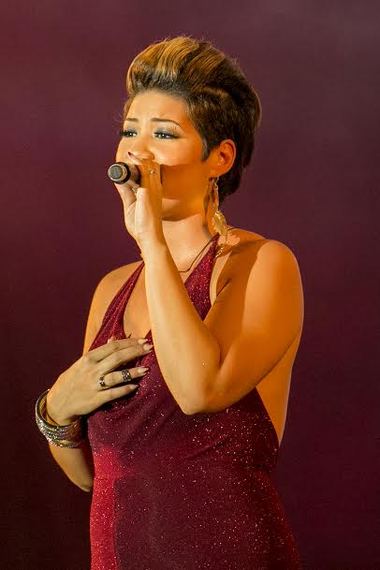 Tessanne Chin enjoys a warm welcome performing live at Shaggy and Friends
Photo: Sleek Magazine
The turnout for this recent staging was beyond phenomenal, far surpassing previous years boosted heavily by the appearance Tessanne Chin, Jamaica's newly minted rockstar who was performing in her homeland for the first time since being crowned as NBC's The Voice under the patronage of her mentor Shaggy. Jamaican's have fallen in love with Tessanne as she is already proving to be an excellent brand ambassador. Her charming humble personality engages a sense of pride in Jamaicans -- she has made an island with much to worry about very happy. She provided a glimpse of positivity to a nation which in 2013 faced many dampeners. Her win eclipsed just about everything in the eyes of the people -- it was an early Christmas present shared by millions. Jamaicans tend look forward to these glorious moments of international recognition often delivered through the work of our stellar athletes and musicians. The concert was almost as much a celebration of Tessanne as it was a fundraising event. She has been embraced for reminding us that our wildest dreams are very possible, within the blink of an eye. Tessanne's position as the anchor for the concert reveals one of Shaggy's most admirable traits: the ability to lead from behind. This is by no means "The Shaggy Show," and the artist seems more than willing to shine the spotlight on those who have stepped up to supporting the cause -- the name "Shaggy and Friends" holds significant relevance.
I've been fortunate to meet Shaggy a couple times. On one occasion I actually got to sit with him and discuss his foundation and the concert. He is very passionate about the cause, his own children seem to drive the connection he has with the hospital. He visits quite often to assess needs and has even sat through surgeries helping to comfort families. Shaggy also attends meetings with sponsors and strategic planning sessions for the foundation. I am a huge fan of his hands on involvement, he has invested his reputation, time and much emotion into the success of this project.
In September 2011, inspired by Shaggy's efforts, I hosted the Global Party in Jamaica in collaboration with the KLE Group. Working with international children's charity Chain of Hope which has a critical mission at the Bustamante Children's hospital. Chain of Hope often partners with Shaggy's Foundation on various projects based on the needs of the hospital. Through the Global Party and our partners we were able to raise some operational funds and public awareness for one of Chain of Hope's projects. At the time the organization and other stakeholders were advocating a massive undertaking to build a sustainable cardiac unit at the hospital, a one of a kind facility for the region. This exposed a lacking necessity as without this project children often had to be airlifted to the U.S. for surgery or await a surgical mission to the island. Many have died as a result of this limitation. Thankfully, the cardiac unit has since been built through the combined efforts of Chain of Hope, telecoms giant Digicel, Sagicor Investments, Shaggy's Foundation and others. The funds raised during January's concert will now assist with outfitting the building with much needed equipment and supplies.
Others have been seemingly inspired by Shaggy as well. In 2012, Usain Bolt signed on as the face of the local Sigma Run, an annual marathon organized by local insurance and banking giant Sagicor. That year Chain of Hope was the beneficiary of the run. The event raised $383,000. That staging was the largest to date, but it may be trumped this year as Tessanne Chin has jumped on board.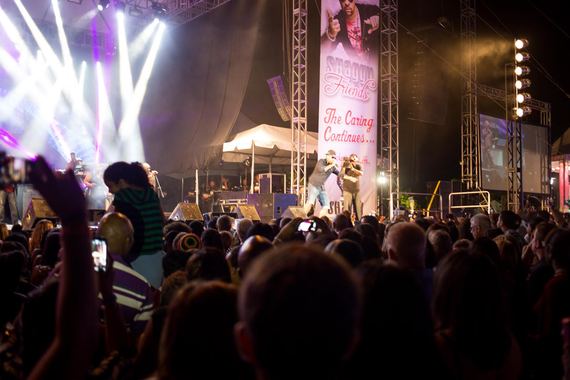 A view from the crowd with Shaggy on stage at the Shaggy and Friends concert.
Photo: Sleek Magazine
There is no doubt that Shaggy has transformed himself from one of music's best-selling superstars of all time to homeland hero and philanthropic icon through his championship of goodwill. In a world where wealth and fame are often associated with wasteful luxury, Shaggy has demonstrated the other side. In many markets philanthropy has blossomed into a phenomenon with cool points to be earned based on perceived charitable merits. In Jamaica however, philanthropy was hardly seen as cool before Shaggy's concert came about, many gave quietly and less freely. Shaggy has made it exciting to give, encouraging a whole new culture of philanthropy which is great for the island's charities, but in a place where albums sales and performance fees lag behind major markets there is no doubt Shaggy and his Foundation's motives come from the heart.
REAL LIFE. REAL NEWS. REAL VOICES.
Help us tell more of the stories that matter from voices that too often remain unheard.