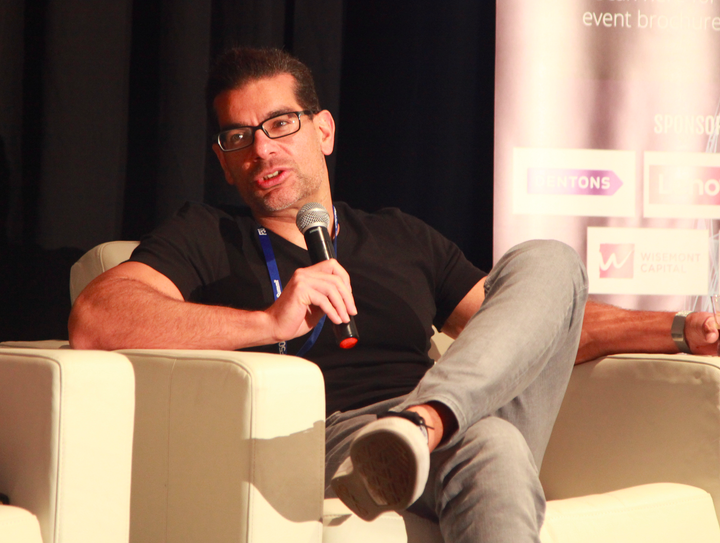 With the goal of harnessing the untapped potential of Iranian-Americans, and to build the capacity of the Iranian diaspora in effecting positive change in the U.S. and around the world, the Iranian Americans' Contributions Project (IACP) has launched a series of interviews that explore the personal and professional backgrounds of prominent Iranian-Americans who have made seminal contributions to their fields of endeavor. We examine lives and journeys that have led to significant achievements in the worlds of science, technology, finance, medicine, law, the arts and numerous other endeavors. Our latest interviewee is Shahin Farshchi.
Shahin empowers entrepreneurs aiming to accelerate humanity towards a fantastic future through feats of engineering. His recent investments at Lux Capital include Nervana, the deep learning company recently acquired by Intel; Planet Labs, which is launching the world's largest fleet of Earth-imaging satellites; Mythic, putting advanced machine learning into every day, portable devices; Aeva, offering a new sensing paradigm for autonomous machines; Plethora, which is rolling out a fleet of robotic machine shops; Flex Logix, making chips that can reprogram themselves; and Zoox, what comes after the automobile. He was inspired by Knight Rider and Star Trek to pursue a career in engineering, and founded a startup after doing a PhD in Electrical Engineering.
Tell our readers where you grew up and walk us through your background. How did your family and surroundings influence you in your formative years?
I grew up on a hill in Albany, overlooking the San Francisco Bay. We lived in a small, middle-class town home next to WWII-era US Navy army barracks that now house mostly-immigrant UC Berkeley graduate students and their families. My classmates came from walks of life and were of all ethnicities. My best friends' parents were janitors, social workers, small-business owners, and physicists pursuing their second PhDs. My father was a graduate student at UC Berkeley, fascinated by science fiction, so my (limited) TV time primarily consisted of watching grown men talk to Pontiacs (Knight Rider) and tour the galaxy in their pajamas (Star Trek), instilling a passion for cars, computers, and space. I grew up watching everyone around me working incredibly hard, and treating each other with respect. Whether it was circumstance or pure luck, I was fortunate to have been subject to surroundings that reinforced these simple yet essential core values.
Science fiction sparked an insatiable curiosity for how things work, and how we can make what seems impossible, possible. I was very fortunate to be showered with books by my father, and to receive a computer from my Aunt who owned a small computer store (yes, those did exist), which further fueled my curiosity. In high school, I was transplanted to Iran where the struggle to blend into society and homesickness was alleviated by reading and tinkering with my aging computer. I read the Big Bang Theory which made me appreciate how much we really don't know about the universe. Lee Iacocca's biography; the story of the son of an Italian immigrant ascending to work alongside American royalty (Ford), and later being tasked to save an American legacy (Chrysler) from bankruptcy, further reinforced my belief in the power of dedication and persistence. I was fortunate to have the opportunity to return to the US for college and work at several amazing institutions, and with amazing co-founders at my startup before joining Lux in 2007.
What has been your personal key to success? What were the biggest inspirations for your career?
My key to success is rendering it elusive. Sure, I've managed to overcome a few challenges: Getting acculturated in Iran as a teenager, getting admitted to Berkeley, being awarded grants for my PhD, convincing incredibly talented engineers to work on my startup, being asked to join Lux, and convincing founders to partner up with me on their startups. Though these challenges have been formidable, overcoming them simply meant finding the next challenge as opposed to calling it a "success."
Can you elaborate on your work, passion, and philosophy?
My passion is to empower founders to make the impossible, possible through feats of engineering. My work is hard to describe. What do I do? I hunt for amazing founders who are building amazing technology to disrupt billion-dollar industries. I share my opinions on technology and business trends, in hopes of being challenged and supported by such visionary founders. When invested and partnered, I'm more like a personal coach: I help our partners recruit amazing people, create synergies with other Lux investments, connect them with customers, and think through strategic decisions on technology, product, marketing, growth, fundraising, and partnership opportunities.
My philosophy is that the shortcut to success is hard work, and my passion is to learn. I spent a decade learning basic science and applying it to build hardware and software. I spent another decade watching companies be conceived, grow, and mature. I feel like I have a nose for talent, an ability to identify "the true nature of an asset", a drive to empower founders to perform at their best, and patience for the inevitable rough patches our companies will face.
What is the biggest challenge you have faced in your career?
Getting comfortable with being wrong. In Iranian culture, being wrong is something to be ashamed of. In fact, most Iranians would go to great lengths to justify themselves or go into denial rather than simply admit to being wrong. I was trained as an engineer where there is typically only one "right" answer. I did a PhD for which I spent years to prove that I was "right" about a hypothesis.
In venture, we spend months diligently analyzing a startup's technology, product, market, and team. Statistically, we are more likely to be wrong than right, as startups are more likely to fail than succeed. Therefore, investors are more likely to be right if they choose not to fund a company. They must expect to be wrong many times before funding a successful company. Over the years, I have learned to do my best to identify the risks and uncertainties of building and growing a business. I am gathering the courage to nuance my view with the reality that I am more likely to be wrong than right, and emphasize the possible economic upside in the outside chance the startup indeed achieves its goals.
Deep-tech companies of the last decade underestimated the time and dollars it requires to take a technology from bench-top to the marketplace. They expected basic science demonstrations to open the floodgates for eager follow-on capital. Unfortunately, the follow-on capital wasn't as eager, and technologies had to be proven at full-scale before anyone other than venture capitalists were willing to invest. Biofuel startups and their investors were on the hook to demonstrate plants that could produce hundreds of thousands of tons of the material. Battery startups had to set up factories and produce at volume before consumer electronics companies were will willing to take a risk on them. Semiconductor companies were on the hook for building up massive software and customer support organizations to support their name-brand customers, who initially purchased modest volumes with very low margins, putting the onus on early investors to fund the millions of dollars needed per month to keep the lights on. Energy-harvesting startups found themselves back at the drawing board for every type of customer they supported, ranging from steel mills to automotive companies to furnace companies, as each demanded their own unique flavor of the technology.
Could you share with our readers your insights and thoughts on the revolution in driver-less cars in the next 5 to 10 years?
Several themes have converged leading to the zeitgeist around autonomous cars. Foremost is the popularity of Uber and Lyft among consumers. Next are the vast amounts of annotated data generated by Facebook, Google, Apple, Baidu, Tesla, and Amazon, which is key in training the artificial intelligence. In addition, mobile phones have made portable sensing and processing hardware - what would be the eyes and ears of these robots - cheap and abundant. Finally, going back to Uber and Lyft; their sky-high valuations coupled to the $1.2B acquisition of Cruise has led to capital flooding into innovative startups building autonomous tech. In summary: The use case is proven, the technology has arrived, and capital is abundant. I expect rapid advances in technology over the next few years to lead to driverless cars ready to hit the roads, only to be kept in (to be obsolete) parking lots until regulators take action around creating regulation governing driverless car operators, and protecting consumers.
Could you tell us how to collaborate with the investor for success?
There is no shortage of forward-thinking investors with strong professional networks and domain expertise seeking amazing founders to fund with vast pools of capital. Therefore, the onus is on founders to seek out those investors that can empower them to perform at their best: understanding where to best allocate their scarce time and capital, assisting them in recruiting top talent, thinking about future strategic partners and investors, and their past experiences and broader portfolio all help to make good choices. Attention founders: put your investors to work!
How do you see the future of brain technology?
Brain tech is approaching a renaissance. Obama's BRAIN initiative was announced in 2013 with over $100M put to work in its first year, with $4.5B expected over the course of the decade. Meanwhile, Brian Johnson's Kernel and Elon Musk's Neuralink are aiming to enhance the human brain, initially by targeting brain disease, and are raising billions of private-sector dollars to achieve their lofty goals. I expect greater capital flow and basic innovations to drive a revolution in human-machine interfaces reminiscent of the smart phone. I expect an intimate understanding of the brain will lead to billion-dollar companies founded around treatments for neurological disease, magical consumer products, and productivity tools.
What do you have planned for the future of Lux-Capital Company?
I expect Lux to partner with bold scientists, engineers, artists, visionaries, and dreamers towards building tomorrow's iconic companies powered by feats of science and engineering. We expect the teams we partner with to build companies that create wealth and opportunity by making the impossible, possible.
What does being an Iranian-American mean to you?
The first thoughts that come to mind are being proud, ambitious, enterprising, and entrepreneurial. It wasn't until I spent time in Iran as a teenager that I came to appreciate the power of raw human grit to accomplish so much with limited means. I feel responsible towards my family, and those who do not have the privilege to grow up and work in Silicon Valley; the most innovative and magical part of the most amazing country on the planet, to apply myself to the fullest. Like most immigrants, in the interest of future stability, Iranian parents tend to emphasize science and engineering, as my parents did. In fact, there is truth to the saying that in the Iranian-American community, unless you are a doctor, dentist, lawyer, engineer, or accountant, you're not viewed as having a "real career." As the community becomes more established, I hope more young members of the community are encouraged to pursue the liberal arts, and take more active roles in shaping the identity of this great nation that's now their permanent home.
Related
Popular in the Community