The first time I saw him on stage three years ago, I was mesmerized. His long jet-black hair lashed to and fro with each spin. At this particular performance some dance pieces seemed to magically suspend and stretch in time, while other pieces seemed to zap me and vanish in the twinkling of an eye.
On that dark stage, where the spotlight shown on him while he performed his own version of the Sufi whirling dance, his arms were aligned in the typical "Dervish" pose, as if it were conducting the sublime energy of the powers above -- or maybe the rapt audience.
Shahrokh Moshkin Ghalam - Whirling Dance
There was no way of pegging his style. From the whirling dance, he moved into something wholly original. With classical Persian music sounding in the background, he performed elements of flamenco, Persian, Indonesian, martial arts, Indian Kathakali dance, and strangely enough they all blended seamlessly with one another!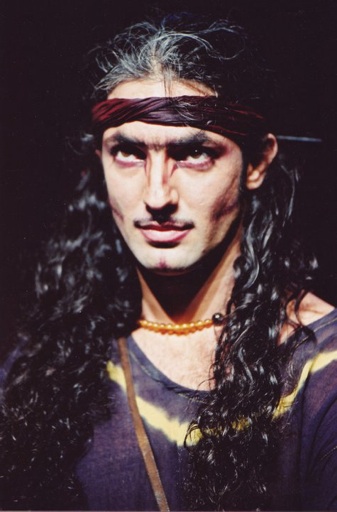 I didn't know it then, but I soon realized that Shahrokh Moshkin Ghalam, an accomplished dancer, actor, and choreographer, was giving the audience a lesson in the art of seduction.
"I want to create tension between me and the audience, where they are at the edge of their seats, awaiting my next move. This is precisely when a void is created -- one where the audience is ever receptive to the performer, and is magnetically drawn in," he told me in a recent interview.
Shahrokh, who lives and works in Paris, is the first Iranian to be part of the prestigious Comedie-Francaise troupe. On his recent trip to Los Angeles, he and talented singer and musician KamyR collaborated on a three-day theatrical and musical engagement titled Zohreh & Manouchehr at The Eli and Edyth Broad Stage at the Santa Monica College Performing Arts Center. Given that the general theme of our interview was leaning toward "the power to captivate," this play could not have been more appropriate.
Zohreh & Manouchehr is the Persian rendition of the famed Shakespearean poem of "Venus & Adonis." The premise of this satire is that Venus, who is the goddess of love, comes to earth to seduce Adonis, who seemed to be more preoccupied with hunting than romantic endeavors. Of course, Venus, or Zohreh for that matter, finally gets her way at the end. But it isn't without its share of tug-of war suggestive and comedic moments.
Produced and promoted by the skilled Bita Milanian of Butterfly Buzz, this musical received a tremendous reception by audiences. So what makes an artist or a performance so compelling? Obviously there needs to be a deep source of resonance in that shared space between the artist and the audience, and the artist and producer.
"Collaborating and presenting such artists is a dream for a producer like me whose mission is
to highlight artists who create a bridge between their rich Iranian roots and the global community, bypassing all barriers, creating an uplifting and positive experience amongst all," Milanian told me.
Once introduced to one another, Milanian and Shahrokh struck a chord. This time, the passion that linked them professionally was their mutual affection for showcasing their rich cultural heritage. "I especially respect him as an accomplished artist within the international artistic community who chooses at every chance that he has to come back to his roots and tell the story of his culture through his amazing talent."
It seems to be that life itself is full of seduction. Whether it is a particular work of art, career path, or a lifestyle we choose, certain ideas become so magnetic and charged that it leaves us weak at the knees, giving us no choice but to follow the calling.
Studying pre-med at the University in France, Shahrokh finally decided to make the break and go into theatre. "Once I immersed myself in this field, I was swept up, have never come up for air," he says with his typical poetic leanings. "My philosophy is about authenticity, heeding that inner voice and its relationship to me." And when he looks back on his childhood, he was utterly captivated by rhythm and form. "I would walk in a way to make the coins jingle in my pocket the rhythm of a particular song... I would watch the girls, their nuanced and controlled movements." This curiosity later translated into his study of different dance forms, from the minimalism of the Buto Japanese modern dance, the graceful discipline of Ti Chi, and the passion-filled singing and dancing of flamenco among others.
Perhaps what draws us the most to his particular form of performance is that Shahrokh used his training and discipline and his unlimited curiosity to become the iconoclast that he is. No watered down imitations of others, but a resolute expression of the amalgam of who he is.
This past Sunday night the 17th of July, I was in the audience again. At the end of the play -- Manouchehr succumbs to Zohreh's charm and spend a feverish night together. But he awakens to see that Zohreh has disappeared, her footprints still fresh in the bed of grass where he had slept. He brushes the grass near him as if to draw himself closer to the remnants of that fleeting feeling the night before.
This last scene leaves an indelible mark on us since it captures the essence of the human spirit -- that impulse to recapture what is fleeting, which marks the beginning of our searching, the irrepressible yearning to be reinstated in that elusive blissful state of love. And hence we become the epic "hunter" or Adonis, on the hunt for the paths that seduce us, that whisper and bid us to come closer to that red-hot pulsing center of aliveness.
Shahrokh said it succinctly: "It is this impulse for love that really gives meaning to our existence."
Related
Popular in the Community