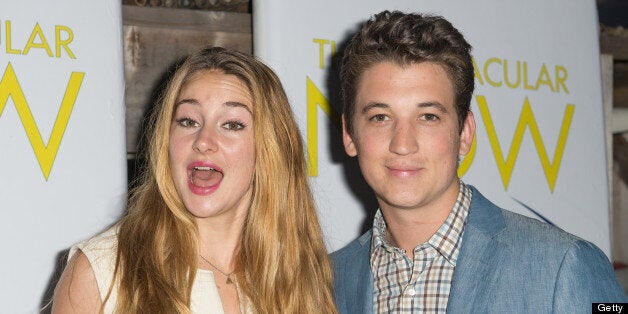 Audiences should start getting used to seeing Shailene Woodley and Miles Teller together onscreen.
"That's what other actors tell me," Teller, 26, said to HuffPost Entertainment when the strength of his burgeoning resume was broached. "Every time I get something, they're like, 'That's awesome, man. But, seriously, fuck you.'"
While Woodley, 21, is the lead in "Divergent," it's "The Spectacular Now" that puts Teller front and center. He stars as Sutter Keely in the film, a perpetually drunk high school senior who falls for the remarkably normal Aimee (Woodley) just as he's about to graduate. It's familiar territory made fresh thanks to James Ponsoldt's inventive filmmaking techniques (the director utilizes long takes to make the film feel more natural), a whip-smart script by Scott Neustadter and Michael H. Weber ("500 Days Of Summer"), and the lived-in performances from Teller, Woodley and the supporting cast (Kyle Chandler, Jennifer Jason Leigh, Brie Larson and Bob Odenkirk among others).
"I didn't come to this business to play small roles in ensembles; I always wanted to play a lead," Teller, best known for films like "Footloose," "Rabbit Hole" and "21 & Over" said. "I was excited that it was able to happen with such a great story and director and actors."
With "The Spectacular Now" out in limited release on Friday (A24 will expand the film nationwide throughout August), Woodley and Teller spoke to HuffPost Entertainment about their respective long roads to starring in the film, what they thought of Comic-Con and why Woodley is worried that Jennifer Lawrence might be angry at her.
Teller: When "Footloose" ended, I had my first audition for it. That didn't go very well. I don't usually audition poorly, but this was one of the bad ones. I felt like I was acting, and that's a bad sign. I asked for another audition. I did that audition and it went a little better, but then I heard Thomas McDonell was playing the part. They kind of had their cast. There was a different director at that time: Lee Toland Krieger. A year later, it came back around with James Ponsoldt involved, only Nicholas Hoult had the offer. Then I met with James at a bar and we just had some drinks. He never made me audition. After we met at the bar he said, "I want to offer you this part, and I think you would make the perfect Sutter. I just need to convince people." The producers were telling me that I had the part, but at the same time, I knew they had made the offer to Nick Hoult. But that's just what they do. I was pretty bummed out there for a while. Because I just knew I was right for the part.
Did you and Shailene know each other prior to filming?
Teller: But what was funny was Thomas McDonell was there too. At the time, were you attached to it?
Woodley: He was attached to the script but I was not.
Teller: But you knew that he was attached to it? You were aware of the script at that time?
Woodley: Yeah, I think so.
Teller: Yeah, because I remember you guys flirting a lot at the Teen Vogue shoot.
Woodley: I don't remember when that was. I read the script right after "The Descendants."
Teller: It must have been after "Footloose" in 2010. I had already auditioned for it.
Woodley: Oh. Then, yeah: I had definitely auditioned. We had both auditioned, got denied. Thomas McDonell got the offer, and then I heard Saoirse Ronan from "Hanna" was offered it too. Then they fell out and Nick Hoult and another woman got the offer.
Teller: I never knew you auditioned for it.
Woodley: I auditioned twice -- and bombed both auditions. I never auditioned for James.
Teller: Me neither. Because James is smart. "Don't make me audition, man. Trust me, I can do it. Seriously, I can do it. Just trust me!"
Shailene, you wanted this movie just as bad as Miles did?
Woodley: Hell yeah. I fought for three years to get this movie made. I wouldn't give it up, even when I knew other people had the offer. I was still like, "Bitch, I want to be in this movie. Even if I'm an extra, I believe in it so much."
Teller: You wouldn't have been an extra in this movie.
Woodley: I will be in "Avatar" though. I want to be. I really want to be. But the thing with this movie is that I think there were a lot of great components attached before Miles, James and I. But I think if it was not Miles, James and I, it wouldn't have been what it is. It would have been a different coming of age movie. You could shoot it more stereotypically.
Teller: All the extras look so authentic.
Woodley: My favorite is Brie's outfit at the beach scene, because it's so typical of a high-school girl trying to be sexy. Tied-up shirt. Awkward shorts. I thought it was so perfect. Instead of bleached blonde hair and tight mini-skirts.
All of that lends to the timeless quality of the film. It reminded me of "Say Anything ..."; it's the type of movie that I can see people watching for a long time.
Teller: After watching it, we feel like we made something that can stand the test of time. Just because the emotions and everything we're dealing with is honest, and humans aren't evolving that much where they won't have very similar feelings at that age. It's very universal. It's not technology heavy. There's nothing that puts the movie in a specific time.
Shailene, I imagine you get offered a lot of teen movies now. How do you decide which ones you're going to do?
Teller: What did someone call you? The Queen of Young Adult Novels?
Woodley: I don't know. I think I have done a lot of young adult films recently, like "Fault in Our Stars" and "Divergent." I was just talking to a woman and she asked how I felt about that. It's just, honestly, the only good scripts I've read have been these scripts. I'm not trying to actively do young adult, but if I read another script and it's a really badass script and the character happens to be 18, why would I say no right now? I'm that age. I can't play a 54-year-old.
Teller: Young adult is also this expansive, huge buzzword genre right now. I understand maybe why "Divergent" is young adult, but "The Spectacular Now" is also young adult.
Woodley: So is "Fault in Our Stars," and they're all so different.
Teller: Right now, I think it's more for adults than teenagers. "The Spectacular Now" is a drama with romance.
Woodley: It's a love story.
Teller: It was one of the best scripts I had read. I think Scott Neustadter and Michael Weber are just tapped into something and dealing with teenagers as adults.
They also wrote "The Fault in Our Stars."
Woodley: We're going to stalk them. I'm going to stalk them.
Teller: I'm going to literally kidnap them and give them a typewriter and say you're not coming out until I have my next three movies. Back, demon! Get back, demon!
Miles, you aren't in that film with Shailene, but you to do reunite for "Divergent" -- albeit as enemies. What was it like bringing "Divergent" to Comic-Con earlier this month?
Teller: I thought it was cool. I've never been part of a huge film like that. The footage looked awesome.
Being in the franchise, do you get an advanced look at Veronica Roth's third and final "Divergent" novel? What if you don't like it?
Woodley: No, but it's exciting.
Teller: But, we're literally already attached to all the movies. So they could just do some really weird stuff.
Woodley: You start peeing in cat boxes?
Teller: No, I said weird stuff.
Had you heard of the books before signing on?
Teller: I had never heard of it. I read it, yeah. Well, I skimmed it. I didn't read the full book in its entirety. I read pretty much everything with my character involved.
Woodley: He has a hard time reading.
Teller: But, no. I didn't really care too much about what happened to Tris and Four.
Well, you're playing a bad guy anyway.
Woodley: The cool thing is that if we cast anybody else for his role, it would have been like, stereotypical asshole guy. He'd be like, "I've got a good fucking jaw line and blah blah blah." Miles turned it into something profound and complex and more douchebag-y than asshole-y.
Shailene, did you read the books before agreeing to star?
Woodley: I had not read them, but I did read "Divergent" [after]. For me, it really helped because the script is somewhat different and it was nice to get back to the book and get back to the mentality of who Tris is from the book.
Woodley: I know! I'm so worried that she's going to hate me for saying that.
Woodley: Do they want that?
Woodley: I think people invite themselves into other peoples personal business [laughs]. To be frank. I would love to get to know Jen, but I have never even met her. She just gave me so really cool advice.
This interview has been edited and condensed.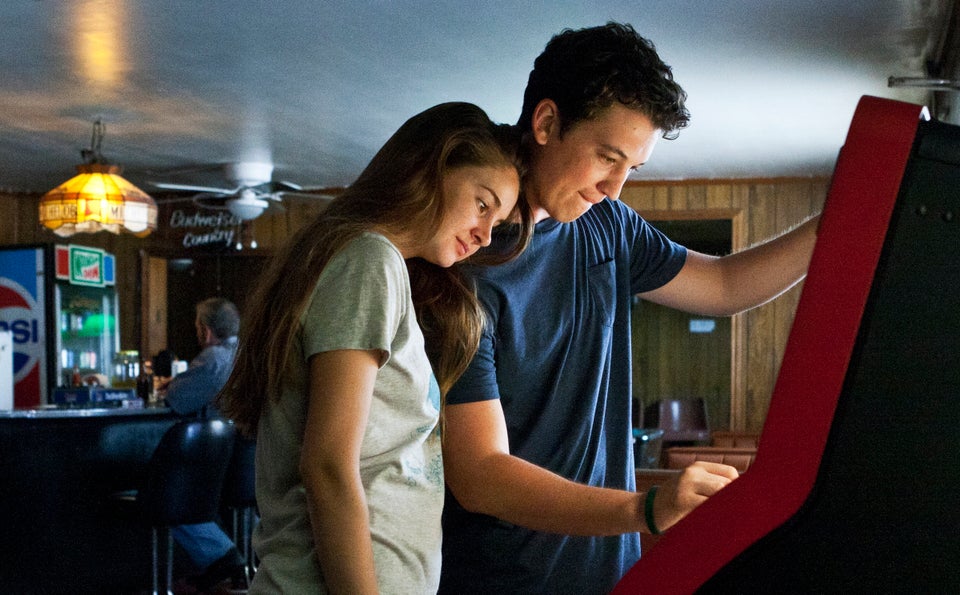 'The Spectacular Now': Shailene Woodley & Miles Teller In Photos
Popular in the Community