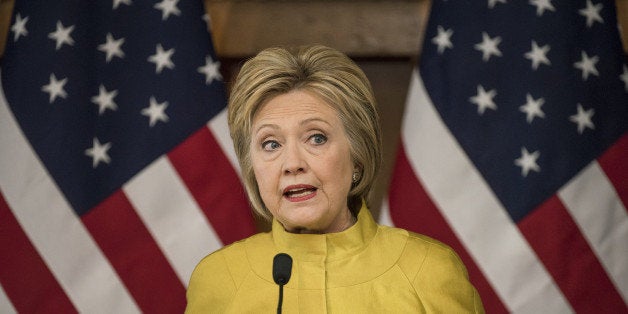 There have been a few articles suggesting that Hillary Clinton make Shake It Off her campaign song. While I disagree with the reasons given, I am completely onboard with the concept that this song embodies Hillary's uncanny ability to keep on moving. Hillary should drop Katy Perry and go with Taylor Swift because no one can Shake It Off better than Hillary.
Hillary's media team could create a video of her laughing at people for asking silly questions about her emails, Benghazi, overthrowing Gadhafi without a day after plan, and whether or not Bill's trysts in the White House would be Republican fodder. Ha, a Right Wing Conspiracy... just Shake It Off, Hillary says.
Bernie, being a closet Katy fan, says not so fast. Not everything in Hillary's long career can be neatly pressed, folded and slipped into that enormous Right Wing Conspiracy chest. Bernie dares to ask why Wall Street would give campaign contributions to Hillary if she is going to make them play by the same rules as the rest of us (or any rules for that matter). Bernie also demands that Hillary release the transcripts of the speeches to those Wall Streeters, for which she was paid a lot of money. Hillary says "I won't show you mine unless you show me yours" -- only Bernie has nothing to show. So...Shake It Off.
And like all infomercials...wait, there's more. Hillary fully inserts the word "we" when she discusses Bill Clinton's two terms in office. She hails "our" accomplishments in growing the economy, hails the fact that "we" balanced the budget. Of course when discussing the failures of NAFTA, welfare reform, or the three-strikes law, well Shake It Off. She says hindsight is easy, we've learned from the past. And using the term "super predator" when discussing African-American teens? Shake It Off, it was just a poor choice of words.
Let's see if she will continue to use the word "we" if anyone ever grows a pair and directly asks her why Bill Clinton would even contemplate giving a speech to North Korea -- a country that continues to threaten the United States with nuclear attack. How will she Shake It Off? And more importantly, will the media continue to let her Shake It Off?
And how about the other speeches she gave? While I don't think it is ethical for Democrats to take money from people who should be indicted for wreaking havoc on our economy, I don't lay in bed feeling sorry for the millionaires from whom she took the money -- they won't miss it. However, when you give a speech at a fundraiser for the Boys and Girls Club and you take $200,000 in payment, you are taking that money from an organization that helps children. And I have a serious problem with that.
When you agree to be a speaker at a nonprofit gala event there is an unwritten rule that you help the organization bring in money -- you help fundraise. An organization's revenues brought in by your presence should outweigh any cost of an honorarium. You shouldn't walk away with a hefty check and wave your hand goodbye, literally.
The Boys and Girls Club wasn't the only organization that doled out money to the Clintons. I wonder if Hillary's chosen pronoun will still be "we" when someone, anyone asks why the Clinton Foundation took over $11 million from small nonprofits who work tirelessly to raise money often on a shoe-string budget. Yes, the Clintons say they put it in the foundation but these are the Clintons -- don't they have better ways to fundraise? Don't they have a larger network than organizations that have budgets 1/10th or less the size of the Clinton Foundation? If Anderson Cooper or George Stephanopoulos ever get around to asking Hillary a tough question -- will her reply be the same as it was regarding Goldman Sachs "Well, that's what they offered?"

Bernie needs to ask more questions because Hillary has a judgment problem, as he has expressed about the Iraq vote. That judgment problem exists when money is involved, handshakes are made and deals are agreed upon. Hillary shouldn't be able to Shake It Off this time. Let's be real. The thousands of people at Bernie's rallies and at Trump's are pissed off. They are sick of inequality (although their ideas about who is to blame for inequality could not be more different).
Inequality and security, particularly after the Brussels attack, are and will remain the two big issues of the campaign. The "we" comprised of Hillary and Bill repeatedly took money from those less well off than themselves for the financial gain of their family and foundation, and Bill damn near took money over security. She should be held accountable for her actions -- their actions. And if Anderson and George and all of their colleagues refuse to help the American public honestly vet our candidates for President then Bernie has to ask the tough questions himself.
The American populous is sick of the establishment. They want something different. We want something different. Bernie is the change I want. Bernie needs to ask these questions before it's too late.
REAL LIFE. REAL NEWS. REAL VOICES.
Help us tell more of the stories that matter from voices that too often remain unheard.