Sometimes I find myself going in circles, trying too hard, and eventually getting stuck on an idea that needs further development when maybe I should have completely scrapped it earlier. When I get into that rut, which happens a lot, I draw from my yoga practice: don't be stubborn, step back, take a breath, and examine the bigger picture. Most of the time, I will see the right path or am able to seek out new ones to explore.
For the last couple of weeks, I've been obsessed with cherries and other summer fruit. It's hard not to be seduced when you visit the farmer's market. With my fruit allergies, however, I can't simply take a juicy bite out of them . I've tried to come up with desserts that are worthy of posting, but I came up short in the inspiration department.
Stepping away from the direction of summer fruit, I saw the answer right in front of me -- peanut butter. I've been rewarding myself with a peanut butter protein shake, about three times a week post-workout. The shake is a balance of sweet and salty, packed with good nutritious protein. It makes the hard work at the gym all worthwhile -- of course, I would love to add chocolate to it as well, but that would be counter productive to the workout. Best leave that for dessert. . . .
PBCB Cake, aka peanut butter chocolate banana cake, is the result of the protein shake, with the addition of chocolate to make it more decadent. Much like Nutella, hazelnut is the main ingredient, the frosting includes chocolate but peanut butter is still the star. Bananas, the most popular bodybuilding fruit, pushes the balance towards a "healthier" cake. This is my story, and I'm sticking to it.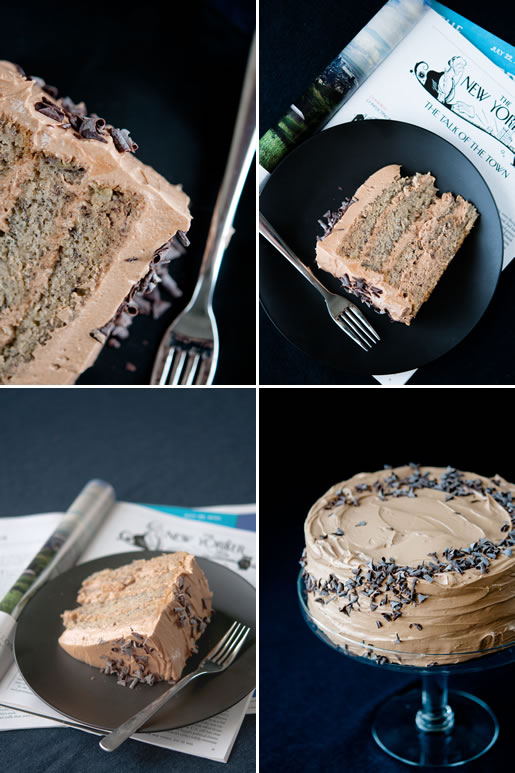 Banana Cake
recipe adapted from America's Test Kitchen
Ingredients
3-1/2 cups (17-1/2 ounces) unbleached all-purpose flour
2 teaspoon baking soda
1 teaspoon fine sea salt
10 large ripe bananas, mashed (about 3 pounds/5 cups)
16 tablespoons (8 ounces/2 stick) unsalted butter , melted and cooled slightly
3 large eggs
1 cup (8 ounces) packed light brown sugar
1/2 cup (3-1/2 ounces) granulated sugar
1/2 cup sour cream
2 teaspoon pure vanilla extract
Directions
1. Adjust oven rack to middle position and heat oven to 350℉. Grease two 9-inch round cake pans, line bottoms with parchment, grease parchment. Whisk flour, baking soda, and salt together in large bowl, set aside.
2. Place bananas in large microwave-safe bowl; cover with 2 layers of plastic wrap and cut several steam vents in plastic with paring knife. Microwave on high power until bananas are soft and have released liquid, about 5 minutes. Transfer bananas to fine-mesh strainer placed over medium bowl and allow to drain, stirring occasionally, 15 minutes.
(Note: The amount of liquid varies with bananas. If you have more than 1/2 cup banana liquid, transfer liquid to medium saucepan and cook over medium-high heat until reduced to 1/2 cup, about 5 minutes.)
3. Stir 1/2 cup banana liquid into bananas, and mash with potato masher until fairly smooth. Whisk in butter, eggs, brown sugar, sour cream and vanilla.
4. Pour banana mixture into flour mixture and stir until just combined with some streaks of flour remaining. Divide batter evenly into prepared pans.
5. Bake until toothpick inserted in center of cakes come out clean, 30-40 minutes. Cool cakes in pan on wire rack 15 minutes, then remove cakes from pan and continue to cool on wire rack to room temperature, about 30 minutes.
Peanut Butter Chocolate Frosting
Ingredients
34 tablespoons (17 ounces/4 sticks plus 2 tablespoons) unsalted butter, softened
1-1/2 cup creamy peanut butter
3-1/4 cups (13 ounces) confectioners' sugar
1/2 teaspoon fine sea salt
2 teaspoon pure vanilla extract
3 tablespoons Godiva liqueur or cream
4 ounces bittersweet sweet chocolate, finely chopped, melted and cooled.
Directions
1. In a bowl of a stand mixer fitted with whisk attachment, beat butter and peanut butter at medium speed until combined, about 30 seconds. Add confectioners' sugar and salt; beat at medium-low speed until most of the sugar is moistened, about 45 seconds. Scrape down bowl and beat at medium speed until mixture is fully combined, about 15 seconds; scrape bowl, add vanilla,liqueur or heavy cream, and chocolate; continue to beat until incorporated, about 30 seconds. Increase speed to medium-high and beat until light and fluffy, about 4 minutes, scraping down bowl if necessary. Use immediately or refrigerate until ready.
Assembly
Ingredients
Banana Cake layers
Peanut Butter Chocolate Frosting
Chocolate curls or chopped peanuts for garnish (optional)
Directions
1. With a serrated knife, slice each cake layer horizontally into two even layers. Place one cake layer, cut side up, on the bottom of cake stand or serving platter. Spread about one cup of frosting over cake layer. Top with second layer, cut side down and spread another cup of frosting. Repeat with the remaining two cake layers.
2. Spread remaining frosting evenly over top and sides of cake. Garnish with chocolate curls or peanuts, if use. Refrigerate cake for 30 minutes, serve. (Cake can be refrigerated for 2 days.)