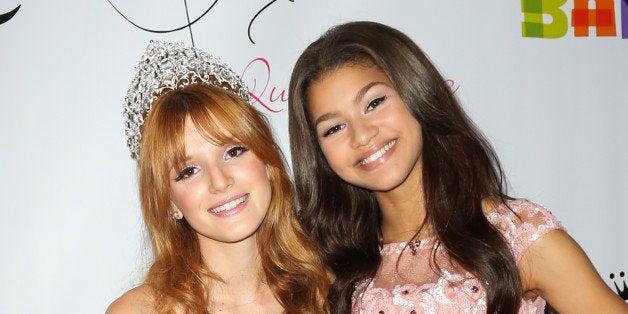 Sundays already have a reputation for making you feel down in the dumps, but we're feeling a little extra bummed today as we prepare to say our last goodbyes to dancing BFFs CeCe Jones and Rocky Blue on the "Shake It Up" series finale, which airs tonight.
Long-time fans already know that "Shake It Up" stars Bella Thorne and Zendaya Coleman are real-life besties. Not only have we loved seeing their adorable friendship off-screen (see Exhibit A), but we've also learned a lot about what it means to be a kickass friend by following their crazy adventures on the beloved Disney show.
So grab your tissues and your closest friend, and scroll down below for the 14 unspoken rules of BFFs, as told by "Shake It Up" GIFs.
1. You never have to explain anything. They just get it.
2. Two words: Matching outfits.
3. If anybody messes with your BFF, they mess with you.
4. You can call them out on their questionable fashion choices.
Or you know, let them know when they have food all over their face.
5. They let you have your moment to shine in the spotlight.
6. But they're not afraid to give you a reality check when you need it most.
7. And when you're going through tough times, they'll help you get out of bed in the morning. Literally.
8. Or offer you words of encouragement.
9. You have a secret handshake that nobody else knows.
10. They're there for you when you fall.
11. You never have to hold anything back.
12. They accept you for your weirdness.
14. And you have each other's backs. No matter what.
We'll miss you, CeCe and Rocky!
Sources:
wifflegif.com, fyeahzendayacoleman.tumblr.com, heyzendaya.tumblr.com, fanpop.com, rockyblues.tumblr.com, zendayasbella.tumblr.com, fuckyeah-shakeitup.tumblr.com
REAL LIFE. REAL NEWS. REAL VOICES.
Help us tell more of the stories that matter from voices that too often remain unheard.
BEFORE YOU GO
PHOTO GALLERY
Zendaya Coleman Photos