Most of you burger-eating folks by now know how to make a mean burger at home, but this Labor Day, you should do something a little extra special: You should make a Shake Shack burger.
If you've never had a Shake Shack burger before, this is your very special chance to try one. And if you have had a Shack Shake burger before, you know what a good idea this is.
We pulled some important tips from Shake Shack's cookbook for you to keep in mind as you get cooking, along with the recipe for their famous Shack Burger. Folks, it's good.
First, here are the most important tips we summarized from the book:
First, you need to start with the right kind of beef. You should always start with freshly-ground, never-frozen beef. For the best flavor, stay away from economy cuts. Consider mixing your own ground beef for a flavor and fat content you like. Try an 80 percent chuck/20 percent short rib, for example.
Shape the ground beef into a rounded puck, something between hockey equipment and a ball (see the video above). This is how Shack Shack gets such a nice sear on their burger: They add the puck and push it down on the griddle with a large metal spatula into the more familiar burger shape.
Toast your buns before cooking the burgers. Shake Shack swears by Martin's Potato Rolls. They lightly brush them with melted butter and then toast them until they're perfectly browned.
Add sliced American cheese just after flipping the burger. This gives it enough time to melt into a perfect blanket.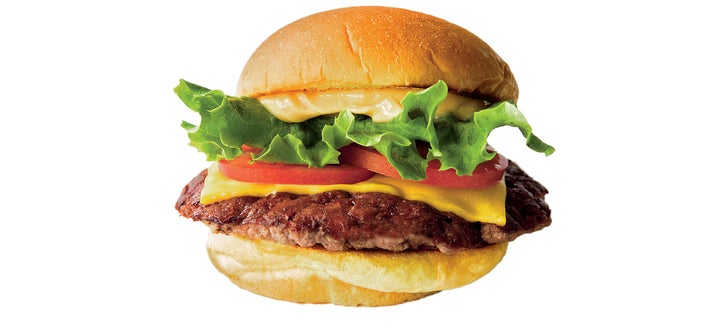 The recipe below is reprinted from Shake Shack. Copyright © 2017 by Shake Shack Enterprises, LLC. Principal photographs copyright © 2017 by Christopher Hirsheimer. Published by Clarkson Potter/Publishers, an imprint of Penguin Random House, LLC.
The ShackBurger
Okay, here's our sacred cow! Like all deceptively simple things, it took us years to get it right, but now you can master burger perfection in five minutes.
4 hamburger potato buns
4 tablespoons unsalted butter, melted
4 tablespoons Not Quite Our Shack-Sauce (recipe below)
4 pieces green leaf lettuce
8 quarter-inch slices ripe plum tomato
1 pound very cold ground beef, divided into 4 pucks
1/2 teaspoon Our Salt & Pepper Mix (recipe below)
4 slices American cheese
1. Heat a cast-iron griddle over medium-low heat until warm. Meanwhile, open the hamburger buns and brush the insides with the melted butter. A soft brush is helpful here. Place the buns buttered side down on the griddle and toast until golden brown, 2 to 3 minutes. Transfer buns to a plate. Spoon the sauce onto the top bun. Add a piece of the lettuce and two slices of tomato.
2. Increase the heat to medium and heat the griddle until hot, 2 to 3 minutes.
3. Evenly sprinkle a pinch of Our Salt & Pepper Mix on top of each puck of meat.
4. Place the pucks on the griddle, seasoned side down. Using a large, sturdy metal spatula, firmly smash each puck into a 1/3-inch-thick round patty. Pressing down on the spatula with another stiff spatula helps flatten the burger quickly. Evenly sprinkle another big pinch of Our Salt & Pepper Mix.
5. Cook the burgers, resisting the urge to move them, until the edges beneath are brown and crisp, and juices on the surface are bubbling hot, about 2½ minutes. Slide one of the spatulas beneath the burger to release it from the griddle and scrape up the caramelized browned crust. Use the other spatula to steady the burger and keep it from sliding. Flip the burgers. Put the cheese on top and cook the burgers 1 minute longer for medium. Cook more or less depending on your preference.
6. Transfer the cheeseburgers to the prepared buns and enjoy.
Our Salt & Pepper Mix
We mix 1/2 cup kosher salt with 1/2 teaspoon freshly ground pepper and use that mixture to season our burgers as they cook. You'll see we call for a pinch or two of the mixture in every recipe.
ShackSauce
Long ago we threw away the key to the secret recipe for ShackSauce; but we promise to get you really close with ingredients easily found in your kitchen.
1/2 cup Hellman's mayonnaise
1 tablespoon Dijon mustard
3/4 teaspoon Heinz ketchup
1/4 teaspoon kosher dill pickling brine
Pinch of cayenne pepper
Put all the ingredients in a small mixing bowl and stir until well combined. Sauce will keep, covered, in the refrigerator for up to one week.