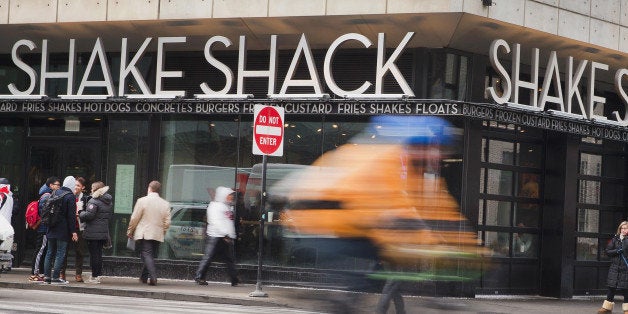 Shake Shack announced plans on Tuesday to open its first Los Angeles-area location in 2016. The location will be the first on the West Coast for the burgeoning upscale fast food chain, which was started by famed New York restaurateur Danny Meyer.
The LA Shake Shack will be located at 8250 Santa Monica Boulevard in West Hollywood, mere feet from the Sunset Strip and the center of gay nightlife in Southern California -- and nearly 3,000 miles from the original Shake Shack in Manhattan's Madison Square.
"We've heard from our West Coast fans for years that they'd love a Shake Shack in California, and at long last, we're delighted to say Shake Shack LA is on its way," CEO Randy Garutti said in a press release. "Los Angeles is one of the greatest cities in the world with a culture like no other, and we look forward to being a part of the community."
Shake Shack revealed that this new location will have the feel of a "roadside shack," with an outdoor patio and, so crucial in car-dependent LA, its own parking lot. Like its sibling restaurants, it will serve high-quality versions of traditional fast food items such as burgers, fries, hot dogs and milkshakes. No word yet on whether or not the menu will also include beer and wine, as many other U.S. Shake Shacks do.
But it's also a logical move for the chain. Shake Shack has been on an expansion tear for years now -- a mission that only gained momentum when Meyer and Garutti took the 11-year-old company public in January. The chain now has 66 locations in 11 states, the United Kingdom, Russia and several countries in the Middle East. And representatives from Shake Shack told HuffPost that the West Hollywood outpost is just one of 10 locations set to open in 2016.
The LA market, though, could present some unusual challenges -- namely, the power of incumbent California-based burger joints such as the fast food chains In-N-Out and Fatburger and the casual sit-down Umami Burger. Then again, none of those places have Danny Meyer's Midas touch -- or Shake Shack's luscious, luscious ice cream concretes -- so it's safe to say that Shake Shack has at least a fighting chance.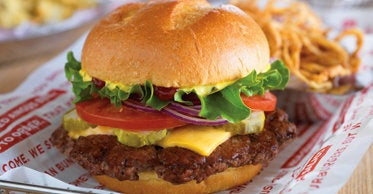 Fast Casual Burger Chains To Watch