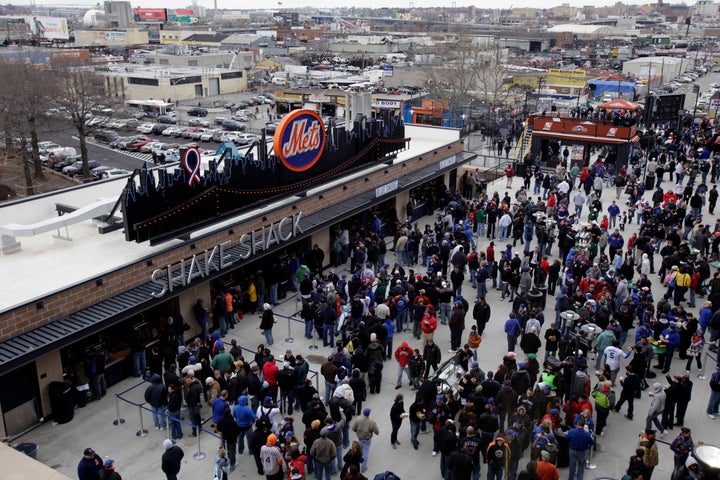 The concept behind Shack Shack is straightforward. Its COO Randy Garutti has said that its mission has been to be "a modern roadside burger stand," to make classic fast food really well. Its menu includes nothing much besides hamburgers, hot dogs, fries and ice cream. Even McDonald's serves a few more adventurous dishes.
But straightforward doesn't mean easy. Owner Danny Meyer expects perfection from every restaurant in the Union Square Hospitality Group. For Shake Shack to meet the high standards of siblings like Gramercy Tavern and Eleven Madison Park, without the advantage of its siblings' lush interior decor and high prices, took time and effort.
That meant Shake Shack started slow. It opened in Madison Square Park in 2004. Word of its fresh-tasting burgers and custard-based, Blizzard-besting concretes spread throughout the city; lines stretched across the park. Many called for more locations to cut the wait, but Meyer wanted to wait until all the kinks were worked out. Then the USHG opened outposts in the Upper West Side and in Citi Field in 2008 and 2009. Four more locations (Miami Beach, Upper East Side, Times Square, Saratoga Springs) sprung up in 2010.
At the start of 2011, then, it could have been considered a successful, but minor, chain. But by the start of 2012, it will be an empire.
Shake Shack has already opened five outposts in 2011: two in Washington, DC and one each in Kuwait, Dubai and New York. The burger chain's invasion of the capital was major enough news that Meyer was asked to throw the opening pitch of a game at Nationals Stadium, the site of the second DC location. And just this week, Michelle Obama got serious flack for eating at the Dupont Circle location. Critics said it was a hypocritical indulgence, given her support of anti-childhood-obesity programs. These critics, assumedly, have never felt the nostalgic rush of alternating between sips of Shake Shack's caramel shake and crunches of its hyper-crisp French fries.
Shake Shack's whirlwind year isn't even over. The USHG has announced plans for three more Shake Shacks by the end of the calendar year, and yet another by mid-2012. Here's the full list of announced locations:
Westport, CT: Mid-Summer 2011
Downtown Brooklyn: Fall 2011
Philadelphia: Second Half of 2012
Shake Shack will soon be flipping burgers in three countries and five states. But Garutti, in the speech where he called the brand a "roadside burger stand," also voiced another maxim: "The bigger we get, the smaller we need to act." Shake Shack may have plans to go far from its original location, but for the sake of their customers' taste buds, they had better not go far from that original motto.
A video of the New York location: