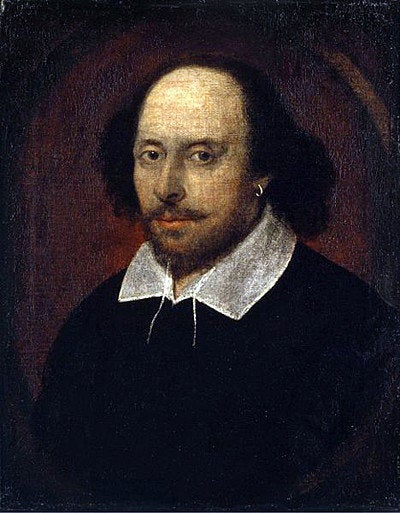 April is a month filled with historical markers. It begins with April Fool's Day (which is celebrated here in San Francisco with the annual St. Stupid's Day Parade). For Americans, April contains the deadline for filing one's income tax returns. This year, April 15 also marks the passage of 100 years since the RMS Titanic sank into the icy waters of the North Atlantic on a cold, dark night in 1912.
While the miracles of Easter and Passover are frequently celebrated during April, this month also contains the birth and death of one of the world's greatest playwrights. William Shakespeare was baptized on April 26, 1564 and died on April 23, 1616.
According to Wikipedia, the earliest known account of Shakespeare's Macbeth relates to a performance at the Globe Theatre in April of 1611. More than 400 years later, Thailand has banned screenings of Shakespeare Must Die (a Thai-language adaptation of Macbeth by director Ing Kanjanavanit). How's that for staying relevant?
The ability of Shakespeare's plays to captivate audiences over the course of four centuries is obviously due to the quality of his writing, the complexity of his characters, and the timeliness of his plots. Not a day goes by that someone, somewhere isn't involved in the planning or performance of one of Shakespeare's plays.
Not only have Shakespeare's works survived directorial updating and near-villainous tampering with the text, they are still taught in high schools and colleges around the world. What has changed (very much for the better) is the wealth of teaching tools now available in the classroom and on the Internet -- as well as through direct streaming and video rentals.
A new documentary directed by Alex Rotaru focuses on teenagers from a variety of high schools whose burning goal is to win the annual Shakespeare competition organized by the Drama Teachers Association of Southern California. Although each of these students has already been bitten by the theatre bug, they come from diverse ethnic and socioeconomic backgrounds.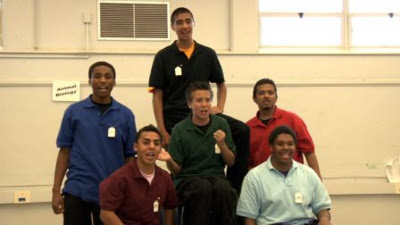 Many of the participants in the competition have grown up against a background of violence, drugs, and poverty. Some are determined to use their school drama program as a way of escaping the influence of local gangs. Others find the drama department a safe place where they can shine and be accepted as part of a team.
Galvin and Melvin are African American twin brothers whose mother and grandmother were murdered by their father. The twins (who are now being raised by an aunt and uncle) are taking turns performing as Othello.
A former bully who was encouraged to join his school's drama club, Tosh turned his life around through theatre and started to achieve higher grades.
"Taco" is a young Latino from East Los Angeles who was kicked out of his local school for being a gangbanger. After studying and performing Shakespeare, he now aspires to become a psychologist.
Tommy is a redheaded clown whose parents were former Neo-Nazi skinheads. His passion for video games has been replaced by a passion for performing.
Nicole is a young woman whose family lives below the poverty level in the small desert community of Hesperia, California.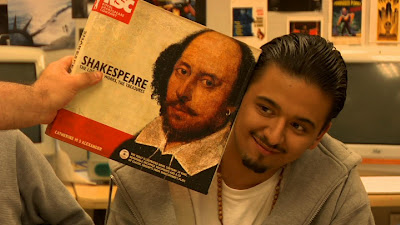 One of the proud participants in Shakespeare High
During the year the documentary was shot, student groups competed using scenes they had developed from A Midsummer Night's Dream and Othello. The only scenery they were allowed to use during the competition was four chairs.
At various stages in the film, the program's participants have a chance to meet with established Hollywood stars (Kevin Spacey, Val Kilmer, Richard Dreyfuss, and Mare Winningham) who are alumni of the DTASC competition. Shakespeare High is peppered with an impressive roster of facts about the importance of school arts programs that have been provided by the American Alliance for Theatre and Education.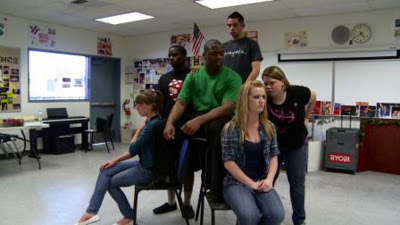 In his director's statement, filmmaker Alex Rotaru explains that:
"Growing up in Communist Romania, my love of the arts was the one thing which allowed me to show up, study, and eventually excel in school. Even when my surroundings seemed hopeless, I found endless hope and inspiration in theater, music, literature, and film. I was especially affected by the works of William Shakespeare, to which I was exposed at a very early age by my parents: Maria, an actress, and Eugen, a playwright. Many parents in their generation used exposure to the arts to insulate their children (teenagers in the dreaded Communist Eighties) against the intellectually oppressive environment of the time, and to stimulate the unimpeded growth of our imagination and self-worth. When I came to the United States on a college scholarship a few years after the fall of Communism in 1989, I began noticing that the same principle applied here, even though the challenges thrown in the path of teens growing up in the U.S. are essentially different and extremely diverse."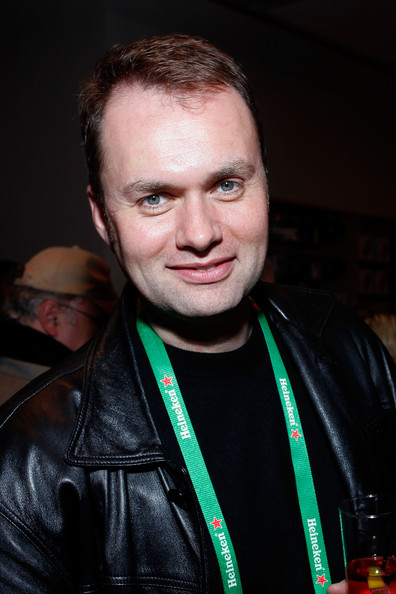 Director Alex Rotaru at the Tribeca Film Festival
"The passion for the arts and education survived my various transformations and eventually carried over to filmmaking. It first took shape in PBS P.O.V.'s The Hobart Shakespeareans, which I co-authored with my mentor, documentary giant Mel Stuart; then in They Came To Play, a film about the Van Cliburn Amateur Piano Competition (which, I'm glad to say, was very well received here in New York and elsewhere) and in Kids With Cameras, which shows children on the autism spectrum using filmmaking and theatre arts to connect and communicate with the world (this film was recently selected by the Department of State to represent U.S. values abroad in its American Documentary Showcase). With Shakespeare High, the cycle is complete, on what I pray the audiences will agree is a strong, upbeat note, despite the current budgetary climate which has arts education up against a wall and denied funding. I can only hope that the simple lessons of our film will be used by parents, educators and -- why not? -- legislators, empowering other teens to become, in their turn, part of 'the happy few' since this kind of achievement is indeed accessible to everyone."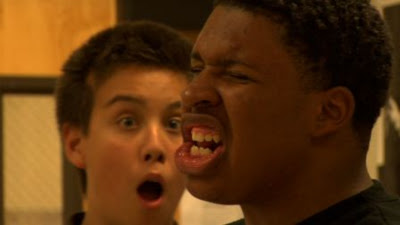 Tosh uses his rubbery face to great comic effect
It's hard to compare Shakespeare High to documentaries about individual students participating in school competitions (Spellbound, Mad Hot Ballroom, Whiz Kids) because there is a level of hyperactivity that is hard to tame when so many teams of teens are competing. My one criticism of the film is that it never shows a single team perform a single scene to completion.
However, I have no doubt that Shakespeare High will become a powerful teaching tool to be used with politicians who think of the arts as an elitist activity unworthy of government funding. My favorite moment in the film comes when an aspiring actor is shown giddily rapping to his friends:
"His name is Othello,
He's a really cool fellow.
He likes to go to battle
And he loves green Jell-O!"
Popular in the Community