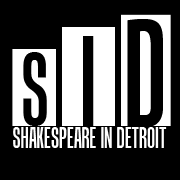 Shakespeare in Detroit, a theater company seeking to perform the world's most renown plays throughout Detroit, is asking the public an important question:
2014 season -- to be or not to be?
With all of the real life drama Detroit experiences, it's easy to forget that Detroit offers drama by way of the strong arts community. From the Detroit Institute of Arts to The Heidelberg Project -- it can't be denied the 313 is a cultural hub. Samantha White, Artistic Director and founder of Shakespeare in Detroit, was bothered by the city's lack of a Shakespeare company -- so she started one.
On August 14, 2013 the company performed Othello in Grand Circus Park for a crowd of approximately 500 people. The show received rave reviews, and Samantha is ready to start production on more shows. In order to do so, though, they need community support. The company started a Kickstarter campaign to fundraise for their future shows, and hope to raise $20,000 by December 22nd.
I sat down with Samantha to discuss what impact Shakespeare can have Detroit:
What motivated you to start Shakespeare in Detroit?
I had been to a lot of cool Shakespeare festivals in other cities and didn't get why we didn't have anything like them -- outdoor theater that people, families, everyone could enjoy each summer.
I was actually hoping that someone else would do it because I didn't know where to begin. But after waiting for a few years, and waiting and waiting, I decided that I would just try to create what I wanted to see in the city. But I didn't want to start without some preparation so I attended Tech Town's First Step program to create a feasibility plan and a business plan. In the spring of this year we received support from the Detroit 300 Conservancy to do "Othello" at Grand Circus Park.
Why Shakespeare in particular?
I fell in love with Shakespeare after being forbidden when I was around 8 years old from listening to rap music in our house. I would sneak and listen and my mother would always catch me. So, finally one day she handed me this big, old book and said: "If you love lyrics so much, read this." The book was the Complete Works of William Shakespeare. By the time I was a senior high school I was in love with the guy.
I chose Shakespeare as my artistic endeavor because, yes, it is what I love. But, there are so many parallels in Shakespeare that speak to Detroit. For instance, one of the reasons I wanted to do "Othello" at Grand Circus Park was because around that same time the city was uncomfortable with or questioning where one of our mayoral candidates was from. There was a discomfort that he didn't necessarily look like the majority of Detroiters. And in "Othello" many of the Venetians, despite Othello's accomplishments and status, are very uncomfortable with him because he isn't necessarily what they are used to. There are so many storylines in this city that you can find in Shakespeare's work. If there is any city in the world that can relate to The Bard, it is definitely our city.
How do think artistic pursuits like SID invigorate the city of Detroit?
Art adds to the quality of life in our city. Jobs may make people come to a city, but the arts make them stay.
It's important to employ our artists. Artists are the soul of our city and being able to give them work and an incentive to stick around as opposed to moving to Chicago, New York or other artists' destinations is critical.
Art attracts tourism. Let's face it, people don't got to New York City because it has a cool financial district. Also, people tend to hangout with their respective groups -- the people they went to school with, their neighbors, the people in their industries. The arts build community. It's one of the rare times people of all walks of life and experiences come together.
Art is not a bonus, it is a necessity. Period.

What are your goals for the future of Shakespeare in Detroit? Your own theater, a touring theater troupe, or just a loose group of performers? None of the above?
Shakespeare in Detroit's short term goal is to, of course, make a 2014 season happen.
We are roving artists right now, but, perhaps, in five years we'll have a home. We'll always roam to a degree, but brick and mortar would be amazing -- especially, for winter shows when we can't perform outside.
The ultimate dream would be for us to be the Stratford Fest of the other side of the river.
Overall, we just want to expose people to Shakespeare's work who may not otherwise have the opportunity, attract visitors to Detroit by creating art in some interesting places -- like Recycle Here in the New Center area where we hope to perform in March -- and create community by making folks of all walks of life come together and create memories.
Why a Kickstarter campaign?
I chose Kickstarter for a couple of reasons: We know exactly how much it costs to do our shows. There is no compromising on the goal. We couldn't, for example, raise $10,000 and still have a full season. We have to meet our goal or we won't be able to perform.
Because we are community-inspired we believe that the community will come to our aid and support us. They surprised and delighted us by coming to "Othello" and we hope they''ll have our backs again. That's the thing about Detroit and Southeast Michigan -- we always have each other's backs, even when no one else does. We -- Detroit -- are our greatest asset. We have amazing people and resources and I'm willing to bet on them.
Are you confident you will meet your fundraising goal?
I love this city and I have my complete faith in the idea that we can fund a 2014 season. People all over the world want Detroit to thrive and I hope they'll see the value of this artistic endeavor and help us out. I can't predict the future, but my heart is in it to win it.
In addition to donating to SID, what else can people throughout Detroit help support our communities arts?
Explore. People can visit places where they have never been. Go to the opera house, go to Recycle Here and check out the art park, go to Detroit Artists Market, visit Detroit Repertory Theatre, If you see a saxophonist on the street with his hat on the ground, put a dollar in it.
Artists are the heartbeat of this city. They add flavor. They make things interesting. They inspire. In the context of making Detroit thrive, don't forget about them.
That's right, Detroit -- don't forget about all the artistic endeavors the city has to offer. SID's campaign shows how art is a communal experience, and hopefully we all work together to bring Shakespeare back to the D.
Calling all HuffPost superfans!
Sign up for membership to become a founding member and help shape HuffPost's next chapter