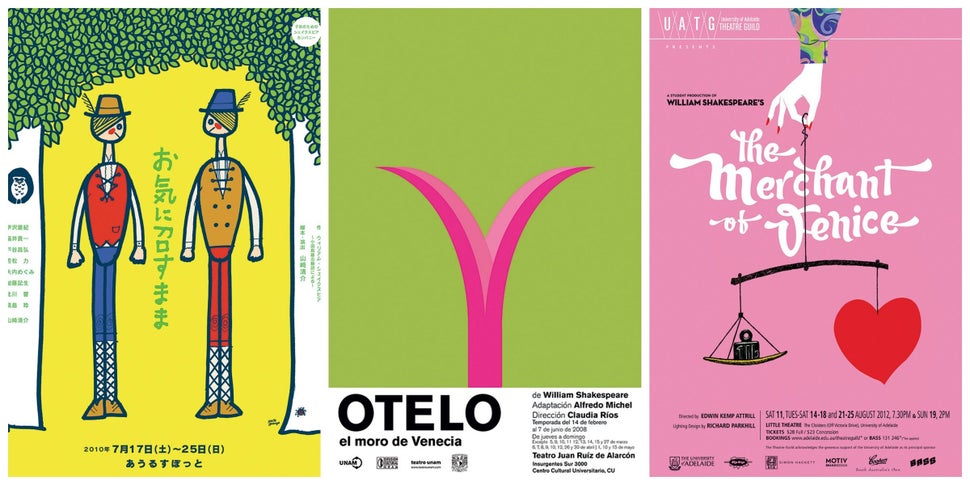 A goth-looking, tall-haired fairy in a blood-red dress might not be how you visualized "A Midsummer Night's Dream" when you read it in high school.
In its original form, Shakespeare's play about the sway of magic over a pair of lovers and the stormy spell-casters who control them takes place in, well, midsummer -- not an eerie October woodland. But a 2007 production of the play staged in Singapore took liberties with the look.
That's the beauty of Shakespeare: his works are continually re-staged and remixed, in attempts to revamp them without losing their original intent. A new book, Presenting Shakespeare, provides a sample of the myriad ways the Bard's plays have been reimagined around the world, with posters advertising productions in the U.K., the U.S., Japan, Russia and beyond.
As a recent New York Times op-ed noted, there are plenty of reasons to oppose updating certain aspects of Shakespeare's plays. Writer James Shapiro was not happy with the Oregon Shakespeare Festival's decision to hire playwrights to alter the language of the plays, making, "O Romeo, Romeo! Wherefore art thou Romeo?" something more like, "Romeo, why are you Romeo?" Shakespeare's plays were confusing even to audience members in his time, Shapiro says. His words are sonorous, not always perfectly sensical.
So, by that logic, it may be best for remakes to stick with aesthetic reimaginings. Bring on the goth fairies!
PHOTO GALLERY
20 Must-Try Street Foods Around the World
Calling all HuffPost superfans!
Sign up for membership to become a founding member and help shape HuffPost's next chapter