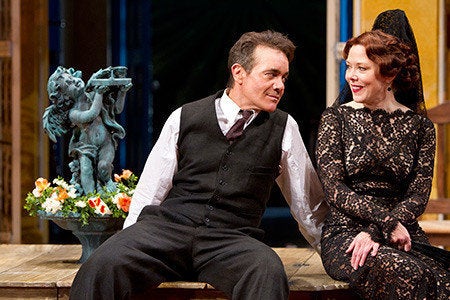 The unfortunately named characters Juan Huevos and Jose Frijoles in a new version of "Much Ado About Nothing" at Washington D.C.'s Shakespeare Theatre Company are out after complaints about insensitivity.
Less than a month after the formal opening of the Shakespearean comedy with a Cuban twist, the renowned theater company has given the two buffoonish characters their original rustic English names of Hugh Oatcake and George Seacoal, according to its website.
"Here was an artistic leader who listened to his audience and decided to do the right thing," said Tlaloc Rivas, a Mexican-American theater director who mounted an email and letter-writing campaign against the production. "I'm hoping this sets a precedent of Latinos finally saying a collective 'no' to being continually being scapegoated, demeaned and stereotyped in this current political climate."
In an email to Rivas, the company's artistic director Michael Kahn said "there was no harm intended by the production."

"I also want to assure you that your letter has increased the sensitivity of all of us ... and in the future The Shakespeare Theatre Company will be very conscious of the concerns your letter raised," Kahn wrote.
In an open letter to the theater company, Tlaloc and other theater professionals around the country complained about the tone and marketing ("Cha-cha-cha down to the Shakespeare Theatre") of director Ethan McSweeny's production, its mostly white cast, the stereotypical portrayal of Latino villain Don John and the derogatory names given to the two clownish characters.
"As we come to the end of 2011, the Latino community saw a continued level of extreme vitriol targeted through political rhetoric, through discriminatory practices in hiring, the rise in hate crimes and harassment and five additional states enacting anti-immigrant statutes following Arizona's ignominious example in 2010," Rivas wrote. "For a national theater to take up this rhetoric through sloppy dramaturgy and for the sake of a joke is disappointment unworthy of the stature of such a revered company."
By Friday, Huevos (Eggs) and Frijoles (Beans) had been jettisoned from the production.
On Twitter, Washington Post theater writer Peter Marks said Kahn told him the character names were a "mistake" and that "he learned something" from the experience. The offending names were to be changed in the programs by next week.
The new version of "Much Ado" has been reset on a sugar plantation in 1930s Cuba and includes hip-swaying dance scenes and characters with heavy Spanish accents.

"But even though two of the other characters in the retinue were originally given the indisputably English names of Hugh Oatcake and George Seacoal, did the director really have to rename them, cringingly, Juan Huevos (Phil Hosford) and Jose Frijoles (Carlos J. Gonzalez)?" Marks asked in his Washington Post review. "The joke is coarser than this 'Much Ado' deserves, and the glib cultural referencing in general comes across as a little patronizing."
The Shakespeare Theatre Company has sought to open a discussion about the concerns on its website, with its audience enrichment manager noting the "names that Shakespeare chose were a joke about regional rustics within England, utilizing puns on regional food and industry from their place of origin."
"Relevant to the new setting, the hope was to find a similar joke that could reflect Cuban society in the 1930s," Hannah Hessel wrote. "The joke may not have entirely succeeded, even if the impulse wasn't to disparage Latin Americans it still unintentionally invoked racial stereotypes. Those stereotypes can make Latino audience members feel like outsiders and connect to possible existing prejudices within a minority of audience members."
Shakespeare Theatre Company officials could not be reached for comment.
In a blog post, San Francisco playwright Marisela Trevino Orta called the renaming of the original characters "flippant" and "gimmicky" but said the theater company appeared interested in becoming more "culturally aware/sensitive."
"I think it is heartening that STC is willing to engage with the larger theatre community and Latino community about their production choices instead of just putting up a wall of silence," she wrote.
Said Rivas: "I thought what they did was very, very important. It's kind of unprecedented for a theater company that large to actually respond."
Popular in the Community