The fight is again to the death and only one man stands. Rain drops sprinkle on us, but only for a moment as the man stumbles to discover his worst fears are true. His true love lies dead in the mausoleum. Independent Shakespeare Company of Los Angeles brings Romeo and Juliet to life this summer as part of their season festival and as those final moments close on stage, with some of the most famous lines in the history of the theater, the skies above Griffith Park threaten to weep. The show is modern, even as the costumes are striking, sexy and evocative of some gilded history. The actors, many of them returning faces from ISCLA's fantastic troupe of performers are embroiled in passion that sweeps us away yet again. A rock and roll band is built into tonight's set. Their punk rock sound between the scenes blares the same adolescent discontent felt by the young lovers on stage. When two of the musicians leave their corner to join the play as actual characters, and then return to their instruments, it's another nod to ISCLA's tireless innovation and theatrical artistry.
To take material so well known and keep it fresh is a tribute not only to how well the festival directors know the plays, but also to how fearless their staging and inventions are. Romeo and Juliet is the most famous love story every told. How do you make that new? Melissa Chalsma, director of the play, and co-founder of ISCLA with her husband and co-founder David Melville, had a terrific challenge and delivers once again with a story heady in romantic bliss which is torn apart by gut-wrenching hatred. Erika Soto, who plays Juliet, brings an adorable girlish charm to a part already know for its intelligence. Romeo, played by Nikhil Pai, is not just the hot-headed Montague of the historical texts, but a charming and bold young man. André Martîn's Mercutio is so engaging that we feel his loss like one of our own family members.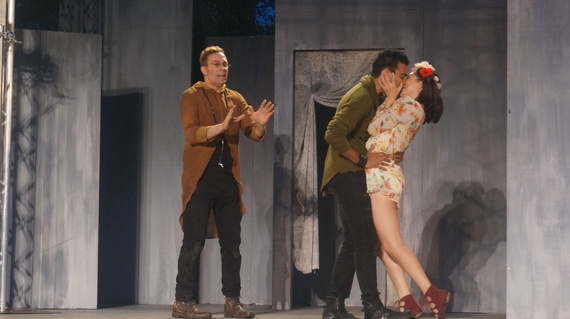 David Melville, Nikhil Pai and Erika Soto in ISCLA's Romeo and Juliet

After the show, both Erika and Nikhil tell me that one of Chalsma's choices helped them create something so true between them. "Our characters simply don't know they're in a tragedy, they think their story will end well," says Erika.
One of ISCLA's hallmarks is how characters spill off the stage into the audience and stay there playing entire scenes yelling back to those on stage from the blankets of family picnics. Romeo, Mercutio, Benvolio (a beguiling Mary Goodchild cast in a role usually taken by a man), all were on the grass behind and amongst us playing their parts.
Coincidentally a show I was planning to attend the day before was rained out. Yes, actually rained out in Los Angeles. "First time in twelve years we had to cancel a show," David Melville, tells me at the intermission. The three-day storm over Los Angeles was threatening to hurt their attendance tonight as well. I headed out this evening with my family in the car through a rain storm anyway. We decided the rewards that this festival brings would be worth it. Lucky for us the three-day storm over Los Angeles only dropped a few tears at the show's worst moments in the finalé under the clouds that night. That's just one of the many risks you take running an outdoor summer festival. David looks out at the crowd of loyal supporters who are patiently waiting for the second half of the show. "Tonight's performance, something about it," he says. "That everyone is here to support us even with the weather, it means a lot, it's charged the show somehow." The play leaves us spellbound, and seduces us as the young lovers enchant themselves. When you find yourself rooting for the success of Romeo and Juliet, knowing it's impossible, you've found yourself in a perfect moment of theater.
I became a fan of this troupe years ago when I found them in Griffith Park and they had audiences half the size that they are today. That they started years before in a park far from here with 12 people in the audience is a testament to their fortitude and vision. Approximately 50,000 Angelenos now attend their summer festival, and that doesn't count their newer 'indoor' season of productions that run through the year in their studio space in town.
As always at the end David steps forward, thanking everyone who attended. The gratitude he and the cast feel is palpable. He reminds the still clapping audience that 'free Shakespeare' isn't exactly free, the troupe pays their performers, technicians, musicians and have many expenses that make their budget the same as any established theater. What makes this company unique is that they insist on keeping their summer events entirely free. It's an extraordinary accomplishment and gift they make to our city. David says it's easy to think looking at their stage and equipment that they are an institution of some kind, but in truth it is the opposite. They are kept alive, literally, by the generosity and support of each and every attending guest.
I entreat you all to enjoy and support Independent Shakespeare's LA's unique wizardry. This troupe opens a magic door each night to a kingdom where few have the key. That they invite us to follow, is one of LA's most unique gifts.
ISCLAs summer program continues with Romeo and Juliet, tonight and through the weekend, with additional dates after their run of Much Ado About Nothing. For more information and support visit: www.iscla.org.
Photo credit: Philip Morton
REAL LIFE. REAL NEWS. REAL VOICES.
Help us tell more of the stories that matter from voices that too often remain unheard.