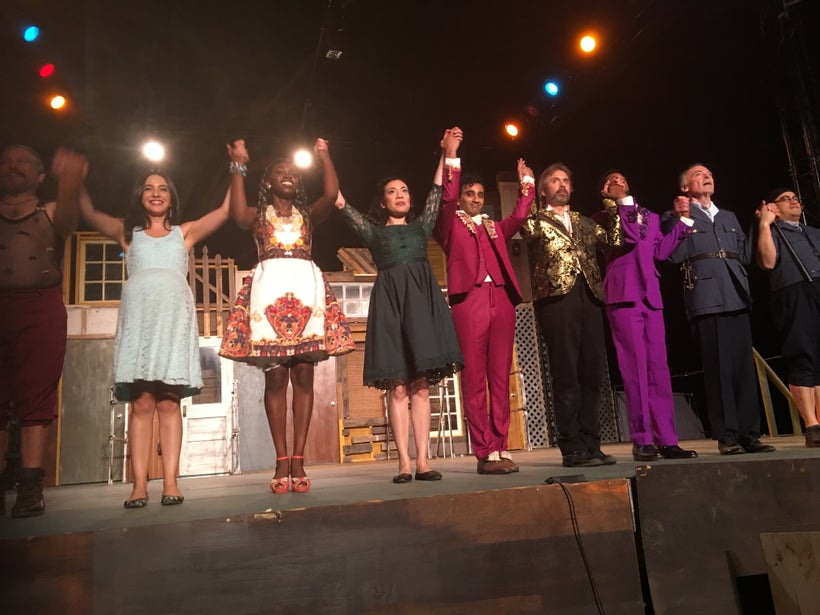 Perhaps you've heard of the more than sixty five words and phrases coined by William Shakespeare we still use today? From The game's afoot (Henry V), to be-all and end-all (Macbeth) to dead as a doornail (Henry VI Part II), the Bard has peppered our language with idiomatcs created by him that are still in use today.
This summer you got to hear some of them live on stage, from refusing to budge an inch, to the word belongings, both originating in his play Measure For Measure, delightfully performed by the merry players of the intrepid Independent Shakespeare Company, a non-profit organization which presents a Shakespeare festival every summer for free in Los Angeles' Griffith Park. This happy band of brothers (Henry V), continues their summer program presenting Two Gentlemen Of Verona which opened June 24th and plays every Thursday through Sunday night at their Griffith Park stage through Sept. 3rd.
Co-Presidents David Melville and Melissa Chalsma, who share directing and performing duties, have created a staple of Los Angeles cultural life and a must see for the over fifty thousand loyal fans who come out with picnics and blankets rain or shine to stay with the players through the cool evening nights not only because they wear their heart upon their sleeve, (Othello), on stage, but also because you'll laugh yourself into stitches (Twelfth Night) because this troupe of chameleons pepper their dramatic presentations with live rock music, dancing sequences, physical comedy and action as unexpected as it is bawdy. And some of the scene stealing moments happen with the actors marching through the middle of the audiences they play to.
As good luck would have it (The Merry Wives of Windsor), I had the opportunity to sit down for lunch with Melissa, who helped break the ice (Taming of The Shrew) with some warm hearted stories of their long road from a small productions in Barnsdall park, 15 years ago, performing for audiences of twenty, to co-running a busy year round production company of 40 people on staff, performing to audiences of thousands a night, while having to fundraise their annual budget of $500,000 every year. It's not for the faint hearted (Henry VI Part I)
"Our first year we spent five thousand dollars and we'd have soccer games run into our audiences mid-show," Melissa says. "And the soccer teams were larger than our audiences."
The progress has been immense as they now have a professional multi-level stage, set design, full costuming, a rigged lighting system and professional sound. None of which they had when they started. But they've never lost sight of why they started and how they see themselves function as part of the community.
"David and I thought a lot about this when we started. In Shakespeare's theater on one night the Queen would be there the same night someone who could just afford a penny would be there. That's literally why he called his theater 'the Globe'. It was representative of Renaissance England at the time.
Tom LaBonge, a previous member of the Los Angeles City Council, had told Melissa 'I love your audience, it's like being at Dodger Stadium!" Because he would look out on the lawn and see the families with fancy picnics from Whole Foods on a teak folding tables, sitting next to families with sandwiches made at home. The ISCLA audience is an amazing cross section of the many communities that make up Los Angeles.
"There is immense value in being with communities that you might not see every day and experience a singular event together. It's fundamental to how you view yourself, so many different people sitting together laughing at the same moment on stage."
Sometimes audience members buy them pizza. Others bake them cookies. Another always brings them snacks of some sort. It's very neighborly to say the least.
"I was pregnant with my son Henry one season, and had the baby while in production. David made the announcement on stage that night. The next year so many audience members asked me how Henry was. I was floored that they remembered from the previous year," she says.
"Theater audiences are fairly homogenous nation-wide. Our audience is different. It doesn't look, act or behave like any audience I've experienced in theater elsewhere. They're very responsive and very involved. Maybe that's because it's composed of a broader variety of people, on every metric, from age to income to ethnic identity. That's why I love them."
Melisa continues – 'unfortunately that makes our revenue model terrible, because we're not ticket based. So the very thing that allows us to have this audience that we love, prevents us from having the ticket sales. So we have to be very creative in our marketing and fund raising. And believe me, I understand the families with the home made dinners who aren't going to be dropping $60 a person into our donation buckets. That's why they've come to see us. But David and I want a theater that doesn't have that barrier. We think of ourselves as the gateway drug to theater," she says laughing.
Production demands both creative and physical during a full year of performances at their valley studio or summers in Griffith park don't always let them see past the year they are in. But then things happen which remind both David and Melissa how many people their work has affected.
"Some amazing things have happened over the years. And I'm not counting when at an intermission of Othello the 1000 people in our audience began chanting 'Othello, don't trust Iago!' over and over. There was a couple who had their first or second date at our show in Barnsdall park. Then got engaged on our stage at intermission, and then four of five years later they brought their baby here at Griffith Park. That was amazing."
There are other experiences that bring them full circle (King Lear). "We have seen kids grow up and are in college now." One of those kids is an actor in their troupe. Donna Zadeh, who played Juliet in Measure for Measure, just graduated Cal Arts this year. She auditioned for ISCLA landing the role. On the eve of opening night, everyone gave a moment of thanks – and Donna gave thanks for attending this very festival since she was a young teen, and that she couldn't believe she was now on stage with performing with some of her favorite actors. "That floored me, said Melissa, I had no idea until that moment."
But she's not the only one. Xavi Moreno, featured strongly in both shows this summer, and doing an old school turn playing both woman and man in Measure for Measure as both; Mistress Overdone, the bawdy outspoken brothel owner and Barnardine, the fearsome murderer in prison, grew up in east LA. His parents had a love for the theater. "Xavi loves walking through the audience and talking to people before the show. He saw a teenager standing on the sidelines who asked him what was going on? Xavi invited him to sit down and watch. 'Oh no, I didn't buy a ticket,' he said. Xavi said 'It's free, it's for everybody. And the young man replied, "no, it's not for everybody, it's not for me. I'll get in trouble." Xavi insisted he stay. The young man did and the next week he had returned with his girlfriend, and brought a teenage picnic; soda and bag of chips picnic." Melissa smiles. "First of all, that he met an actor who told him to stay, because we're so interactive with the audience, is something I love, secondly, that he was assured 'this is for you'," She pauses, trying to find the right words. "That's why we do this."
But financial support is not a foregone conclusion (Othello) The Naked truth (Love's Labour's Lost) is that times are tough for non-profits. And funding for a non-profit organization is never solved in one fell swoop (Macbeth), but rather by thousands of donations from many sources.
"Our board found that many supporters of the arts this year are hearing many pleas that feel so pressing. Individuals and foundations we have relied on continue their support but with smaller donations."
This might be the new normal, she fears, in an environment where it feels that Federal support of the arts is suddenly waning and spreading thin. Especially as the National Endowment for the Arts budget was saved this year, but the entire fund is on the chopping block for next year.
"And here we are, providing a cultural event that is very good for the economy. We don't only present entertainment, we support third party businesses, from the food and gasoline our patrons buy to get here, to the blankets, baskets, tables they bring to concessions in the park when they join us. 50,000 people purchasing items locally in Los Angeles is a good economic engine."
But even though they present free theater they must fight against the misnomer that it's free to do.
"We have 25 performers we pay a back stage crew, 40 people in total employed, and we pay everyone. And we have to pay rents, pay for the staging, pay for electric cables, lights, costumes, set design and construction, we pay for the lightning rig, so many fees, it all goes to the physical cost of doing business.
And it's not just the run for 49 nights of performances. It is four months of production from first day of construction to last day of tear down. Every year their success is quite an achievement.
"But I blame this little boy, back in Barnsdall park," she says. "It was our first year and a performance of Two Gentlemen of Verona. And a mom with her kids was watching us rehearse. We said you should come back for the show tonight and she said, no she couldn't afford it. And we said it's free! She couldn't believe it and we encouraged her to stay. She did, and we had a very small audience. Twenty two people that night so I saw her right there. And afterwards we pulled our little hats and buckets for donations; and I look over to David who was asking the meager crowd for donations. And this mother went up to him, took his hands, said thank you. And then her little boy reached into his pocket and took out all his change and put it into David's donation bucket. And I had tears in my eyes. And I thought; 'That's it....apparently I will be doing this for the rest of my life.'"
Fifteen years later they are doing it better than ever. For more information on the Independent Free Shakespeare Company Los Angeles go here.
Calling all HuffPost superfans!
Sign up for membership to become a founding member and help shape HuffPost's next chapter
This post was published on the now-closed HuffPost Contributor platform. Contributors control their own work and posted freely to our site. If you need to flag this entry as abusive,
send us an email
.