It was Feb. 22, 2017. I was teaching mathematics at Bronx C. College in New York City. In the middle of class, I saw two missed calls, both from the Embassy of Bangladesh in Washington, D.C. I decided to ignore them because teaching is more important than talking to diplomats.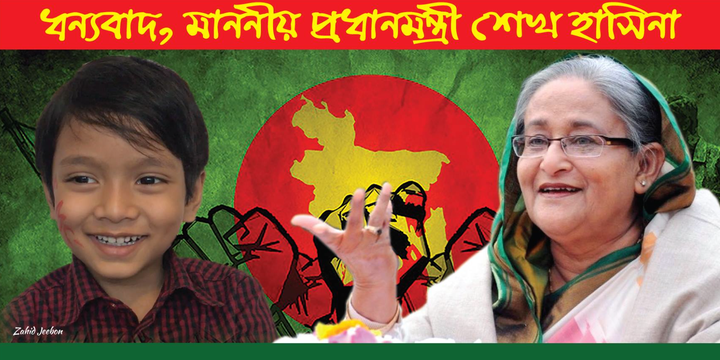 However, at the end of class, while checking emails, my eyes stuck on a subject: "Urgent: Soborno Bari Letter to the Honorable Prime Minister of Bangladesh." The email was from Dr. Samia Israt Ronee, first secretary at the Embassy of Bangladesh in Washington, DC. This time I decided not to ignore it:

It is widely known how critical I used to be of Sheikh Hasina Wazed, the current Prime Minister of Bangladesh. As a former biographer of Muhammad Yunus, a Bangladeshi social entrepreneur and winner of the Nobel Peace Prize in 2006, I published many articles and books criticizing Sheikh Hasina's action against Yunus and Grameen Bank. Millions of Yunus' supporters used my book, "Grameen Social Business Model," to gain momentum against the anti-Hasina movement. Why, then, did I approve my 4-year-old son, Soborno Isaac, known as the "Einstein of our time," to send a letter to Sheikh Hasina? Well there is a story behind it.
Einstein wrote a letter to U.S. President Franklin D. Roosevelt on Aug. 2, 1939, encouraging him to put E = mc2 into action to make an atomic bomb before Hitler did. My son Isaac wrote a letter to Hasina not to save the world from Nazis, but to save it from terrorism. He wants to meet with the daughter of Bangabandhu Sheikh Mujibur Rahman, known as the father of Bangladesh, to promote secular education among youths and to convince them that there is nothing more important than falling in love with math and science. Isaac initially wanted to team up with Professor Yunus, which is why he got very excited when he received an email from him in 2015. Here's what Dr. Yunus wrote: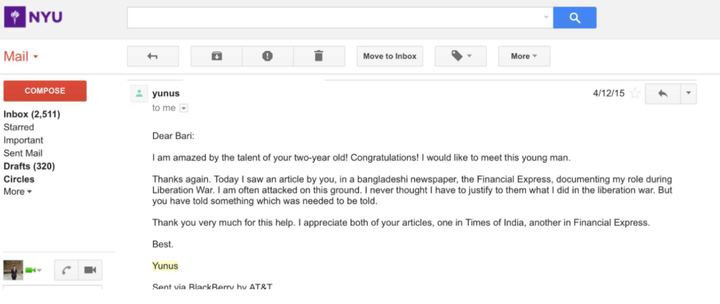 When 2015 passed by we have realized that Dr. Yunus is just too busy to meet with Isaac. Meanwhile, Bangladesh faced its worst terrorist attack on July 1, when Bengali Muslims were getting ready to celebrate Eid, signifying the end of Ramadan. The scope of this terrorist assault was unimaginable because such atrocities never take place in Bangladesh. The terrorists even entered the Holey Artisan, a bakery famous for its bagels and coffee, at 8 p.m., and opened fire indiscriminately, killing many innocent people, including two adolescents: Tarishi Jain, a 19-year-old girl, and Faraaz Hossain, a 20-year-old boy. The terrorists vowed that this was "only the beginning of the storm" to punish Prime Minister Sheikh Hasina, who wanted to separate religion from the state by removing Islam's status as the state religion from the Bangladesh Constitution. Isaac even asked me to make a movie, I'm Muslim & I love America, to inspire millions of youths to rise against terrorism.
In the wake of this terrorist attack, Isaac received another letter from Yunus. Isaac was so excited that he quickly made a video as a response to Yunus' letter to him. However, Dr. Yunus has since ceased his communication with us. Recently Dr. Yunus canceled the appointment with Isaac.
Meanwhile, however, Isaac received recognition from U.S. President Barack Obama for being able to solve Ph.D.-level math, physics and chemistry problems. President Obama wrote, "America needs student like you who are trying hard in school, dreaming big dreams and improving our communities." He also received birthday gifts (he will turn 5 on April 9) from universities around the world, including Oxford and Pennsylvania Universities.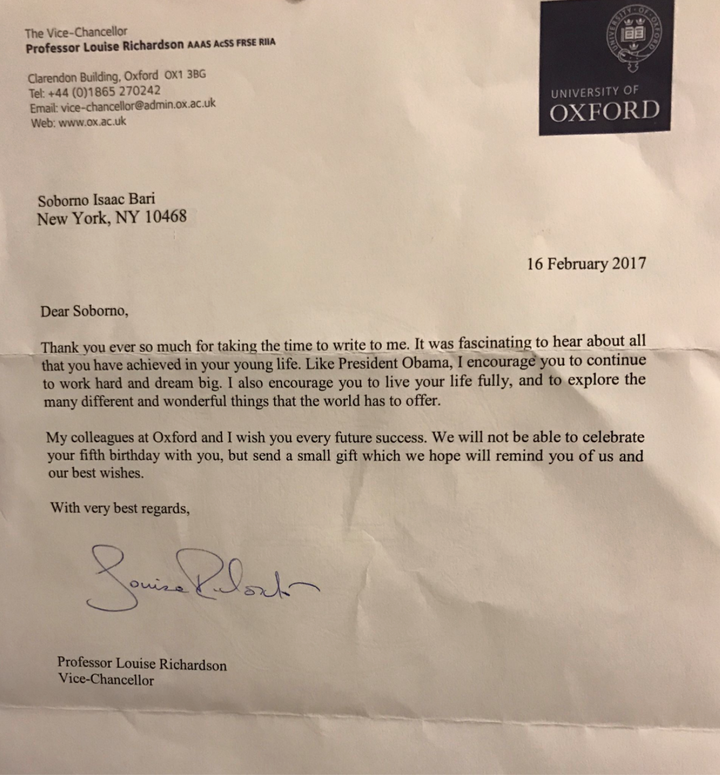 Oxford University Vice Chancellor Louise Richardson wrote, "Like President Obama, I encourage you to continue to work hard and dream big. My colleague at Oxford and I wish you every future success. We will not be able to celebrate your fifth birthday with you but send a small gift which we hope will remind you of us and our best wishes."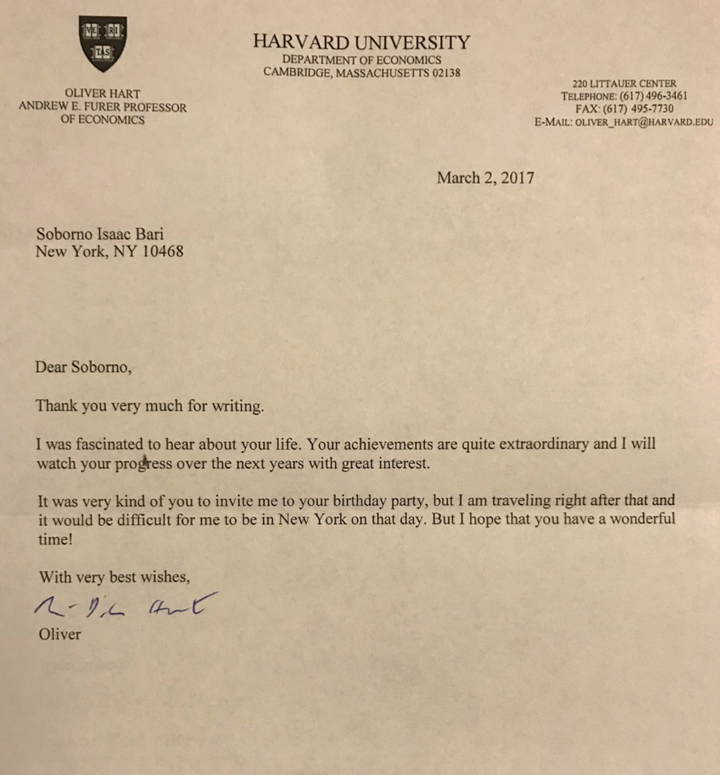 Nobel Laureate Oliver Hart wrote, "I was fascinated to hear about your life. You achievements are quite extraordinary and I will watch your progress over the next years with great interest." The President of Pennsylvania University Amy Gutmann wrote, "I'd be happy to learn more about your campaign, 'Let's Fall in Love with Math & Science.'"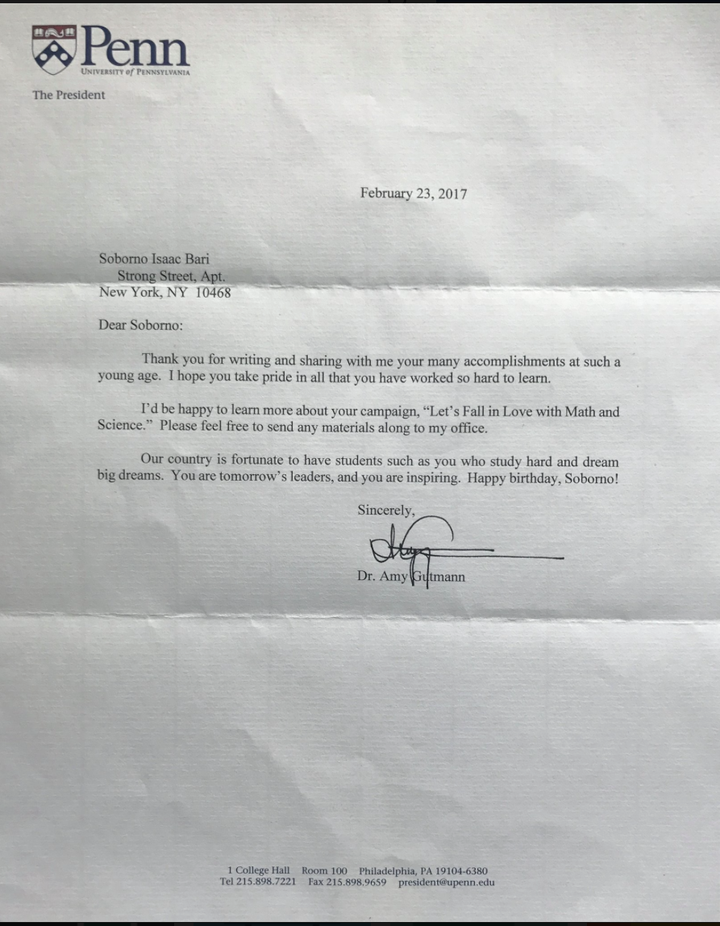 Meanwhile, Isaac fell in love with Bangabandhu while watching his March 7, 1971 speech. Isaac does not speak Bengali but the magnitude of Mujib's speech grabbed his attention, and he paused the video to kiss Bangabandhu on the screen while saying, "I love you Bangabandhu."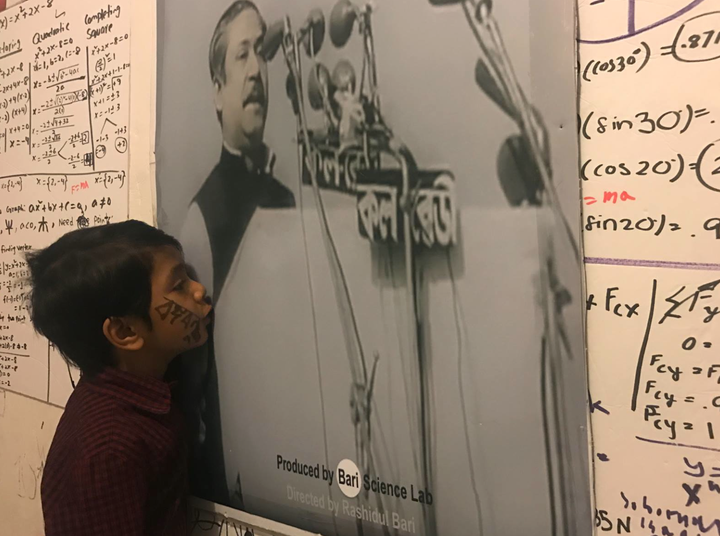 This event inspired me so much that I decided to make a short film "Ekushe February" based on it. During the shooting of the film, Isaac said he wanted to write a letter to Hasina because he wanted to visit the land of the man who delivered such a powerful speech, which created momentum to liberate Bangladesh from Pakistan in 1971. I mailed Isaac's letter to Hasina with zero expectations, because like Yunus, Hasina is also too busy to meet with Isaac. I was very surprised when I received an urgent message from the Embassy of Bangladesh in Washington, DC. "We want to visit your home to meet with Soborno," said Dr. Samia Israt Ronee.
I did not tell her that Isaac had been sick for days due to seasonal flu, concerned that they would think I was using it as an excuse to avoid them. What's more, when the Prime Minister sends her delegates to your home, it's not appropriate to turn them down. It was Monday, April 3, 2017. I dismissed my class at Bronx C. College early to arrive home before 6 p.m. Dr. Samia Ronee and fellow delegate Mohammad Abdullah Al Mamun arrived at our home at 8 p.m. and began to check Isaac's math, chemistry and physics ability.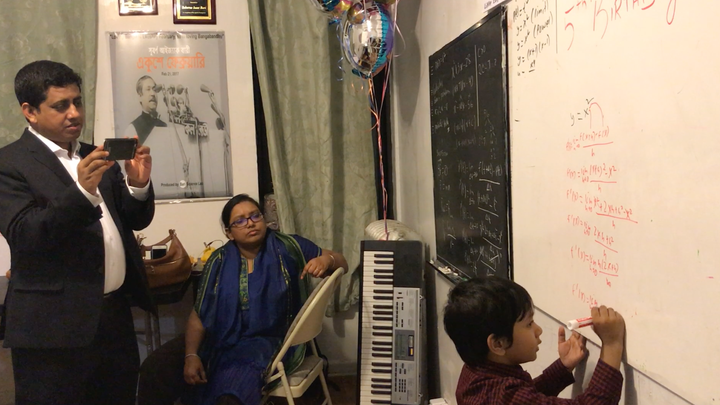 Despite being extremely sick, Isaac wrote all the elements from the periodic table on the board in less than two minutes. They both were stunned. Then they asked Isaac to solve a calculus problem, which Isaac solved correctly with great enthusiasm. They were surprised by Isaac's handwriting.
It should be noted that Isaac started writing when he was only 7 months old. He gave an interview to Jerald Posman, vice president of Administration and Finance at CUNY Medgar Evers College, when he was just 2 years old and became the youngest person in the world to be interviewed by Voice of America in 2014. During a three-hour interview with former president of City College of New York Lisa Staiano-Coico, he impressed her so much that she offered him an admission to her university. He impressed thousands of people, including U.S. Congresswoman Barbara Comstock, when MIT Professor Mizanul Chowdhury interviewed him at the Federation of Bangladeshi Associations in North America. He also impressed Dr. Daniel Kabat, a leading scientist in the United States, by his lemon battery. So it was no wonder Isaac performed well during the interview with the delegates of Hasina. "Do you want our Prime Minster to meet with Isaac in New York or Bangladesh?" Al Mamun asked me before he left. My response was prompt, "Bangladesh".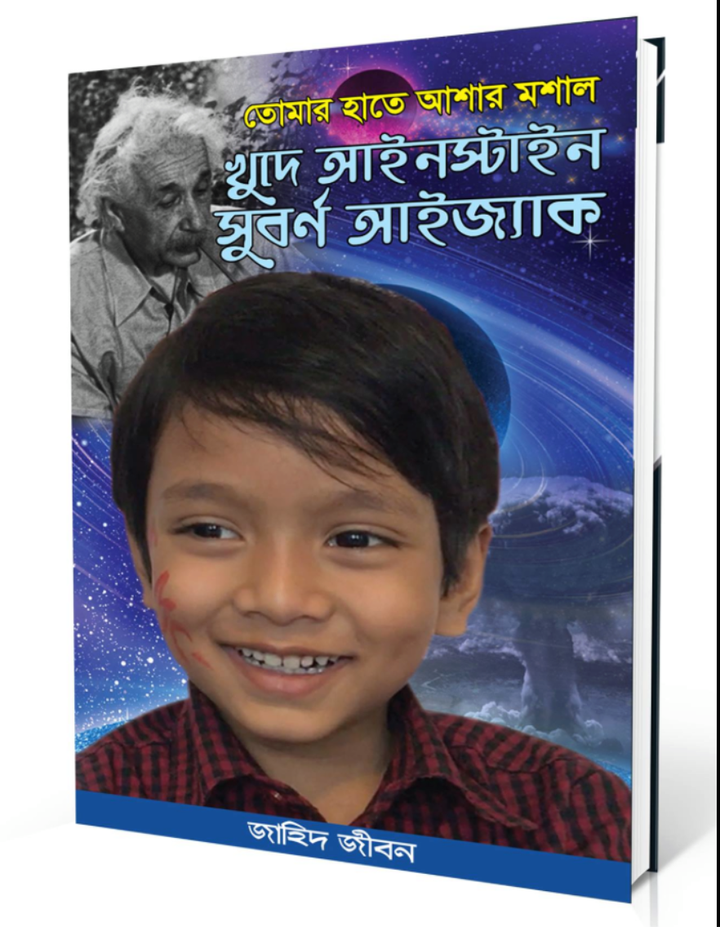 Now, the whole world is waiting for Isaac's meeting with Prime Minister Sheikh Hasina. On Sep 17, 2017, Isaac wrote a letter and gave it to me to email Mr. Shameem Ahsan, New York Consulate General, to give it to Prime Minster.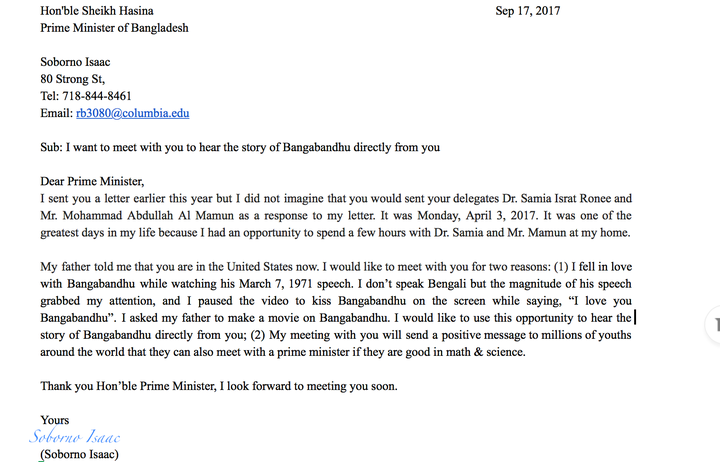 Many people, including Zahid Hossain, Isaac's biographer, think that this meeting will not only shake Bangladesh, but will also shake the world and help pave the way for our youth to fall in love with math and science. Many newspapers published the Bangla version of this article, Here & Here.
Rashidul Bari, a doctoral student at Columbia University, teaches mathematics at Bronx C. Community College. His email is rb3080@columbia.edu and website is Bari Science Lab
Related
Popular in the Community