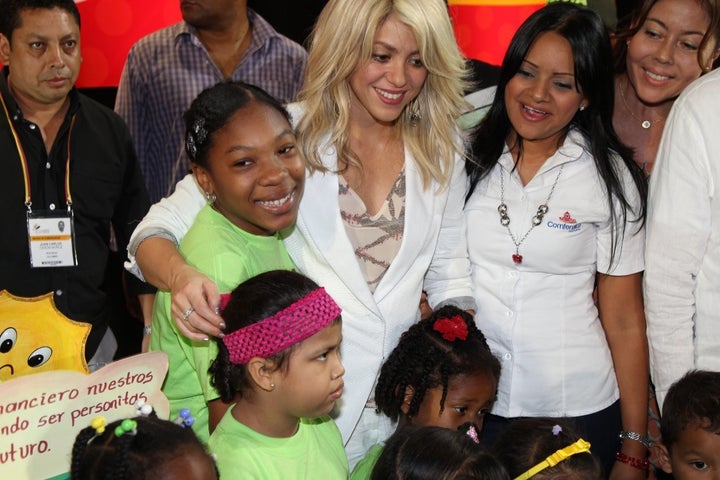 As The Huffington Post reported, Latin American pop superstar Shakira joined over 30 world leaders at the 6th annual Summit of the Americas held over the weekend in Cartagena, Colombia, to advocate for children.
At the summit focused on regional integration, poverty reduction and drugs, the Colombian singer -- the most recent addition to President Barack Obama's Advisory Commission on Educational Excellence for Hispanics -- was there to promote universal early childhood development and the eradication of poverty.
Taking the stage alongside President Obama and Colombian President Juan Manuel Santos on Sunday, Shakira, 35, reflected over the successes of the summit, stating that she felt "optimistic" about the "commitment of the presidents to work on education and early childhood development".
She added that this was the first time in history that the issue of early education had been treated so directly in a Summit of the Americas.
This was after President Obama had pledged $133 million to early childhood development initiatives and President Santos had emphasized his commitment to making early childhood education a national priority.
With 35 million children in Latin America who have no access to quality education and nutrition, Shakira stressed that this is an effort that must continue -- in a big way.
"Early attention given to our children is the most efficient formula for eradicating poverty and for economic growth," Shakira said.
Shakira has recently helped to start a $36 million education project for 6,000 Colombian children -- which has both the Columbian government and private institutions donating millions to the cause, the Christian Science Monitor reports.
"I believe that every single one of us, celebrity or not, has a responsibility to get involved in trying to make a difference in the world," she told Forbes in an interview last week.
A UNICEF Goodwill Ambassador, the Grammy award-winning singer is also the founder of the Barefoot Foundation and ALAS -- both dedicated to children's education and the eradication of poverty.
Watch Shakira's speech at the Summit of the Americas here.
Support HuffPost
The Stakes Have Never Been Higher
Related
Popular in the Community