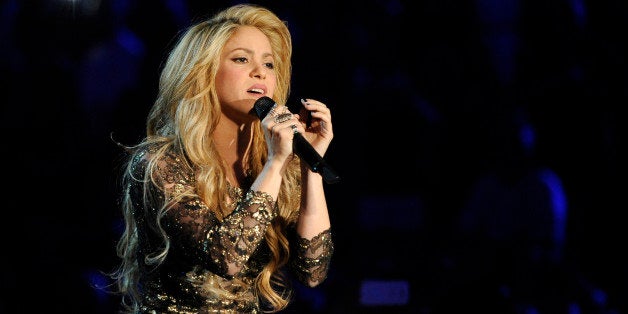 Big news for long-time fans of Shakira.
After almost five years since the Colombian singer's release of "Sale El Sol," the star said she will be starting to work on her next Spanish album soon. Shak spoke to Spain's EuropaPress, while promoting the release of her new fragrance in Barcelona, and opened up about her second pregnancy, trying for a baby girl and her next record.
During the promotional stop for her new fragrance Rock!, the singer said she was "lucky to have good pregnancies" and that her second pregnancy was going smoothly. This seems like good news considering she'd like almost two dozen kids.
"One thing is what you want and the other is what you can do," Shakira said with a laugh. "With Gerard I'd have 20 children but I don't think I'll have the luxury to do it. For now we're going for the second one, we'll see what happens. We'll see if one day we get a girl. We'll see!"
On the topic of her second pregnancy, the star also said this time around she really hopes to be able to take step back from her work.
"Now that I'm pregnant I'm trying, for the first time in my life, to not do so many things at the same time," Shakira told Europa Press. "Although, it's always difficult and issues get in the way even when you don't want them to. But the majority of the time I do dedicate myself to taking care of my belly, my pregnancy, [and] of Milan."
As far as a name for her second baby, Shakira says they have yet to pick one.
The "Hips Don't Lie" singer may be be taking a break to focus on family for the rest of the year, but she already has plans for after she welcomes her second son.
"And then next year, I think after the baby is born, I'll start producing my new album. A Spanish album, which is what has me most excited right now," the star added.
The record could be the first all-Spanish album since 2005's "Fijación Oral, Vol. 1" or include a couple of English tracks like her 2010 album, "Sale El Sol."
Shakira, a self-described perfectionist, released her self-titled album in January -- after more than two and a half years of production. So, it's safe to say this next album is still a couple of years away.
But the wait may be bearable for fans who have been waiting for the Colombian superstar to go back to the Spanish songwriting roots that gave the world two of her most most memorable and successful records, "Pies Descalzos" (1996) and "Dónde Están los Ladrones?" (1998).
CORRECTION: A previous version of this article said the fragrance's launch party was in Madrid. The party was in Barcelona.