By Mary Bottari and Jessica Mason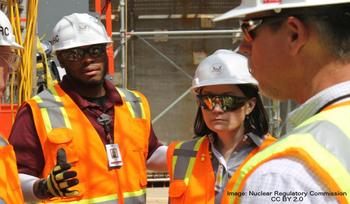 Jeffrey Shannon, a 49-year-old father of two, was struck and killed on March 30, 2015 when a 1,200 foot pylon fell on him while he was working for AECOM Technical Services in Marcus Hook, Pennsylvania. The fatal incident prompted an OSHA investigation, which cited the company for a "Serious" violation of safety training regulations and a second "Serious" violation of safety procedures during pile driving operations. OSHA issued $14,000 in penalties, though the company is contesting the case.
AECOM and its subsidiaries provide professional technical and management support services for public and private clients around the world. But the American taxpayers are by far their largest client. In 2015, $4.23 billion, or 24 percent of AECOM's total revenue, came from the federal government, principally from contracts with the Departments of Defense, Energy, and Homeland Security. Their federal projects include providing engineering services for the renovation of the National Archives in Washington, D.C., which houses the Declaration of Independence and the Constitution; overseeing chemical weapons disposal; and managing nuclear operations at Los Alamos National Laboratory.
Protecting its employees should be a top priority for a company involved with such sensitive sites. Yet an AECOM executive sits on the board of the Professional Services Council (PSC), one of the trade associations that has been pushing hardest to undermine President Obama's Executive Order on Fair Pay and Safe Workplaces. The Executive Order would require prospective contractors to disclose violations of federal labor statutes before being able to win a contract.
Professional Services Council Leads the Charge Against Contractor Accountability
Lobbyists from PSC have told Congress: "There is no evidence of a widespread problem of pervasive, repeated or willful violations of labor laws by federal contractors," and called the order "a de facto blacklisting of well-intentioned, ethical businesses."
But many of the corporations whose executives sit on PSC's board have a terrible track record on compliance with federal health and safety laws. For instance, between 2013-2015 AECOM and its subsidiary companies and related entities, including AECOM Technical Services Inc., URS Corporation, URS Federal Technical Services, URS Energy & Construction, and the Cleveland Wrecking Company, received 21 "Serious" and 16 "Other-than-Serious" OSHA citations, as well as $115,115 in penalties, some of which remain under contest or are pending abatement or penalty payment. Many of these citations were issued after President Obama issued the executive order in July, 2014, which ought to have served notice to federal contractors to clean up their acts.
Jeffrey Shannon Was Not Alone
Luis Roberto Minjarez was 51 years old in 2012 when he was killed while working for AECOM's subsidiary, Cleveland Wrecking Company at Pacific Gas & Electric Co.'s abandoned Kern Power Plant in Bakersfield, California. Minjarez was torch-cutting beams 50 feet in the air when a beam suddenly collapsed, and knocked over his aerial basket. A subsequent OSHA investigation found that the day before the June 19, 2012 incident, Cleveland Wrecking Company, had
...partially removed a section of the tank girder... [which] contributed to the instability of the tank. The tank wall section that was cut just prior to the accident was approximately 40 feet high and did not have any lateral support.
OSHA cited the company for 1 "Serious" and 4 "Other-than-Serious" violations and $12,250 in penalties.
While the 2012 incident would not be reportable under the Executive Order, the fact that Cleveland Wrecking Company continued to rack up OSHA violations in the following years, would be. After OSHA received a complaint, the Cleveland Wrecking Company facilities in Antioch, California were inspected on April 24, 2013, resulting in 1 "Serious" violation for failing to provide traffic control to protect workers on public streets and highways, as well as 2 "Other" violations and $5,875 in penalties. The following year, Cleveland Wrecking Company in San Diego, California was cited on January 28, 2014 for 2 "Other" violations and fined $340.
18 Violations in a Single Inspection for Work at Marine Corps Logistics Base
And Cleveland Wrecking Company wasn't the only AECOM subsidiary to rack up multiple violations.
Just one planned inspection at AECOM subsidiary URS Federal Technical Services, Inc. in Barstow, California on January 13, 2015 netted a whopping 18 "Serious" and 1 "Other-than-Serious" violations of multiple OSHA standards, along with $62,500 in penalties. Standards with "Serious" violations included the requirements for clearly visible "Exit" signs, regular maintenance of fire extinguishers, dangerous flooring, and failure to properly guard dangerous industrial equipment from the workplace. The company is contesting these violations. These violations occurred at the U.S. Marine Corps Logistics Base in Barstow where a related AECOM entity, URS Corporation, was recently awarded a multimillion-dollar contract for maintenance on military vehicles.
Exposure to Cadmium Hazard
In March 2013, in response to a complaint, OSHA inspected an AECOM worksite in Chambersburg, PA and found multiple violations of comprehensive standards meant to protect workers from cadmium. Cadmium exposure is associated with an increased risk of lung cancer, according to the National Institutes of Health.
OSHA initially issued 6 "Serious" violations and $30,000 in penalties. These were disputed and reduced to 5 "Other" violations and the significant sum of $20,000 in penalties. The standards violated included failure to control exposures below the allowable limit; failure to prevent handling of contaminated uniforms; and failure to properly train workers about these dangers.
PSC Spin Won't Protect Workers
From worker deaths at construction sites, to failure to protect workers from cancer-causing chemical exposure, AECOM's shaky record undermines PSC's claim that the Fair Pay and Safe Workplaces EO isn't needed.
Federal agencies doling out billions in contracts for construction projects, nuclear facilities management, weapons disposal, and other high-risk tasks, need to be informed about the records of the corporations vying for those dollars. No lobbyist spin should get in the way of keeping American workers safe.
Popular in the Community