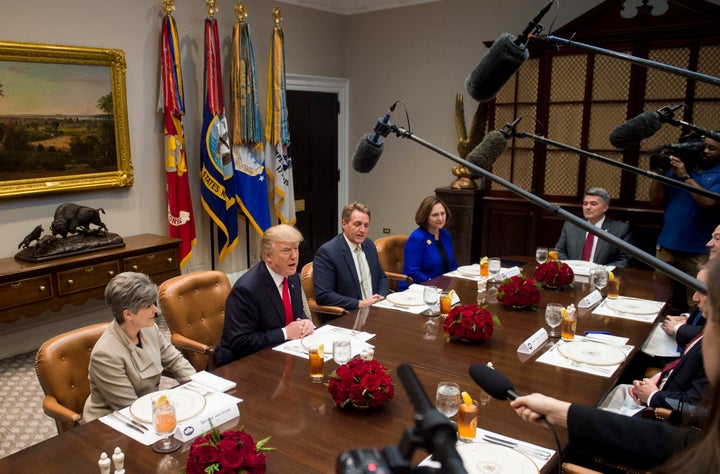 The Republican tax scam is a bad deal for middle class families on many levels. It cuts taxes for the wealthiest Americans, raises taxes on middle class families, and increases the deficit. But unbeknownst to many is that the Senate bill also includes the so-called "Strong Families" Act, which would provide a small tax credit to businesses who voluntarily provide two weeks of paid family and medical leave.
Paid family and medical leave is an idea whose time has come. Sadly, the Republican proposal misses the mark — it strengthens tax credits for big businesses without making any real change in our paid leave policy as a nation.
There is no evidence that tax credits of the size in the Republican proposal would even incentivize employers to shift their behavior. If anything, this provision will only give tax breaks for employers who already offer paid leave. Those companies should be commended for their great work, but we should not pretend this proposal will expand meaningful paid leave in this country.
Even conservative-leaning economists note that when you look at past employer tax credits for training and childcare and employment, there is no correlation with employers changing their policies. Economist Aparna Mathur at the American Enterprise Institute wrote, and I quote: "As with all tax-credit programs, at the margin it probably won't get most employers to change." Conservative think tank American Action Forum wrote that it "is not clear whether the tax credit in the Strong Families Act would lead to many businesses starting to offer paid family leave or if it would simply subsidize employers who are already providing the benefit."
The Republican credit would only apply for two years — a period of time that is too short to change the behavior of businesses in a measurable way. Employers who voluntarily offer more paid leave than their states are not taken into account under this tax credit.
Republicans are checking a box to say they expanded paid leave, while failing to do any real work for the millions of middle class families who need to take time for a serious illness, the birth of a child, or to care for a family member.
In reality, this tax credit would give yet another handout to big businesses, leaving behind small businesses for whom this tax credit would not cover the cost of leave. And entrepreneurs and workers in the gig economy — who are making up a larger and larger share of our economy as a whole — would be completely shut out because they do not have an employer to provide paid leave.
In 1986, I was diagnosed with ovarian cancer. It was an experience I would not wish on anyone. But in one sense, I was lucky – my employer offered paid medical leave. In fact, my boss at the time was none other than Senator Chris Dodd, who introduced what became the Family and Medical Leave Act that same year. He encouraged me to take all the time I needed to get well. With the support of my colleagues and my family, I recovered, and have now been cancer-free for 30 years.
I was fortunate — but most working Americans are not. At some point in our working lives, nearly all of us will need time off to deal with a serious illness or care for a newborn child. Yet only 40 percent of American workers have access to paid personal medical leave for a serious illness, and only 15 percent have access to paid family leave. We must do better for American families
If we really wanted to strengthen middle class families, we would pass the FAMILY Act. The FAMILY Act would set up a national insurance program to provide participating workers with up to 12 weeks of paid leave per year for birth or adoption of a new child, recovery from a serious illness, or caring for a seriously ill family member.
Middle class families should be at the center of our policy making, and they deserve real paid family and medical leave — not another empty promise. We must reject the Republican tax scam and start the critical work of changing the direction this country is going.
Calling all HuffPost superfans!
Sign up for membership to become a founding member and help shape HuffPost's next chapter
BEFORE YOU GO