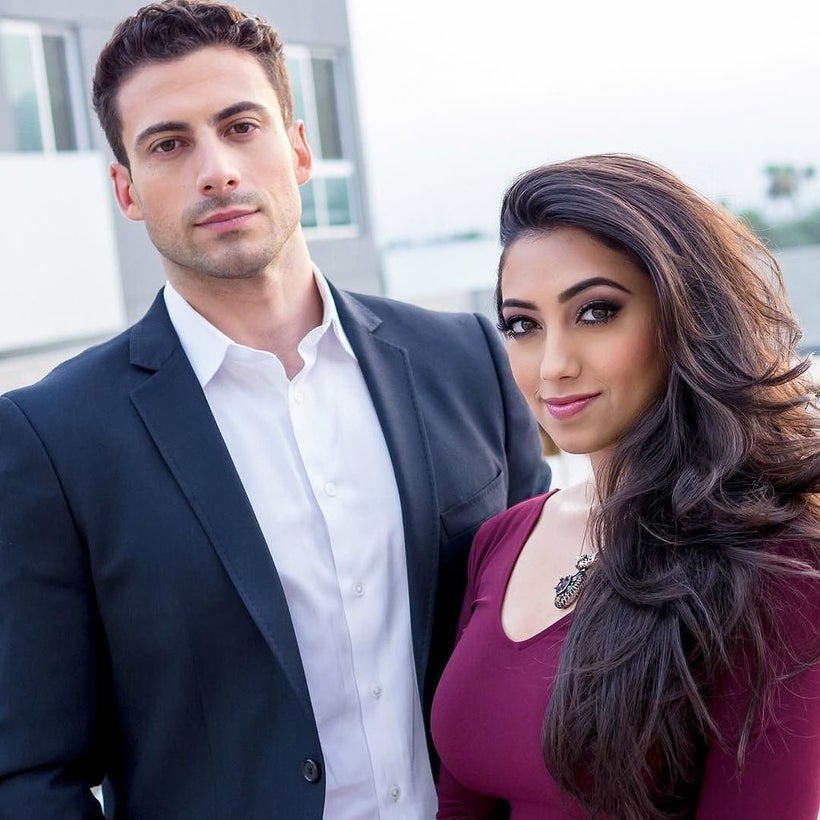 What happens when a marketer and an architect join forces?
No, seriously. This past Fall, Marketing Zen founder and CEO, Shama Hyder teamed up with award-winning architect, Jared Skinner to launch MADE (Marketing, Architecture, Development & Education), an architecture design firm that "bakes branding into the blueprints."
While doomsday prophets predict the end of the brick-and-mortar store, Shama and Jared believe there will always be a place for physical stores that focus on providing experiences. Take Nordstrom for example. At their new location in California, there is nothing available for purchase on site. Instead, personal stylists help customers select a new wardrobe, which can be then be ordered online and delivered to the store that same day. Meanwhile customers can hang out, have a beer, or get a pedicure while they wait for their clothes to arrive.
In a similar vein, co-founders, Shama and Jared have set out to disrupt the world of architectural design and change the way people interact with physical spaces.
What drove a marketer and an architect to join forces in the first place?
Shama Hyder: I've always thought of marketing as an expanding field, so broadening the scope of my focus seemed like a logical next step. When I founded Marketing Zen a decade ago, it was one of the first social media marketing agencies of its kind -- arguably in the world. As we continue to serve clients on the digital front, we're experiencing increasing demand for assistance on the physical front as well. In digital marketing, there is a major emphasis on user-experience. A lot of work goes into the nitty-gritty details of how a prospect or a customer experiences your brand online. There is a growing need for aligning the digital experience with the physical, in-store or in-office experience. So, we decided to bridge the two.
Partnering with an architect who possesses a fresh, cutting-edge approach to design was an obvious solution. I like to put it this way: What Zen has done and continues to do for the digital footprint, MADE does for the physical world. The timing was perfect as Jared was leaving his corporate career behind, so we thought now was the right time and place for a shake-up of the design world.
Shama, a lot of people thought social media was a fad when you started your social media marketing agency in 2009. Starting a digital agency at that time was quite progressive and there was a great deal of skepticism. Many businesses didn't understand what social media was all about or how they could benefit from it. Are people skeptical of this new venture too?
Shama: Yes, for sure. Although, it's not skepticism so much as businesses not realizing how quickly they have to innovate or get left behind. We help them understand that today, you have to sell more than a product. You are selling an experience. And, your space must be more than a physical space, because the competition is so high. Look at Toys"R"Us going out of business. They failed to adapt to the new, digital world we now live in and they did not update their business model in the age of ecommerce. Nobody wants to browse the aisles or has patience for long lines when they can simply purchase the same toy online. Unless the store itself is a draw for people, there is no incentive for customers to visit. Rather than make their stores more fun places to be, Toys"R"Us continued to compete on price where they stiff competition from Walmart and Amazon -- through whom they did their online order fulfillment.
Toys"R"Us should have pivoted and followed the example of American Girls or Legos, transforming their stores into fun, interactive, experiential destinations where parents and kids could hang out and discover new toys. If they had only taken a broader view and made their stores more focused on the needs of the customer, I don't think they would have had to file for Chapter 11.
The architecture and design world is experiencing a disruption similar to that which the marketing industry is facing.The health of every industry depends on periodic change and innovation. Most design studios are currently run by older people who have been working in the field for a very long time and is long overdue for a shake-up. MADE is one of the only design firms run by two millennial co-founders, and we offer a unique perspective on how to reach the millennial demographic.
It's clear that retail is in trouble. Brick-and-mortar stores are rapidly going out of business. Jared, what do you think this means for the future of in-store shopping? In what way are your designs helping brands provide a better customer experience?
Jared Skinner: We start by asking questions. We consider every angle and touchpoint where a customer might interact with a brand and then we try to come up with a fresh take. Many retailers are trying to change the way they do things and stay relevant, but most of them are getting it wrong. Their rebranding usually consists of no more than a redo of the store layout, setting aisles up this way instead of that way. It often turns out to be little more than icing on the same stale cake.
What we do is restructure the entire user experience from beginning to end, aiming to reinforce the brand in every single customer interaction down to the smallest detail. We pay attention to things like the smell of the store, the touch, the feel, and the presentation. It's all very bespoke, tailored, and customized to the individual needs of the client, but essentially, we focus on a multisensory experience. Reinforcing the brand is paramount instead of an afterthought. We bake branding into the blueprints, rather serve it as a side-dish.
How do you incorporate branding into the design?
Shama: Like Jared said, we start by asking the right questions. We do this on the marketing side too. For example, sometimes a client says something like: "We want Facebook ads." And then we ask them: "Why? What's the goal?" Sometimes you find out that what the client initially wanted wouldn't have served their needs and, perhaps, something else better help them achieve their goals. The design space is very similar in that way. Our clients are looking to do things that are very different. They aren't coming to us and simply saying: "I want the 10 X 10." They want go deeper. We ask them questions like: Who are your customers? What are you trying to accomplish? We discover the clients' needs first and then we go from there.
Each client is unique. For one client, we might do a brand activation that will drive sign-ups for an app. Another may want a coffee shop where people will hang out and feel like it's their second home. Another may want their corporate headquarters to be a place where employees are excited to come to work or enable them to be more productive while they're there. So, we think about the design from a marketing standpoint. It's not just about selling or promoting. It's more about understanding what clients are trying to accomplish and using the design to help the clients get there.
Jared: To be successful with a brick-and-mortar store, it takes much more than having a conventional layout where everything is predictably stocked on shelves in aisles arranged by category. When people have the option to buy online, you have to make your store a place worth going to.
It's no longer about what you sell, but about the memory and the experience people have when they're in your store. It's about creating fun, immersive, Instagrammable, Snapchat-friendly spaces that people look forward to visiting and want to share with their friends. The goal should be having a space that keeps people coming back and talking about it. You want people to say: "You have to check this place out. It's really incredible!" In an age of social media, it's important that your store is focused on delighting the customer.
Shama: The mistakes retailers are making stem from a lack of understanding of what Millennials and Gen Z customers want. Although often marginalized in the media, Millennials will make up the majority of the workforce by 2020. This means Millennials will soon be the majority of your customer base.
Many people assume that Millennials are only into digital things, but this is not true. For example, a lot of people would be surprised to know that millennials are the group with the most magazine subscribers. So while they may not always subscribe to a regular TV/cable service, they do read magazines. And with Gen Z quickly coming up behind them, you need to start designing spaces for the future. Gen Z wants physical spaces. They're hungry for that. I think what they're looking for, at least from a design perspective, is a seamless experience where the technology is not just sprinkled on as an afterthought, but designed with them in mind. When we design spaces for Gen Z, we must do so with the knowledge that their phone is always within reach and that WiFi is a necessity. MADE designs for a technological world instead of placing a little technology on top of the world.
MADE also designs workspaces. When you say an office setup is more Millennial-friendly, does that simply mean it's more tech oriented and takes into account how digital and connected we are now?
Shama: It's not about being more tech oriented for the sake of being tech oriented, but thinking about how people collaborate and work together. Having more outlets and charging stations is only one part of it, but it goes beyond that. It also means thinking about what makes for a collaborative workspace and building that into the details.
Jared: One thing I like to use is Idea Paint. Idea Paint is paint that turns any wall into a whiteboard. In other words, you can transform any wall of your office into a collaborative workspace. People can walk up to it and write whatever they want. Often, little groups will start to spring up and conversations will be sparked. This is one novel and interesting example of how we make workspaces more collaborative. It's little things like that, which can greatly enhance a work environment. Redesigning work spaces for Millennials doesn't necessarily mean a total technological transformation. It's just finding creative ways to nurture space.
What are some ways you make work environments more conducive to productivity?
Shama: Understanding the client's needs is really important. We spend a lot of time catering to the needs of our clients and figuring out what will be a good fit for each brand. We can't come in with a one-size fits all approach. What works for one company will not necessarily work for all. For example, a tech startup or a magazine will often require a design that is very different that of a corporation.
Sometimes a client will tell us that client confidentiality is a big deal in their business and they need rooms where they can have private conversations. However, the same client may also want to have spaces where they can be creative and collaborative. We help them navigate these details.
We design not only with the needs of employees in mind, but also with a focus on what makes sense to the company and what's going to give them the biggest bang for their buck. For some clients, the emphasis will be on stimulating greater productivity. Some will want to have more privacy. Others will want a space that fosters collaboration and open communication. Still, other clients will want a mix of all of these elements. I think being able to understand that is key.
At one client site, we've got a big red slide running through three floors leading to the lunch area. *laughs* It's great, it's fun, and it works for their company. Now, that's not going to work for every client. Although it would be cool, a big investment firm is probably not going to have a big red slide in their office. So, we're careful to strike a balance between being creative and still keeping true to a brand's values and identity.
Personally, I'd love to see some Wall Street executives in expensive suits going down a big, red slide, but that's just me. What are Millennial employees looking for in a workspace? From what I understand, cubicles are out.
Shama: You're hitting on a really good theme we've seen in both marketing and design. There is a growing preference amongst Millennials for open workspaces conducive to collaborative work over private offices and cubicles. Another growing trend is the need for personalization. Employees want to feel a sense of ownership and that means more than simply decorating the walls of their cubicles. So, I think it's great when you can make spaces conducive to both collaboration and personalization.
One reason why I like Idea Paint is because it gives people an outlet to express themselves at work. The nature of work and workspaces is changing. Those trying to attract millennial talent have rethink the conventional office and make an effort to understand what millennials need in a work environment. Simply putting in some ping-pong tables and snacks isn't going to cut it.
Jared: As someone who has worked in a cubicle, I think I may have some insights. *laughter* No matter what a brand is selling, they need buy-in from their employees first, so companies want to build morale and foster a sense of community amongst their teams. That's why you see these companies like Facebook, Google, and Zappos building massive campuses. They're not creating workplaces. They're creating communities. This is something new.
We've grown accustomed to workplaces comprised of cubicles with a little break room. You spend your few hours at the office and then you go home and call it a day. But [employees at companies like Google and Facebook] are living, breathing, working, and experiencing everything on site. I don't think those employees even see it as a workplace. I think they see it as a place where they go into work for a little bit each day, but it doesn't feel like work. These companies have succeeded in transforming the nature of the workplace. They have created the spaces of the future and I believe that's where things are headed.
Does MADE take care of everything in the process from design to construction?
Jared: Yes, we are a one-stop shop. We handle everything soup to nuts from the schematic design to managing the construction to the development side of things to the marketing. We're careful to involve the client every step of the way, always meeting and surpassing their needs. Our goal is to make sure their brand is reaching people exactly how they want to be reached and that their space is reinforcing the totality of their brand.
Shama, you come from the world of digital where everything is user-centric and UX-based. You and Jared have leveraged that to the physical space. As you know, social media marketing went from being a nice-to-have to a must-have. Do you think that over the next 10 to 20 years, the concept of infusing marketing into architectural design will follow a similar trajectory?
Shama: Absolutely! We live in a very competitive society. When Thomas Friedman said the world is flat, he meant it. You only have to look at what smart companies are doing to see where the trends are headed. Amazon recently purchased Whole Foods and that's so telling. Amazon is a massive retailer. Skeptics wondered: Why do they need Whole Foods? [The skeptics] are not realizing that there is something to be said for having a physical space and failing to appreciate the value of foot traffic. Having your customers physically immersed in your brand is a very powerful thing. People aren't uploading their souls to the virtual world. They're still active and want to explore the physical world as well.
The bar is always being raised higher. At one point, people thought it was cool if you had a toll free number or a website. Then, it was cool if your business was on Facebook. Now, none of those things are cool. What was once cool eventually becomes expected. It becomes the norm of doing business. As consumers and as a society we are always raising that bar. This means as businesses, as companies, and as brands we need to keep up with the expectations that we ourselves have created.
Can you disclose any current projects? Are you working on any brand collaborations that you can go into detail about?
Shama: At the moment, there's not much we're allowed to disclose. If people stay tuned, they'll certainly see more. We're limited in what we're able to share, because the clients working with us are not your average bear. They're pioneers experimenting with very innovative ideas. Ultimately, they're going to be the first in their category in a lot of ways. I think that once these physical branding transformations become common place, we'll be able to share more about what we're doing. It's going to be incredibly interesting to see how our projects help clients to to become leaders and innovators in their industries.
REAL LIFE. REAL NEWS. REAL VOICES.
Help us tell more of the stories that matter from voices that too often remain unheard.
This post was published on the now-closed HuffPost Contributor platform. Contributors control their own work and posted freely to our site. If you need to flag this entry as abusive,
send us an email
.