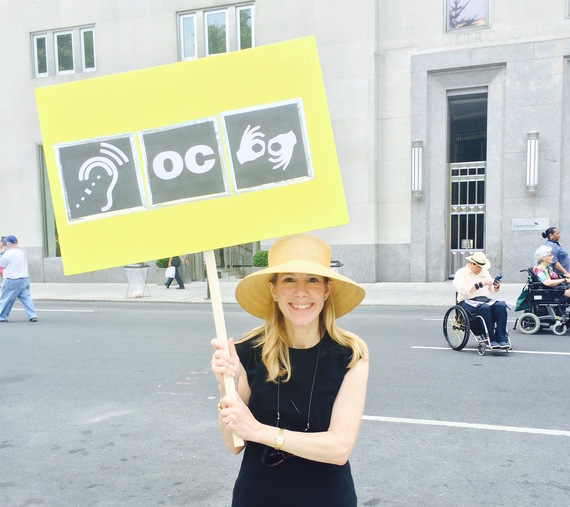 Hearing loss is a spectrum. Where a person who is deaf or hard of hearing fits on the spectrum determines the access needed. There is essentially what I call a "three-prong approach" to effective communication access: assistive listening, captioning (including CART realtime captioning for live events), and American Sign Language (ASL) interpreting. All three are needed to reach the full spectrum.
The Smithsonian claims that they do not need to offer assistive listening for their videos because they offer captioning. However, a person with residual hearing wants to hear--captioning is not a substitute for the sound of the human voice. In addition, captioning does not work for people who also have visual impairments or for young children who cannot yet read. Hearing the videos is obviously considered important, since the museum provides sound and does not require everyone to read captions. If sound is unimportant, it should be shut off for all visitors. The Smithsonian should not be editing the experience of people with disabilities.
A hearing induction loop enables people with a T-coil (See page 8.) in their hearing aid or cochlear implant to hear the videos directly through their hearing aid or implant by simply switching to the "T" setting; unlike with other types of assistive listening systems, no receiver is needed. The background noise is eliminated and only the sound from the video or film is streamed directly into the hearing aid or cochlear implant.
The Smithsonian says they are researching the access, but they have claimed this since about 2002. They also indicate that they are looking for a one-size-fits-all system with receivers, for all disabilities and multiple languages, whereas an induction loop is specific for hearing loss. However, a person with a hearing loss should not be required to wear a visible receiver that could be stigmatizing; a device that is not used because of the stigma associated with the disability is not effective.
If I have captions, why do I need assistive listening devices?
Many people simply need additional assistance in order to hear. Some individuals may not be able to read, or may not be able to read at the level necessary to fully comprehend captions, such as young children. Both the Architectural Barriers Act and Section 508 of the Rehabilitation Act require the use and compliance with assistive listening technology and devices.

How can different federal or quasi-federal agencies have different definitions of effective access? Yet the Smithsonian on its own accord has determined people with residual hearing do not need to hear.
How can a museum about anti-discrimination discriminate? Can you imagine having residual hearing but not being able to hear and understand the powerful voice of Martin Luther King, Jr. because some bureaucrat without a hearing loss made the determination that hearing induction loops were unimportant?
It is inconceivable that we are still having this discussion 26 years after the ADA's enactment. People with hearing loss are still fighting for basic civil rights even at museums dedicated to such rights.
Support HuffPost
The Stakes Have Never Been Higher
Related
Popular in the Community