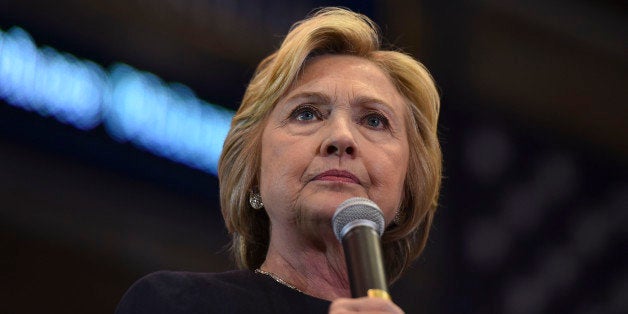 "I never met a newspaperman who didn't have a glass jaw," my first boss in television news told me way back in 1958. His own jaw was made of steel. He was Ted Yates, a brilliant, fearless ex-Marine combat correspondent in the Korean War, a conservative cowboy from Wyoming who teamed up as producer, to help Mike Wallace revolutionize the TV news interview, and, later, with David Brinkley, to expand television documentary storytelling. Ted Yates was killed covering the 1967 Six Day War between Israel and the Arabs.
I was reminded of his views on the sensitivity of newspaper people to criticism now by the Washington Post's coverup of a serious mistake that could affect many voters' views of Hillary Clinton, because of the former Secretary of State's email problems. The coverup came in the aftermath of a long Post story on Monday, March 28, by Robert O'Harrow, headlined "How Clinton's email scandal took root." Those of us sympathetic to ex-Secretary Clinton would quarrel with the word "scandal," seeing as nothing scandalous has yet emerged from those thousands of emails. But I digress.
It is, frankly, difficult to accuse the Post of a lack of courage in standing up to criticism when its top editor, Marty Barron, showed such enormous courage in his previous job at the Boston Globe in thoroughly outing the Catholic church's pedophile scandal. See Spotlight, which won the best picture Oscar. Nevertheless, I see the Post covering up this time to avoid criticism. The serious mistake it later tried to minimize or even hide from its readers came after O'Harrow reported that:
One hundred forty-seven FBI agents have been deployed to run down leads, according to a lawmaker briefed by FBI Director James B. Comey.
That single anonymously-sourced number, 147, was, of course, widely reported throughout the country. Post columnist Chris Cillizza reacted by writing "W-H-A-T?"and calling that number "eye-popping." The right-wing National Review referred to it as "a staggering deployment of manpower."
An acquaintance told me he was convinced by the assignment of such a large number of agents that there was a strong possibility Clinton would be indicted. Doubtless, hundreds of thousands of Americans shared that belief. Who could blame them? Doubtless also, many voters -- in upcoming primaries and the general election -- saw it as a perfectly good reason not to vote for the ex-secretary.
And too many may never have learned otherwise, even though that figure of 147 agents was flat wrong, as the website Politico reported the next day. Politico's own anonymous source called the number "greatly exaggerated," but failed to provide any further details. The day after that, March 29, the Post weighed in with its own anonymous correction. It cited "two U.S. law enforcement officials" as saying "the number of FBI personnel involved is fewer than 50."
O'Harrow's original article about the origins of Hillary's email problem was as prominently displayed as a story can be in the Post. It began with five paragraphs at the very top of Page One, and then took up almost two full pages inside the paper.
By contrast, the Post appears to have done its best to cover up its mistake. The correction was only mentioned once, in one place, in the March 30 print edition of the Post, hidden away in the rarely-read Corrections column on Page 2. Even there, the Post further buried it, placing it after a much less important correction about Clinton's email address. The whole thing reads as follows:
CORRECTIONS: An earlier version of this article incorrectly said that Clinton used two different email addresses, sometimes interchangeably, as secretary of state. She used only hdr22@clintonemail.com as secretary of state. Also, an earlier version of this article reported that 147 FBI agents had been detailed to the investigation, according to a lawmaker briefed by FBI Director James B. Comey. Two U.S. law enforcement officials have since told The Washington Post that figure is too high. The FBI will not provide an exact figure, but the officials say the number of FBI personnel involved is fewer than 50.
Later that day, NBC News quoted still another anonymous source, "a former federal law enforcement official with direct knowledge of the Clinton investigation," as further reducing the number of FBI agents involved to "about 12." Terming the Post's original 147 figure "ridiculous," the source said the mention of 50 was also unrealistic. "You need an act of terrorism to get 50 agents working on something," said this former FBI official.
I have not seen the Post deal with NBC's figure of only about a dozen FBI agents. It seems to have stopped reporting on the case. I find appalling its failure to limit its reporting of a serious mistake to a single, buried correction that most readers of the original article could well not see. I contacted the Post Friday morning for comment by phone and email but got no response by the end of the day.
By contrast, last July the New York Times made a series of journalistically disastrous factual mistakes on a story that falsely claimed that two government inspectors general had asked the Justice Department for a "criminal investigation" into whether Clinton "mishandled sensitive government information" in her private email account.
The Times's own ombudsman described the story, mistakenly headlined: "Criminal Inquiry Sought in Hillary Clinton's Use of Email," as "fraught with inaccuracies" and "to put it mildly, a mess." One former veteran Times reporter charged much more seriously that "almost every paragraph at the top of the story is wrong, misleading or fundamentally deceptive," and called it a "display of incompetence or malice" that was "despicable."
After issuing several "corrections," the Times finally published a 368-word "Editors' Note." Talk about a glass jaw, that note mostly blamed its sources for the story's inaccuracies. And, as the pro-Clinton Media Matters fact-checking website accurately complained, it "largely expresses regret that the paper was not swift enough to offer public corrections... without apologizing for the failures in reporting that made those corrections necessary." But at least the editors' note alerted readers that there was something very wrong with the original article.
The Post has issued no such editors' note to make its readers aware of its phony 147 FBI agents. Nor has it published a single letter to the editor on the subject. Nor has its so-called "readers representative" had anything to say on the subject. Up to to and including Friday's Post, April 1, the hidden correction that further buried its mistake is the only information readers ever got, apart from what they may have learned from other news outlets, and apart from what online readers got if they happened to go back online and see the update on the original story.
The old saw that the truth never catches up to a lie is not appropriate in this story. The Post certainly didn't lie; it simply made a big mistake. But corrections never do catch up with mistakes. And combined with a widespread and generally unwarranted mistrust of Clinton by the American people, those mistakes will certainly make her life and candidacy even more difficult.
Perhaps this egregious mistake by the Post, following the even more egregious one by the nation's other leading newspaper, the New York Times, will explain why, in the words of Washington Post columnist Cillizza, she is "convinced that the press is, almost to a person, not to be trusted." I don't blame her.
Calling all HuffPost superfans!
Sign up for membership to become a founding member and help shape HuffPost's next chapter