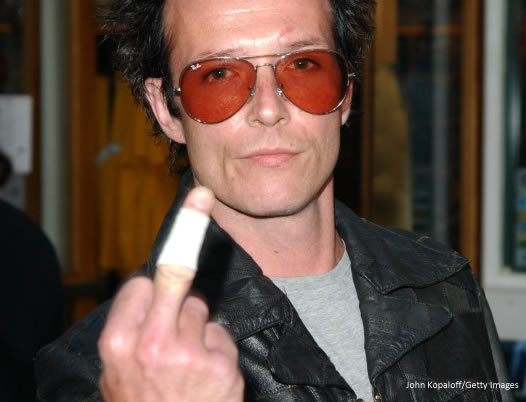 Scott Weiland fans watched with bated breath, hoping the 58th Grammys would show some appreciation for the late rock star, singer/songwriter, and frontman of two of rock and roll's most successful bands of the '90s and turn of the century: Stone Temple Pilots and Velvet Revolver. Knowing that VR members would be taking stage in tribute of other fallen rock legends, we were hoping for, if nothing else, a sign from the musicians themselves -- if not from the corporation. Not a peep. A momentary photo flashed -- inadequately labeled at that -- and nothing else, as if Weiland's contributions to rock music had meant zot, or were on track to being erased. This came as a slap in the face to over a half-million known fans on Facebook alone, after repeated omissions of Weiland and his accomplishments from mainstream music media line-ups, since his passing on December 3, 2015.
Fans took to social media almost immediately, expressing their outrage. A two-time Grammy winner (among other music awards), Weiland proved his star power over a three decade career that brought magic to two bands, a successful solo career, and numerous side projects with other powerhouse rock musicians. Despite his personal controversies his artistry was, in former bandmate Matt Sorum's own words, "magnificent." Yet, the Grammys thought only enough of him to flash a photo, identifying him insignificantly as "Stone Temple Pilots singer." Certainly nothing was promised but, knowing that other rock icons would be honored, deservedly -- including Bowie, Lemmy Kilmister and Glenn Frey -- and that three of his former bandmates would participate in those tributes, built up a modicum of secret expectation -- a longing even, for a wink, a riff in that medley, or secret message from someone on that gilded and highly political platform.
Sorum found himself responding to criticism on Facebook after performing on the show with no mention of Scott: "The politics run deep and difficult w so many lost this year. We were invited for Lemmy and it was good for all of Rnr on that pop shit show," he replied to sore fans. The drummer later tweeted that although Weiland was forgotten at the Grammys, "We will always remember Scott!!" Never Forgotten."
R&B singer Eric Benet shamed the Grammys in a viral video posted before the show, expressing his outrage over the snubs of Maurice White, founder and lead singer of Earth, Wind and Fire, as well as Natalie Cole -- who both also recently passed away and were important contributors and influencers in black music. The Grammy board responded to questions about this by simply saying there was "no time," Benet ranted. He pointed out the injustice and racism of it all, finally deducing that Bowie, who was an outspoken advocate of black music, would have been disgusted by it all. Earth, Wind and Fire's surviving members, however, remembered their dearly departed leader and brother on stage, and Stevie Wonder and Pentatonix performed an acoustic tribute to White on the show.
Grammys, yes, you can certainly do better. But, this also speaks to the character of Weiland's friends and colleagues -- many of whom were on that stage Monday night and, with just one set of balls between them, could have taken a solitary moment to uplift his name.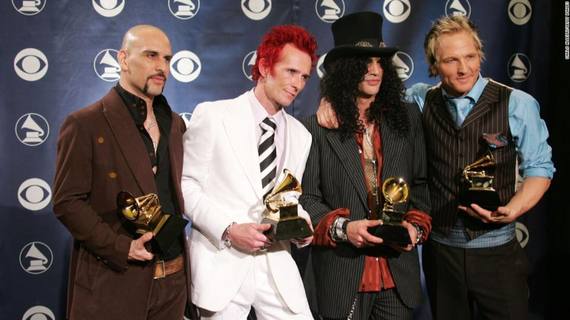 Scott Weiland with Velvet Revolver bandmates Dave Kushner, Slash, and Matt Sorum after 2005 Grammy win. Weiland also took home a Grammy with STP in 1994.
Eric Benet brings about an interesting topic... Why is Earth Wind & Fire founder Maurice White not getting a tribute at the Grammy's He is an international Icon... Oh wait for it....Natalie Cole is also not getting a tribute but low and behold David Bowie is... Now David Bowie is also an internatinal Icon and we love him, he is very deserving but to say there is not enough time to honor Earth Wind & Fire Founder and the Legendary Natalie Cole is a slap in the Music History Face.Video Source: Eric BenetCheck out our website: www.Earhustle411.com

Posted by Ear Hustle 411 on Saturday, February 13, 2016
Eric Benet on Grammy snubs of Maurice White and Natalie Cole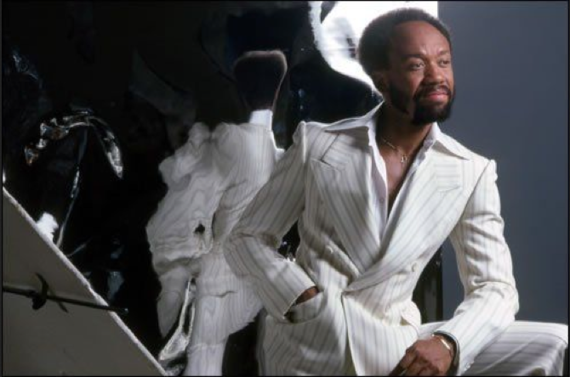 Earth, Wind and Fire's Maurice White, who passed away on February 4th, was celebrated by his friends and bandmates on Monday night's Grammys.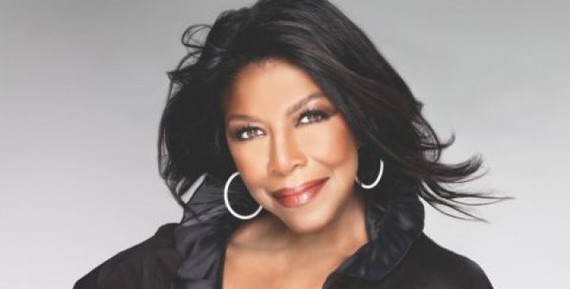 Friends, family and fans also expressed outrage over the Grammys' dismissal of jazz & R&B vocalist, Natalie Cole, who died on December 31, 2015. The Grammys defended their tribute to Cole, however, as "touching and emotional." Perhaps the Grammys has a different understanding of what "touching and emotional" looks like.
REAL LIFE. REAL NEWS. REAL VOICES.
Help us tell more of the stories that matter from voices that too often remain unheard.