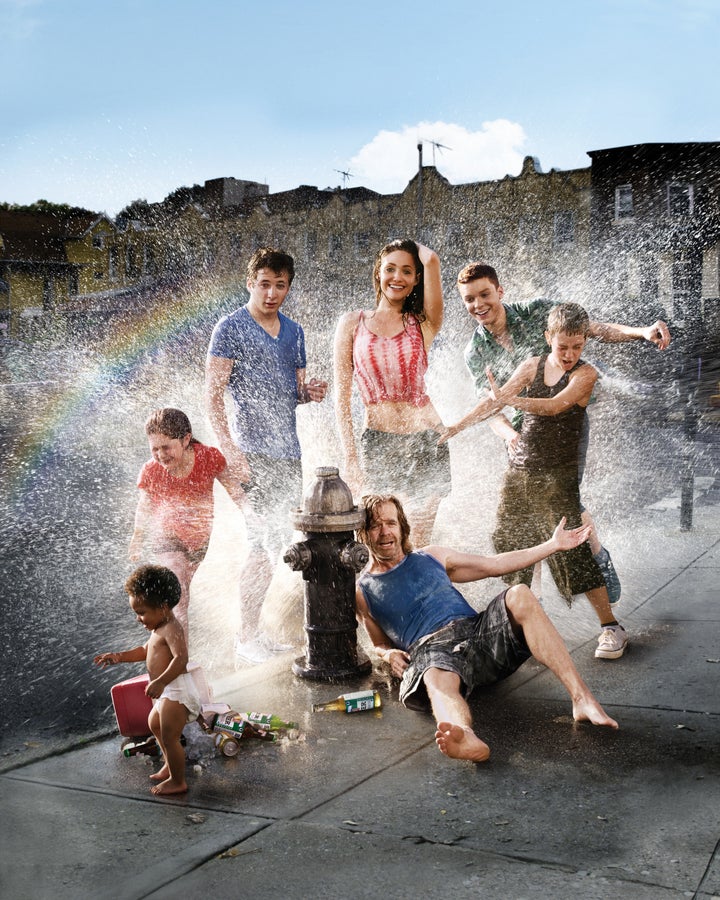 But often times, in scripted, non-educational programming, the class issue has been used as a source of humor, instead of an opportunity to depict the abuse, violence and darker side of poverty that is far from funny.
One of the most recent shows to portray a working-class family is Showtime's "Shameless," adapted from a UK series of the same name. "Shameless" centers on the Gallaghers, a family of seven living in poverty in the South Side of Chicago, with an fall-down drunk dad Frank (William H. Macy) and eldest daughter, Fiona (Emmy Rossum) at the helm.
The Gallaghers are a level of poor we've never been exposed to before on the small screen. We're talking steal-from-UNICEF, con-Social-Security-to-get-a-dead-aunt's-money levels of poor. "It's not 'My Name Is Earl' or 'Roseanne,'" Paul Abbott, creator of the original "Shameless" told The New York Times. "It's got a much graver level of poverty attached to it. It's not blue collar; it's no collar."
US showrunner John Wells (formerly of "ER" and the later seasons of "The West Wing") said he looked for writers who could relate to the Gallaghers. "I don't want to give specifics, but one of the writers' father disappeared really early on and mother had a lot of mental illness to deal with," Wells told The Times. "Another writer comes from real serious, deep, 'What are we eating tonight?' poverty."
And though the show, which has been renewed for a third season on Showtime, does boldly go where no other show has gone before, there's debate as to whether or not it does so respectfully.
But economic struggles are, as many who've lived them would say, far from "terrific fun," naughty or otherwise. And that's part of the problem with "Shameless."
The demographic its appealing to and the constant nudity also has some wondering whether or not "Shameless" is doing a service or just prettying up poverty.
"'Roseanne' did just fine without making poverty seem 'wacky' or 'fun,' or by relying on sexy stars that appear naked in every other episode," one HitFix commenter said earlier this year in response to a "Shameless" recap. "If anything, it's a little bit off-putting that the writers seem to think that viewers will be so turned off by the poverty onscreen that they need Emmy Rossum's bald m--- to carry them to the end of the hour."
But, as the saying goes, you can't put lipstick on a pig -- and perhaps that's Hollywood's problem, or at least TV's, in its portrayal of poverty.
Related
Popular in the Community