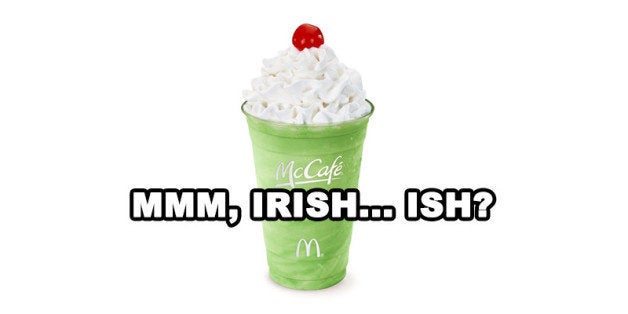 The McDonald's Shamrock Shake: What was once a sometimes forgotten seasonal tryst for American fast food lovers has now become a full blown long-distance love affair. People anticipate its return for months, rekindling their relationship with this minty March phenomenon. And the heartbreaking goodbye that follows, as it's ripped from our clutches after only a few weeks like a child's favorite plaything locked away in the toy box, leaves us as shaken as the Shamrock Shake itself.
So, as we prepare for another season of one-on-one make-out sessions with the Shamrock Shake, we're here to make sure you know it intimately. Perhaps too intimately.
1. First of all, how did we get the Shamrock Shake?
It was introduced in 1970 as the St. Patrick's Day Shake. Obviously that name wasn't catchy enough and was scrapped years later for the more alliterative Shamrock Shake. But the beginnings of the Shamrock Shake are a bigger part of McDonald's history than you might know.
In 1974, after years of watching his 3-year-old daughter undergo treatment for leukemia and effectively living at St. Christopher's Hospital For Children, Philadelphia Eagles player Fred Hill thought there should be a better way. He reached out to the community to raise money for families that couldn't afford hotel rooms while their sick children were being treated. The Eagles' GM connected with a local McDonald's ad agency and the restaurant's regional manager, and together they created the St. Patrick's Day Green Milkshake promotion. Proceeds from the seasonal promotion sales went to purchase a house in Philadelphia, a "home away from home" for families dealing with a sick child.
2. Just how unshakeable is the thirst for the Shamrock?
3. What's in this shake, if not actual shamrocks?
The Shamrock Shake contains four basic ingredients in its modern McCafé form: ice cream, Shamrock Shake syrup, whipped cream and maraschino cherries. Buuuuuuuut if we're being super McThorough about this, it actually contains 54 different ingredients:
Milk, Sugar, Cream, Nonfat Milk Solids, Corn Syrup Solids, Mono- and Diglycerides, Guar Gum, Dextrose, Sodium Citrate, Artificial Vanilla Flavor, Sodium Phosphate, Carrageenan, Disodium Phosphate, Cellulose Gum, Vitamin A Palmitate, High Fructose Corn Syrup, Corn Syrup, More Water, More Sugar, Natural Flavor (Plant Source), Xanthan Gum, Citric Acid, Sodium Benzoate (Preservative), Yellow 5, Blue 1 — ARE YOU STILL WITH US? — More Cream, More Nonfat Milk, More Corn Syrup, More Sugar, More High Fructose Corn Syrup, Contains Less Than 1%: Mono-And Diglycerides, More Carrageenan, Polysorbate 80, Beta Carotene (Color), Natural (Dairy and Plant Sources) and Artificial Flavor, Mixed Tocopherols (Vitamin E) to Protect Flavor, Whipping Propellant (Nitrous Oxide), Cherries, More Water, More Corn Syrup, More High Fructose Corn Syrup, Sugar, Malic Acid, Citric Acid, Natural (Plant Source) and Artificial Flavors, More Sodium Benzoate, Potassium Sorbate (Preservative), Red 40, Sulfur Dioxide as Preservative (Contains Sulfites).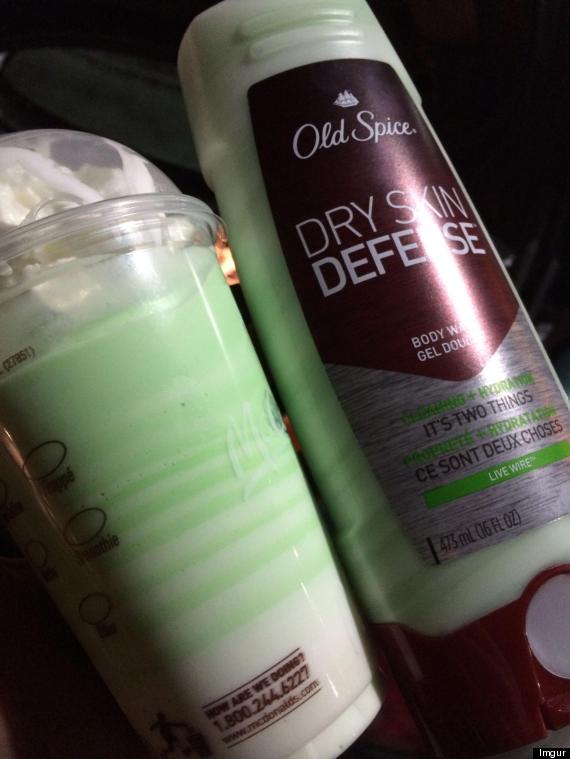 6. Shamrock Shakes weren't available nationally until 2012.
7. But now, anyone can look like this.
8. And if you're lucky, you can try the secret McDonald's menu item called the McLeprechaun Shake. It's secretly better than the Shamrock Shake because CHOCOLATE.
Listen, you love the Shamrock Shake, but surely that love can only grow by adding chocolate, right? Next time you're in line for a Shamrock Shake, put on your best Irish accent, lean forward and whisper gently into the cashier's ear that you want the McLeprechaun Shake. The McLeprechaun Shake is the Shamrock Shake mixed with a chocolate shake. Maybe they'll oblige, or maybe you'll have to mix it yourself. Either way, you'll be a happier, more complete person in the end.
9. The Shamrock Shake used to have a mascot named Uncle O'Grimacey. He's Irish, get it?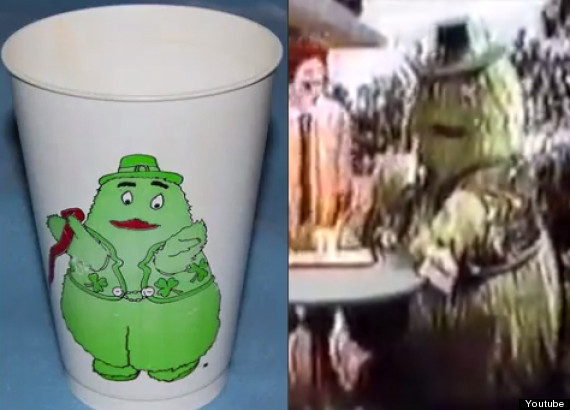 Keep in mind, cultural understanding and sensitivity have come a long way since the 1977, when Grimace's Uncle O'Grimacey was introduced. For some reason in the world of advertising, you couldn't just feature an Irishman, you had to dig way down into the absolute depths of the pot o' stereotypes. Uncle O'Grimacey was no different, with his buckles and clovers and shillelagh. McDonald's didn't hit the mark every time in the character department, as evidenced by the original Grimace, which started off as a four-armed, scaly villain.
Uncle O'Grimacey was voiced by Lennie Weinrib, who was also the voice behind H.R. Pufnstuf, Bigmouth on "The Smurfs," as well as Hunk and Prince Lotor on the show "Voltron." He even participated in another uncle/nephew gig when he voiced Scrappy-Doo, nephew to everyone's favorite crime-solving K-9, Scooby-Doo.
10. If you need to get your hands on one during the off season, there is a Shamrock shake tracker.
Want to find a Shamrock Shake location near you? Head to shamrockshake.com for an updated chronicling of all the various cities and towns in America where people have spotted and likely consumed a Shamrock Shake. Bear in mind, these sightings are unconfirmed.
Without a doubt, this is what the builders and pioneers of the internet had in mind.
11. God drinks Shamrock Shakes.
Okay, Morgan Freeman once played God, but still, the point is made.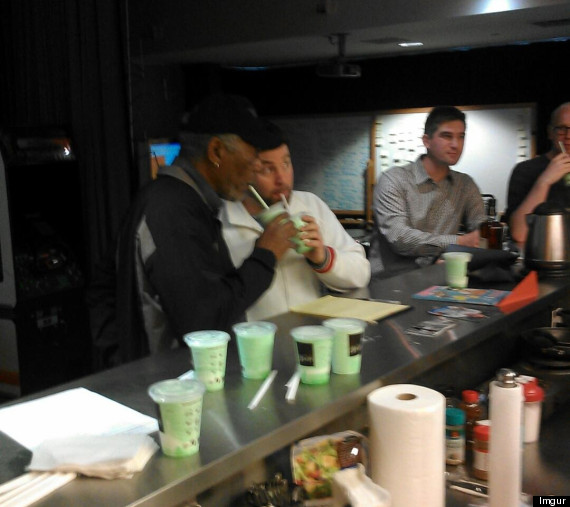 It's mint. You can rest easy now, laddies and lasses.
Given this info, decide for yourself if the Shamrock Shake is worth your time. It's certainly filled with a lot of things, some good and some not so good, so we'll let you make the call. If you like the idea of a Shamrock Shake, but not the item itself, why not grab one of the many Shamrock Shake-like recipes out there and have a blast in your kitchen trying to make it yourself?
Related
Before You Go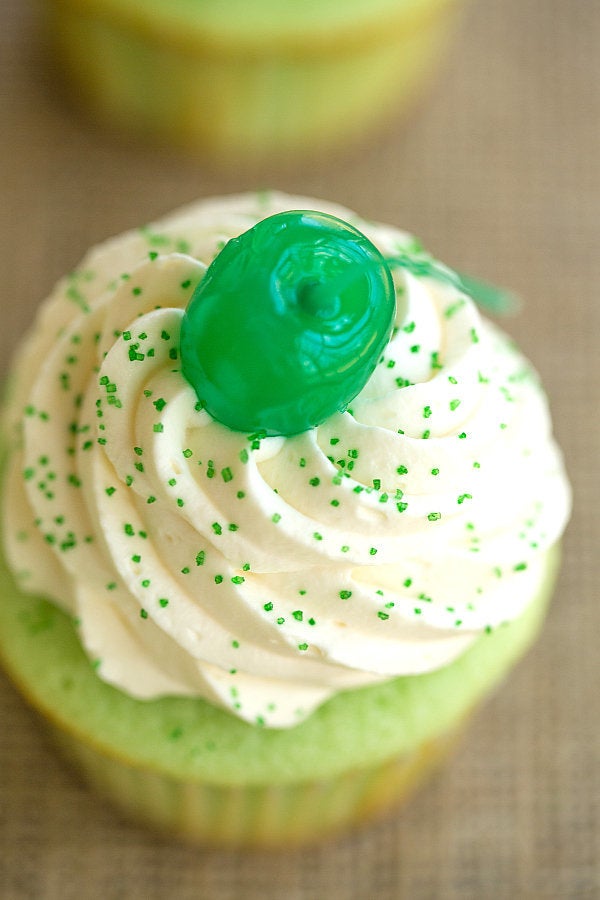 Green Dessert Recipes