Since its inception in 1970, more than 60 million McDonald's Shamrock Shakes have been sucked into America's faces through the hollows of those far-too-thin plastic straws. The Shamrock Shake is minty. It is powerfully green. And it is 820 calories* worth of brain-freezing St. Patrick's Day nostalgia.
Calories can be burned off at the gym, so what we're more concerned with are the 54 ingredients lurking inside that Shamrock Shake (seriously, there are 14 ingredients just in the CHERRY that goes on top). Some of the more questionable ingredients: Carrageenan (a possible human carcinogen), and the combination of Yellow 5 or Red 40 with sodium benzoate, which has been associated with hyperactivity in children. Also: high fructose corn syrup. So much high fructose corn syrup (a large shake contains 115 grams of sugar).
If we've learned anything from the past, we'd know that in 2006 it was revealed to us that there are 59 ingredients in a McDonald's strawberry shake, zero of them being strawberries. Zero strawberries. Does this mean it's possible that the Shamrock Shake contains zero shamrocks mint? Though we could surmise that the mint is accounted for in the "natural flavor (plant source)" item of the shake's long list of ingredients, we can never be sure.
What we can be sure of is that the homemade Shamrock Shake recipe in the video above contains precisely seven ingredients. Granted, it doesn't have the same sugar-bomb effect of the real Shamrock Shake, but it supplies a delicious dose of fresh minty flavor. We used Haagen Dazs ice cream (which only contains five ingredients), milk (which is already an ingredient in the ice cream) and fresh mint leaves. Then we topped it all off with fresh whipped cream (cream and sugar are already in the ice cream) and a fresh cherry. Count 'em. Seven ingredients.
Bonus: Watch all the way to the end of the video and we'll share a secret with you: The McLeprechaun.
INGREDIENTS
1 pint vanilla ice cream (as mentioned above, we used 5-ingredient Haagen Dazs)
1 1/2 cups milk
2 big handfuls of fresh mint leaves, stems removed
Whipped cream and a cherry, to top
Blend until smooth and serve!
* All statistics are based on a McDonald's 22-ounce size large.
Before You Go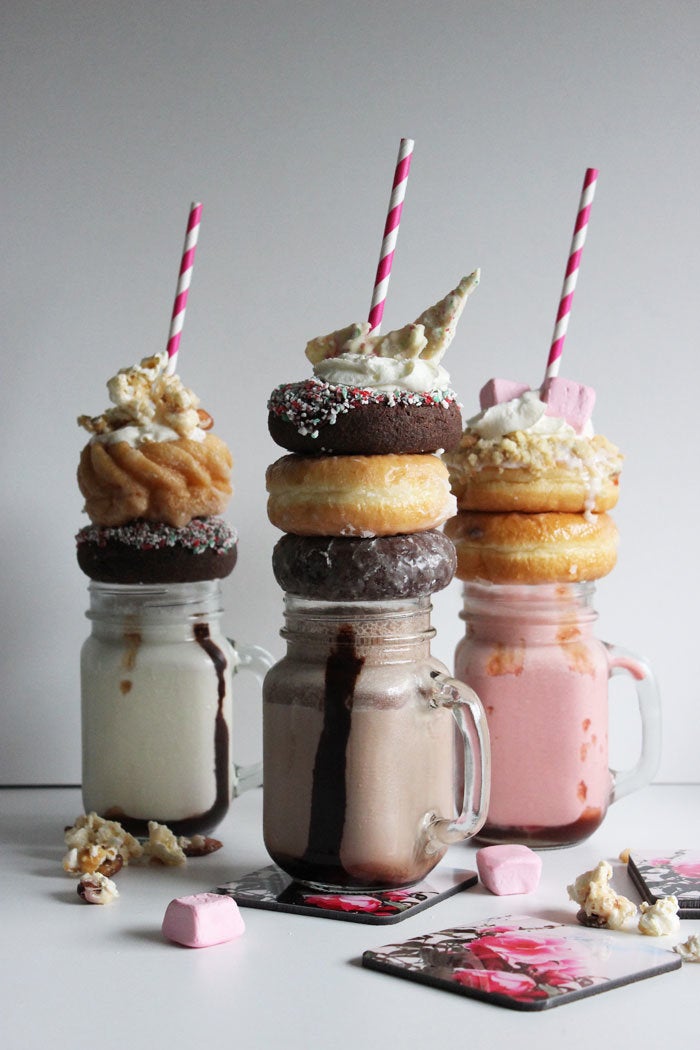 Crazy Milkshakes