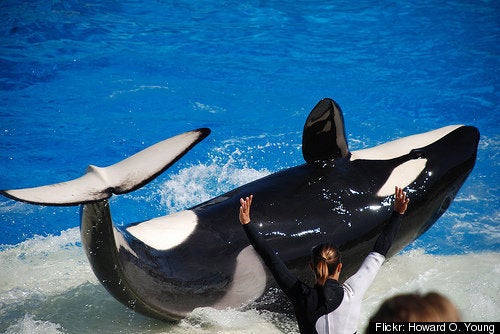 Shamu's Twitter musings are no more.
Shamu's farewell tweet, posted February 25, read:
At this difficult time, @Shamu will not be active. For Twitter updates follow @SeaWorld_Parks. http://bit.ly/b0oU3l
Prior to this notice, Brancheau's tragic death was not mentioned on Shamu's account.
The killer whale, described as Twitter's 'most famous marine mammal,' had been tweeting regularly, with animal-related updates, humor, and news. His posts included brief, bite-sized tidbits such as:
@ThemePark I will not be mocked. I am not an animal, I am a ... Oh, right.
@mrs_eg Cats amuse me. Fat cats, angry cats, wet cats, fat angry wet cats. You name it.
You'd think I'd get a big fat check every month from those guys, but strangely, I don't. Not even a big king salmon on my birthday.
Shamu's account, @Shamu, lists over 10,000 followers. The whale's profile reads: 'I live at SeaWorld. I'm a large, athletic, black and white marine mammal. I'm not THE star of SeaWorld, I'm A star of SeaWorld.'
Shamu isn't the only tweeting animal. If you're sad to see him go and looking for another animal to follow on Twitter, check out Common Squirrel, or help your own pet tweet with Puppy Tweets.

Popular in the Community