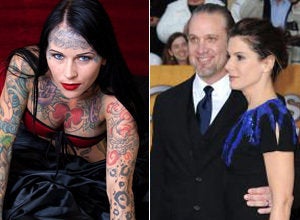 **SCROLL TO WATCH VIDEO**
Shane Modica, the ex-husband of Michelle "Bombshell" McGee and the father of her 5-year-old son Avery has spoken out to "The Insider."
McGee would tell Modica that her alleged sex buddy Jesse James was going to split from wife Sandra Bullock in the near future and that James told McGee his marriage was a "sham."
Modica, a tattoo artist, has already filed for custody of their kid since the scandal broke. Now he is elaborating, saying his ex-wife was obsessed with Jesse James before she even met him. She told In Touch she met James after contacting him on Facebook.
From an Insider press release:
Shane tells THE INSIDER that he believes Michelle was involved with Jesse James since May 2009 and that she often referred to James's marriage to Sandra Bullock as a "sham." "According to Michelle, [Sandra and Jesse] had this big thing going on where they were going to announce their divorce on a certain timeline and she was going to be the next woman. Michelle would tell me, 'You don't know what's going on. [Sandra] is in another country. They are not even together. They live in separate places. She doesn't help out with the kids. All this is fabricated. They are under some kind of a contract.'"


He goes on to say, "We had problems during our marriage because of her obsession with Jesse James. I once walked into the salon that she owned and she had our wedding photo up there on her mirror and there was a cut out picture of Jesse James' face over my face. She tried to joke about it and said Jesse was fat and he was ugly."

On the media attention surrounding the alleged affair, Shane tells THE INSIDER he does not believe that Michelle is remorseful, "She's getting what she wanted. She was going to make money and fame out of this one way or another."
WATCH:
Popular in the Community