SHANGHAI — On a narrow side street in a leafy residential neighborhood, a man who identified himself only as Mr. Wang piles large appliances onto his flat-bed truck. Stacking them higher than would seem physically possible, he expertly balances rusty washing machines atop old industrial fridges, tightly strapping them down so they don't topple. Men on motorbikes and a few women arrive in the alley, carting their unwieldy machines, which Mr. Wang packs onto his truck, arranging and rearranging his mound like an expert Tetris player.
Mr. Wang parks his truck at this spot almost every day, from early morning to late afternoon, collecting items that would otherwise be sent to a landfill or incinerator. He's one of Shanghai's thousands of informal recyclers, a citywide network of unlicensed workers, mostly migrants, who experts and locals alike say have done far more to recycle Shanghai's waste than has the government or any formalized system.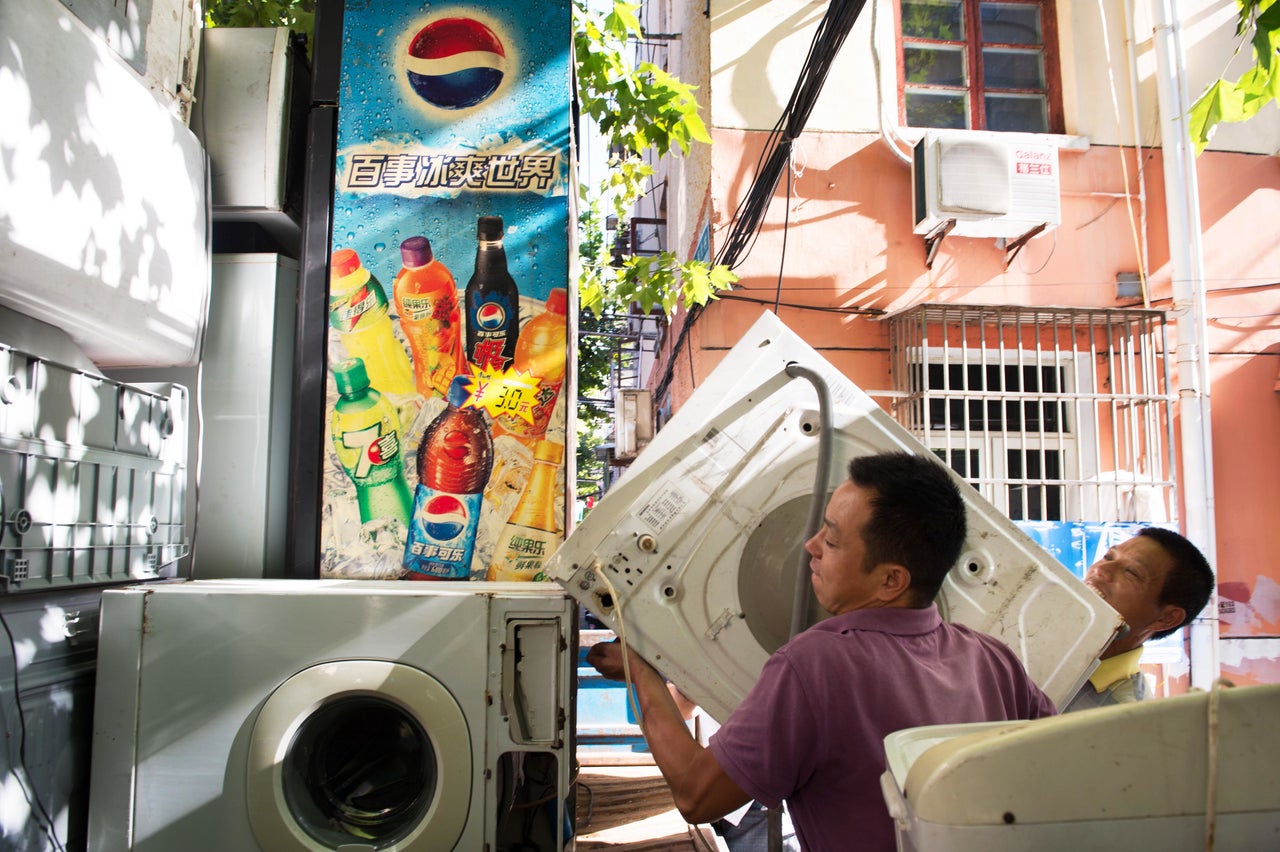 "It's invaluable what these guys have done to reduce the trash in the city," said Richard Brubaker, an environmental activist and founder of Collective Responsibility, a Shanghai-based sustainability consultancy. "Two out of five of Shanghai's landfills are already filled today. The other three would definitely be full by now if it wasn't for them."
Exact numbers are difficult to ascertain, but researchers have suggested that the informal system could account for 70 percent or more of recycling for items like plastic bottles and e-waste in major cities like Shanghai and China's capital, Beijing. A 2015 report by Columbia University researchers said Beijing's informal collectors could be responsible for "removing as much as 30 percent of total waste in the city."
These informal waste workers aren't driven by environmental concerns or government mandates. Instead, they saw a gap in the waste disposal system and sought to fill it.
"People may not realize it, but these guys, they're entrepreneurs," said Rose Martin, a consultant at Collective Responsibility, as she observed Mr. Wang working on that September afternoon.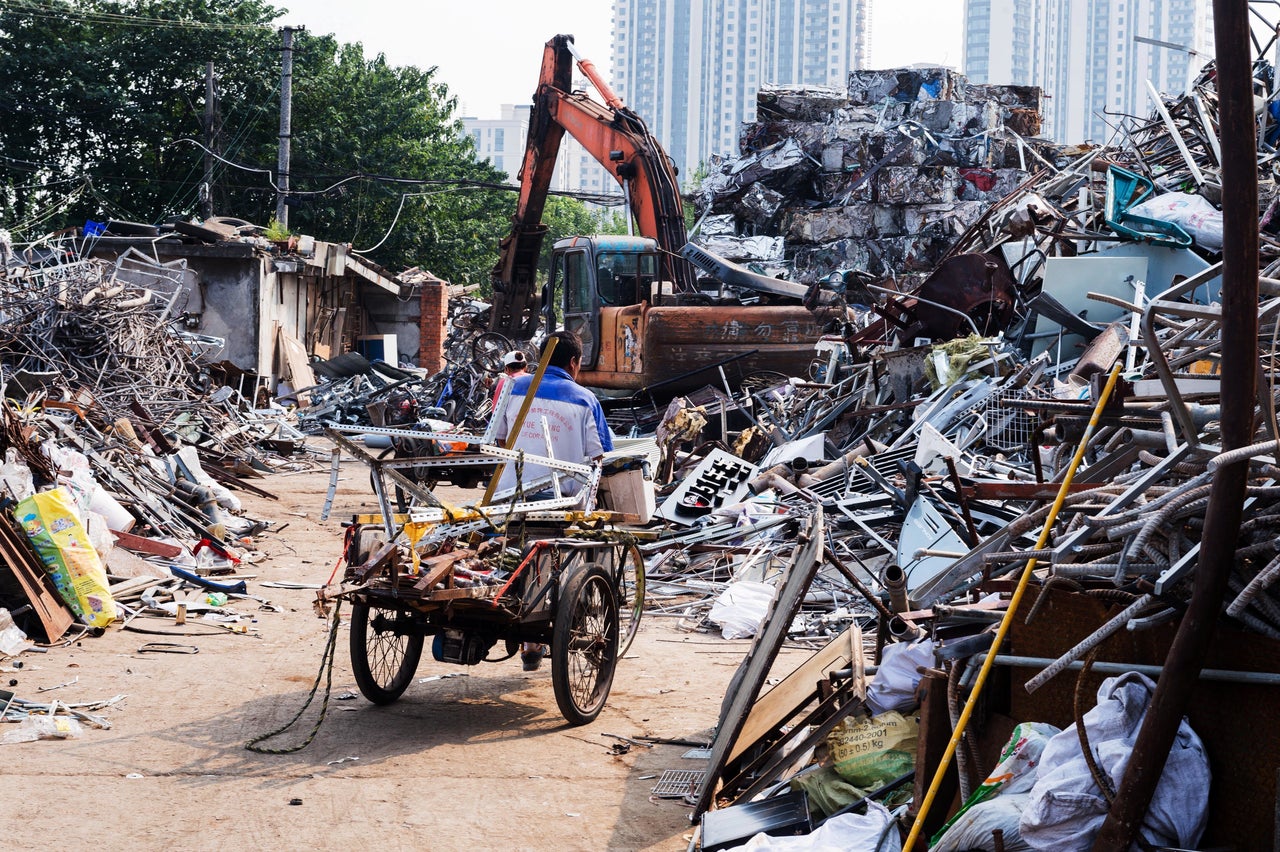 Informal recycling in Shanghai (at 24 million residents, it's the most populous city in the world) is a well-oiled machine, with every participant appearing to have a clear role.
Mr. Wang, a specialized "consolidator," is near the top of the pyramid, amassing recyclables of a specific type (in his case, large appliances) across several neighborhoods. These items will end up at a larger sorting center and eventually at a recycling plant. Below Mr. Wang are the neighborhood-level collectors and waste pickers — modern-day rag-and-bone dealers — who collect recyclables from households and businesses or things discarded in the trash. A homeowner wanting to sell her old refrigerator may call her local waste collector, who'll pay her a small sum for the appliance. This collector, who usually also specializes in a particular type of recyclable material, may then contact another, who will pay him a slightly larger amount to take the item. Every time an item changes hands, someone gets paid.
In just an hour, almost 10 people rode by to deliver appliances to Mr. Wang. He'd pull out a fat stack of colorful renminbi from his pocket whenever a new person would drop by, doling out cash for the items delivered. The deliverymen sometimes lingered, for a cigarette and a chat. Men from the neighborhood popped by too, making small talk.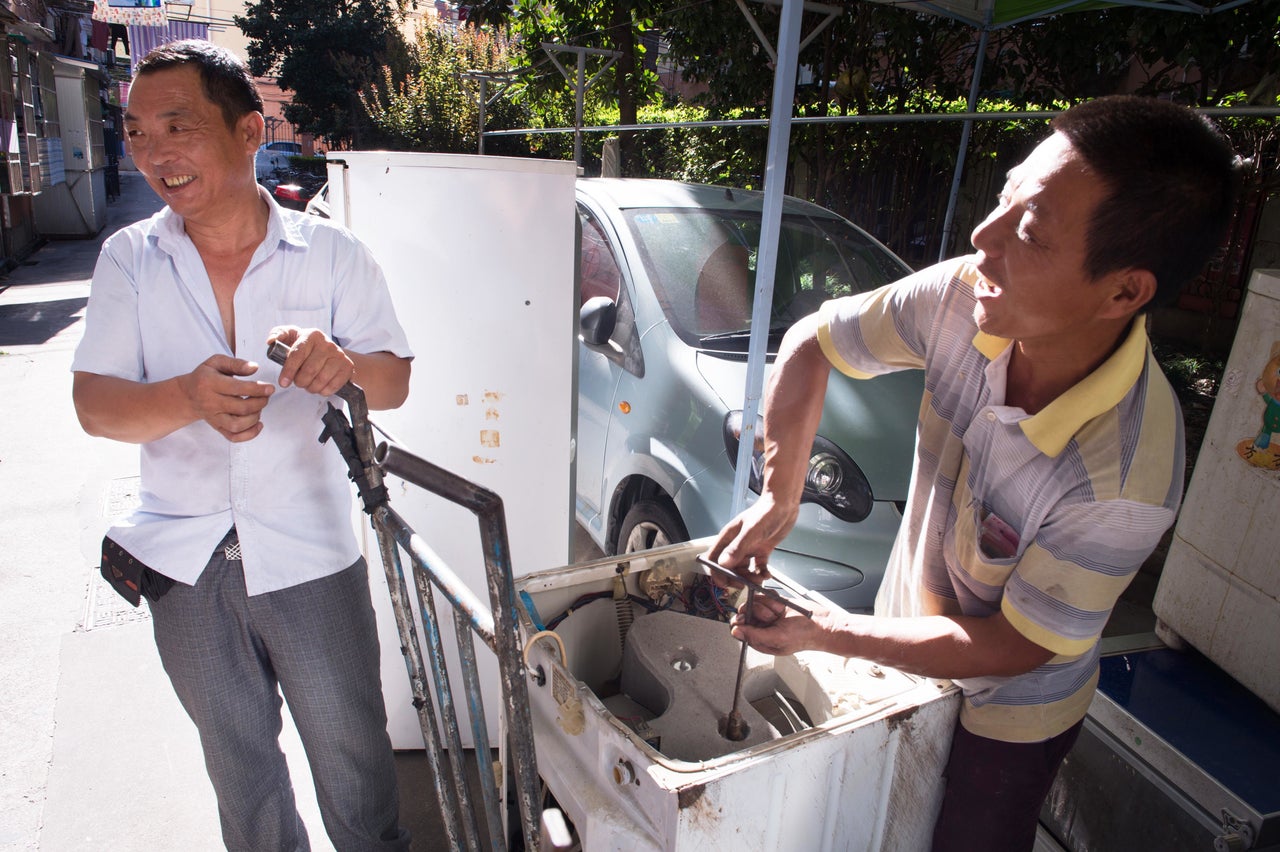 A neighborhood fixture, Mr. Wang's collection point has become something of a community gathering place. Mr. Wang, who said only that he was "in his 40s," said he'd been coming to this spot for several years to ply his trade.
"It's very hard work," he said as he loaded the truck. "My body aches. I have a lot of problems with my neck."
As Shanghai and China as a whole undergo something of a "green revolution," with city and federal officials becoming increasingly concerned about environmental issues, including domestic waste, experts say the livelihoods of informal recyclers like Mr. Wang could soon be under threat.
A number of regulations have already been enacted in Shanghai that could change their way of life. It remains to be seen, however, whether the state will be able to create a formalized recycling system that's better than the vast and intricate unofficial one that exists.
A handyman earlier, Mr. Wang said he moved about a decade ago to Shanghai from Jiangsu Province, located north of the city, and stumbled into this business. His three children — ages 10, 14 and 20 — live with their grandparents back home. He and his wife see them two or three times a year. He misses them, yes, but, "I work to survive," he said with a shrug.
As the sun began to dip behind the trees, Mr. Wang climbed into the truck's cab and, with a wave goodbye, inched out of the small side street ― his wares stacked so high they smacked into lower branches as he drove away. He would be making the 1½-hour drive back to his home in Kunshan, an industrial city on the outskirts of Shanghai. He hoped to avoid rush-hour traffic. If he got stuck, the journey could take more than two hours.
Until last May, Mr. Wang said he'd lived within the city limits, but he'd been "kicked out" by "authorities." He wouldn't elaborate.
Once he got home, he and his wife would dismantle appliances till late, separating the parts to be recycled from the bits that would be thrown away. The next morning, he'd be up before sunrise to repair any appliances he thought could still be resold whole. By 8, he'd be back behind the wheel of his truck, making the journey back to this small street in central Shanghai.
Every neighborhood in this sprawling city has its own Mr. Wang. Ask any resident about informal recyclers and they'll invariably tell you about their local "plastic bottle uncle" or "paper lady."
"They're an iconic sight, these recyclers," said Jake Newby, TimeOut Shanghai's editor-at-large. "Think of Shanghai and you might think of these guys on tricycles piled high with paper or plastic bottles — piled so high that if the guy got off, the whole thing would tip over."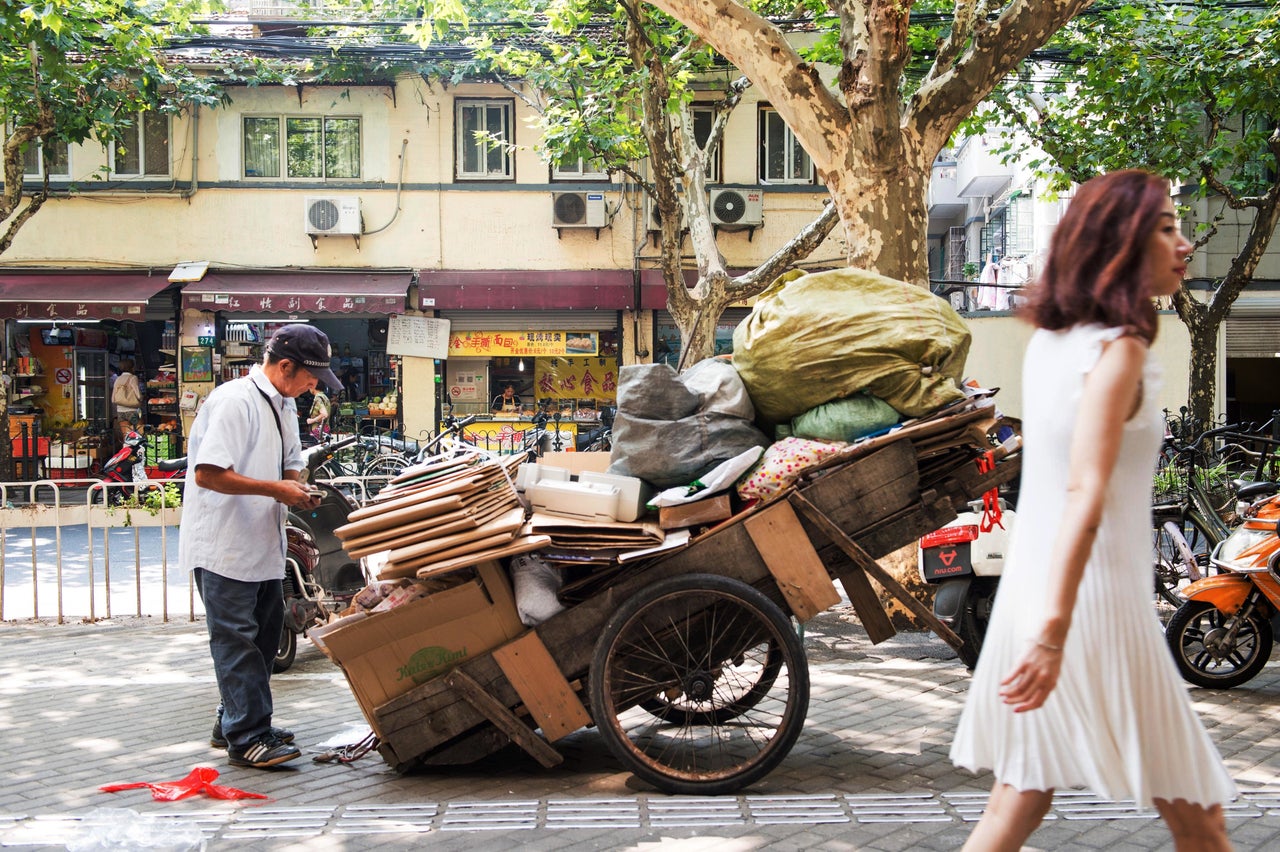 No one knows exactly how many recyclers and waste pickers there are in Shanghai. But Yifei Li, an assistant professor of environmental studies at New York University Shanghai and an expert on the city's waste sector, estimates it's in the "tens of thousands," if not more ― most of them migrant workers who, like Mr. Wang, came to Shanghai seeking work. Across China, there are as many as 2.5 million to 6 million informal waste workers, according to a 2013 study.
It's not just neighborhoods that have their local collectors and pickers. Large residential and commercial complexes are have their own groups.
To illustrate this, Brubaker, who has spent years researching Shanghai's informal recycling sector, offered a tour of the basement of a residential complex in the heart of the city. In a corner of the parking lot, Brubaker pushed open an unmarked door. Inside was a large room, dark and dank, in which every corner was filled with detritus. Here, a pile of wires and small electronic items; there, huge bales of paper and cardboard, and a stash of plastic bottles.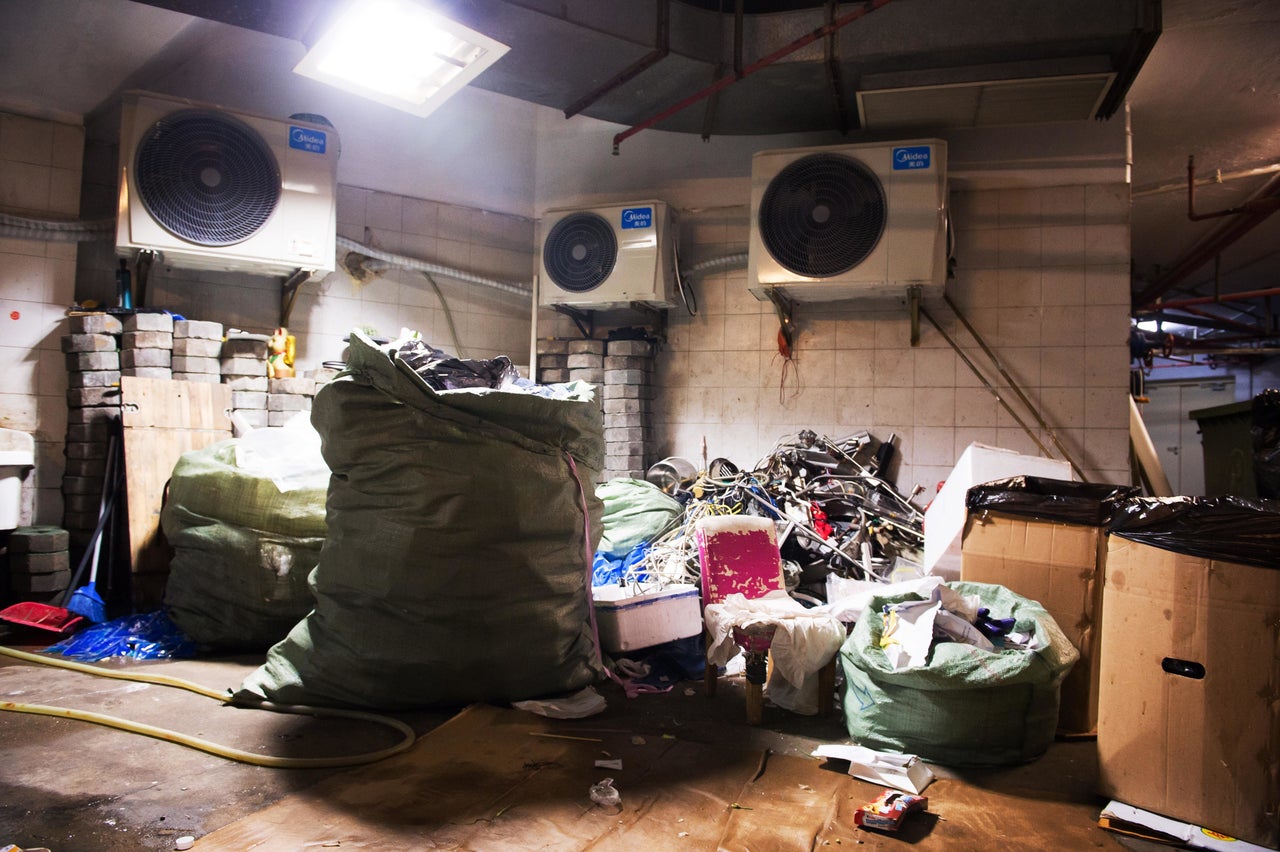 At the very back of the room, there was evidence of life and living: crumpled sleeping bags on the ground; damp laundry hanging on makeshift clothing lines; cobwebbed potted plants lined up in a corner; and a red-and-gold paper sign with the Chinese character for "fortune."
"This is where all the trash from the apartments ends up, and they sort it all," said Brubaker, waving his arms around the room.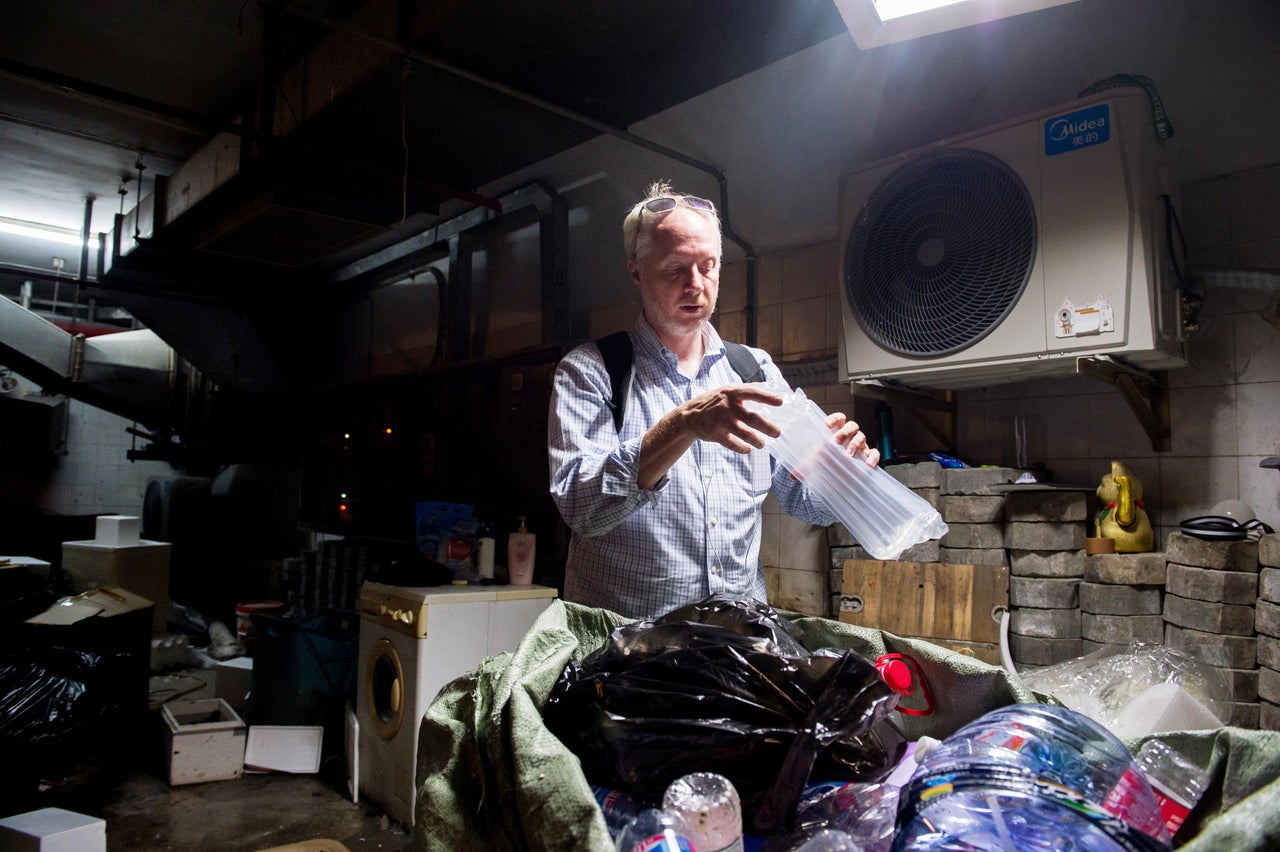 No one was there when he entered, but Brubaker said four or five men and women live in the room. They're not paid by the property's management, but they'd struck some sort of deal, Brubaker said. The building's managers turn a blind eye, allowing the pickers to live and work here, unseen and unheard by the residents above. "A lot of people don't know this is down here," Brubaker said. In turn, the managers get a small cut of the group's earnings.
At a mall in northern Shanghai a few days later, a woman with a large rucksack over her shoulder reached into trash cans and pulled out plastic bottles and other recyclables. When quizzed, a local identified her as the mall's unofficial waste picker. "She's here almost every day," he said.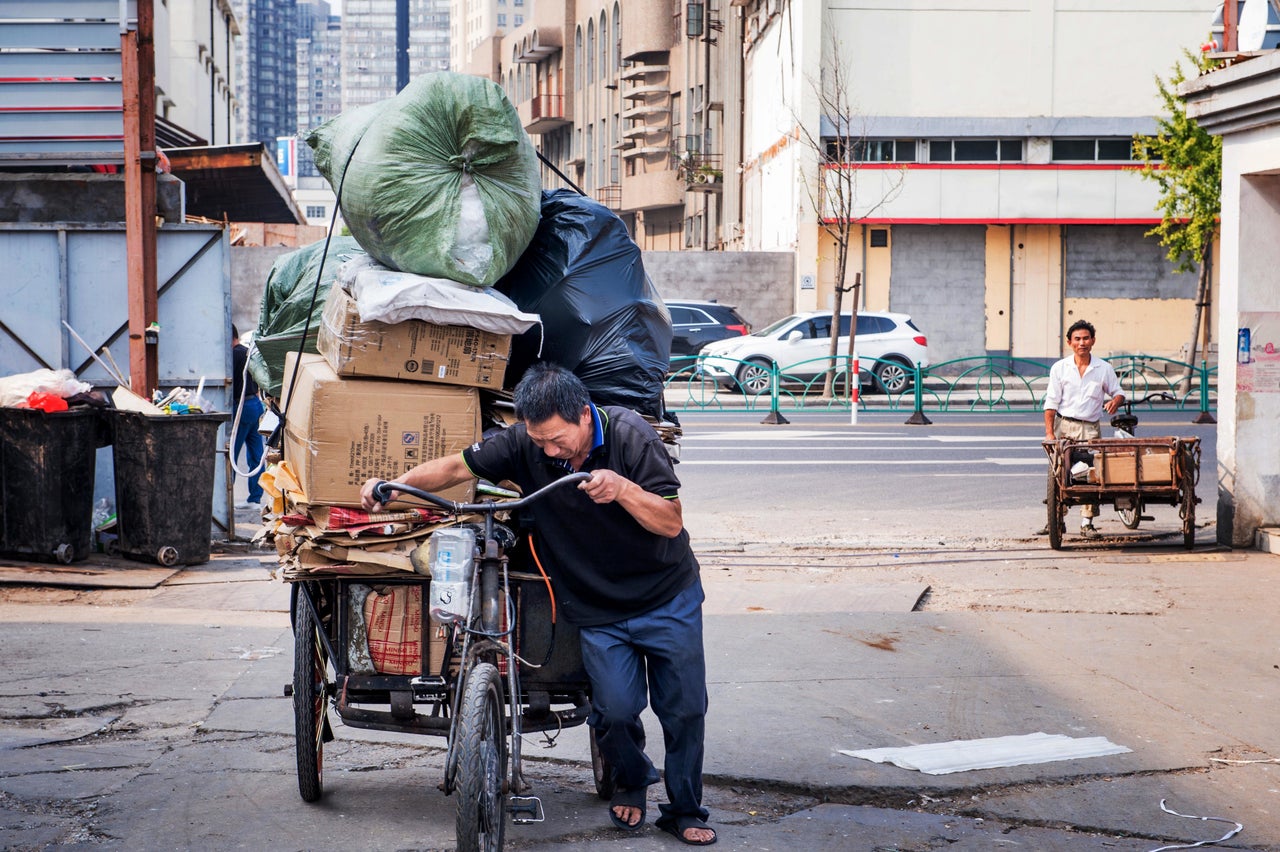 Michelle Huang, an NYU Shanghai student who spent a summer researching the city's waste sector, said there are usually "two or three pickers in any mall or large building."
"They get what they can — but for a city this big, they can't possibly compensate for the sheer amount being thrown away," said Huang.
Shanghai Daily reported in 2015 that the city's residents were generating some 22,000 tons of garbage per day, at least 40 percent of which was being incinerated. Experts say the waste problem in China is getting worse every year.
The World Bank has estimated that China's solid waste production will more than double to 500 million tons annually by 2025. China is expected to produce twice the amount of solid waste as the United States by 2030.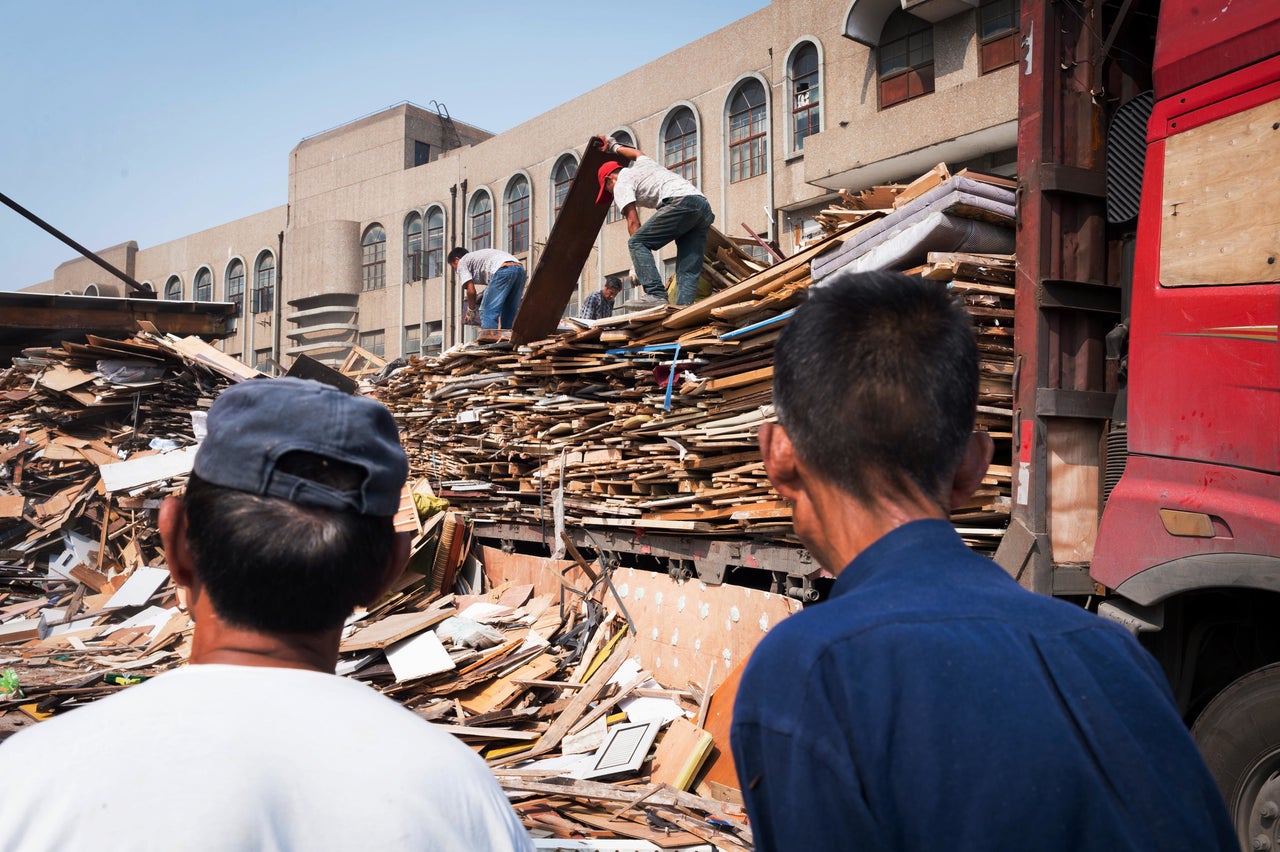 With these staggering numbers in mind, and as the nation's landfills run out of room and concerns mount about health and environmental hazards of trash incineration, Chinese authorities have begun to make domestic waste management a priority. Last year, China told the World Trade Organization that it would no longer be accepting 24 categories of imported waste from other nations, sending shockwaves across Europe and North America, which have for decades relied on China to handle millions of tons of its waste. Observers say this move hints at China's commitment to focusing more on managing its own waste streams.
Progress, however, won't come overnight.
"For years, there have been no government recycling trucks or recycling bins in the city. There are no trash sorting sites either ― so everything gets dumped into one truck and incinerated or brought to a landfill," said Huang, who rode in garbage collection trucks managed by the city government as part of her research. "There are conferences and discussions every year but things don't really seem to be getting better."
There are whispers of evidence, however, that change is afoot. Li, the NYU professor, said the city government had recently launched pilot recycling projects in a limited number of apartment complexes around Shanghai.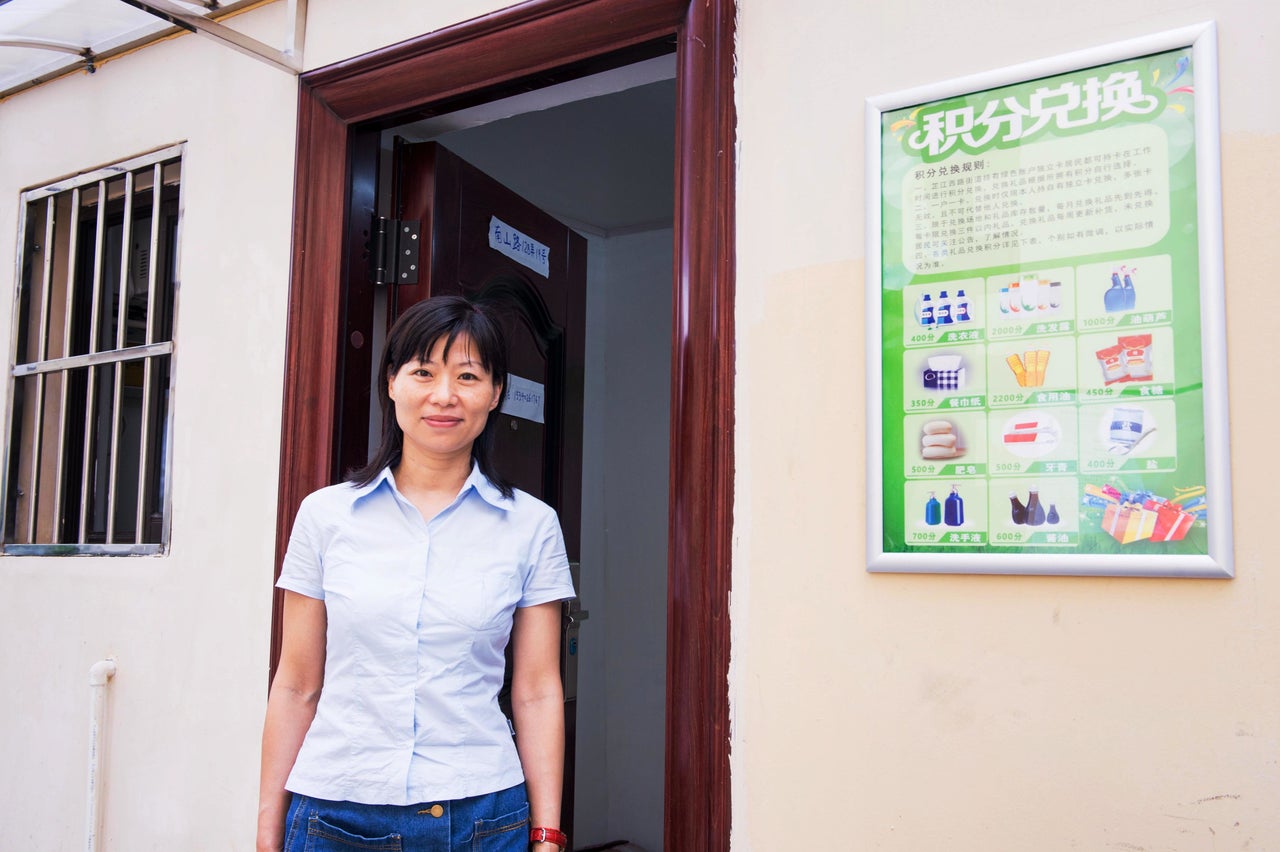 In one neighborhood, a recycling center has been set up by a state-run charity. Residents can deposit paper, plastic and even e-waste in exchange for "prizes," such as shampoo, toothpaste and toilet paper.
When photographs of the center ― all shiny and new with its color-coded bins ― were shown to residents of other neighborhoods, some of whom had lived in Shanghai for decades, most expressed bewilderment. "This is Shanghai?" they'd marvel.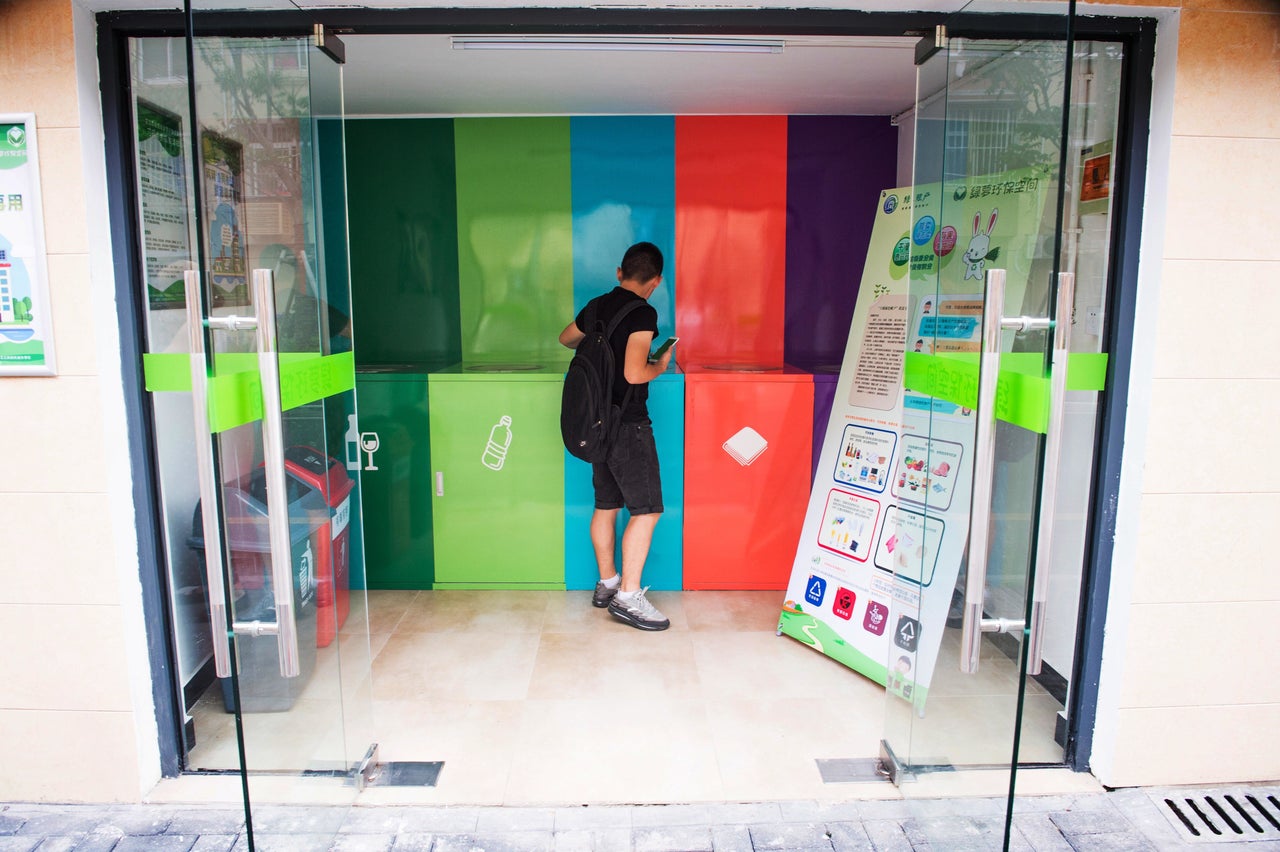 At the same time, the city government seems determined to push out unlicensed recyclers.
This year, for instance, Shanghai police have been cracking down on motorized tricycles, which is how many recyclers transport their goods. The official line is that these vehicles pose a danger to traffic safety, but the effect on recyclers is clear. Many have had their tricycles taken away and can't afford different vehicles. In June, police said they'd seized more than 2,500 motorized tricycles.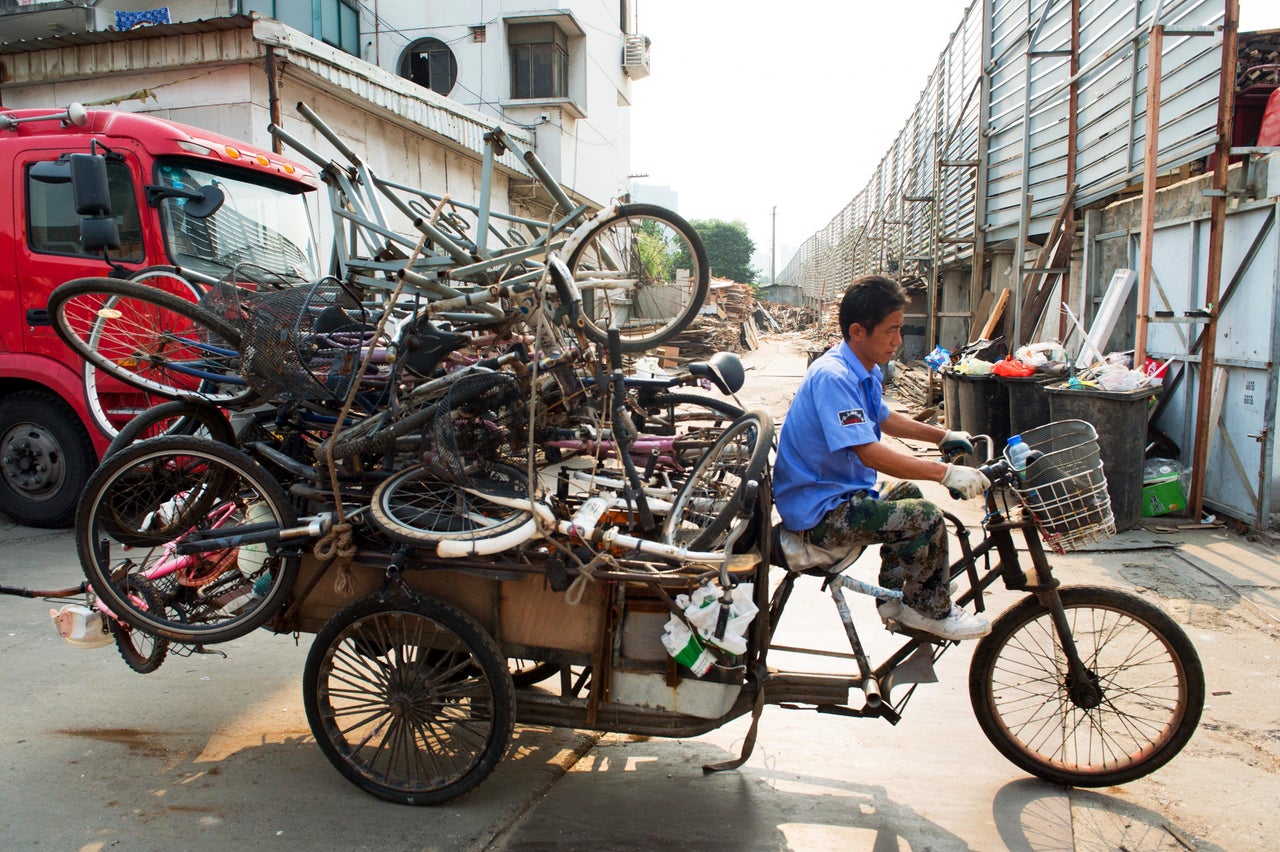 Authorities have also been cracking down on Shanghai's "urban villages," low-income neighborhoods on the city's outskirts where migrants mostly live. In the name of "beautification," these villages are being demolished to make way for modern buildings and green spaces. But the result is that recyclers are finding themselves with nowhere to live in China's most expensive city.
According to the Chinese magazine Sixth Tone, 30,000 residents and migrant workers were displaced when Hongqi, Shanghai's largest urban village, was shut down last year. An additional 3,000 migrant residents from a different urban village were evicted last January, in the days leading up to the Chinese New Year festivities.
Experts say that it's still unclear just how much the government hopes to formalize or centralize the system, and many expressed skepticism over whether a more formalized network could be more efficient and effective.
"Informal recycling is a sector that's been here for so long. It's very deeply rooted and is a very robust network," said Li. "If the state takes over that business, it'll be a lot of work. This is a successful business model for a lot of people. How do you fold that into a state apparatus?"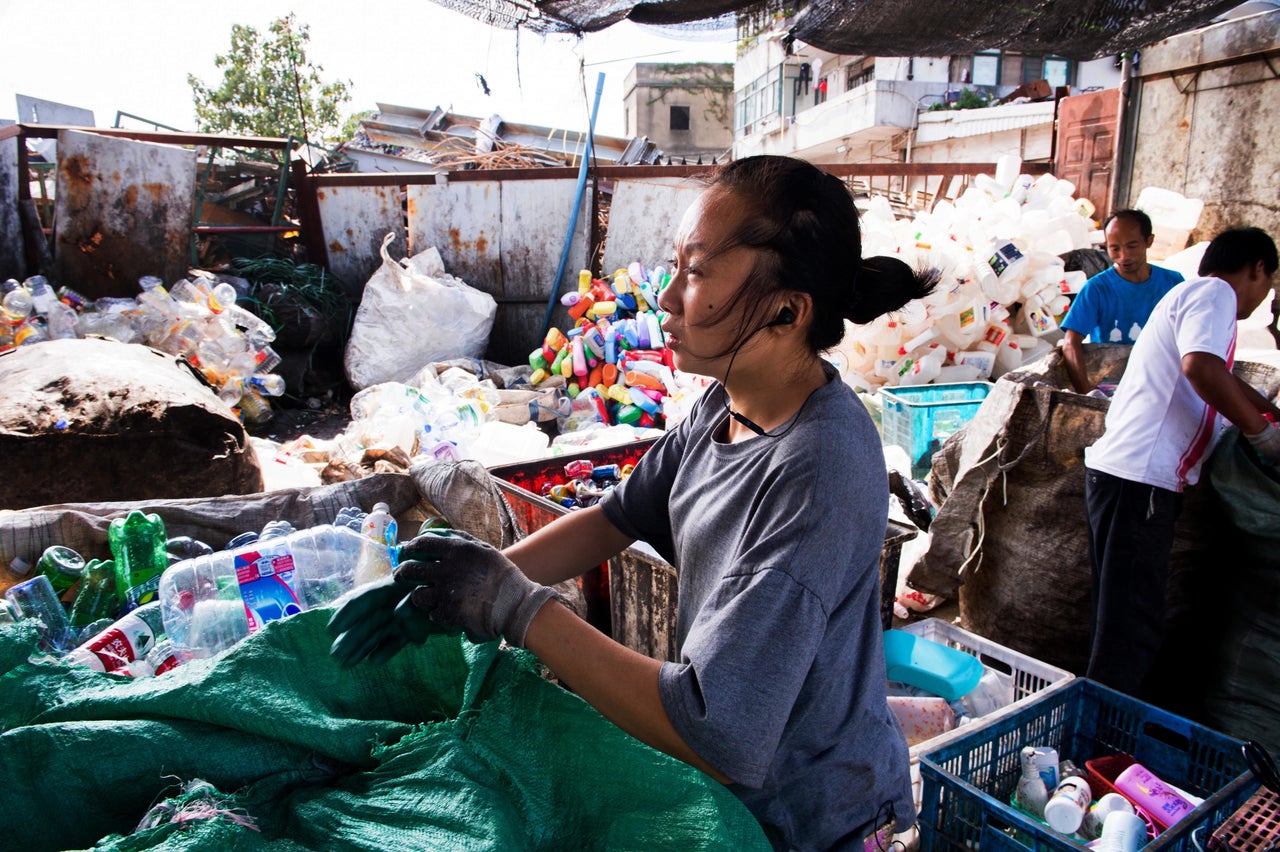 But though the city's informal recyclers have been praised for the work they've done to reduce Shanghai's waste, it's a sector not without flaws.
Without proper regulation or oversight, the work can be unsafe. None of the recyclers interviewed for this article wore protective clothing or gear. At one recycling site where groups were sorting through paper, metal and wood, unmasked workers were exposed to gusts of dust.
What's known about the informal recycling sector in Shanghai is that individual collectors like Mr. Wang bring their items either to a recycling market, where they'll be further sorted, or to an industrial recycling plant, where the recycling of the materials actually takes place. What is not transparent is who runs these recycling plants and whether these facilities and their owners are following legal practices that are sound for human health and the environment.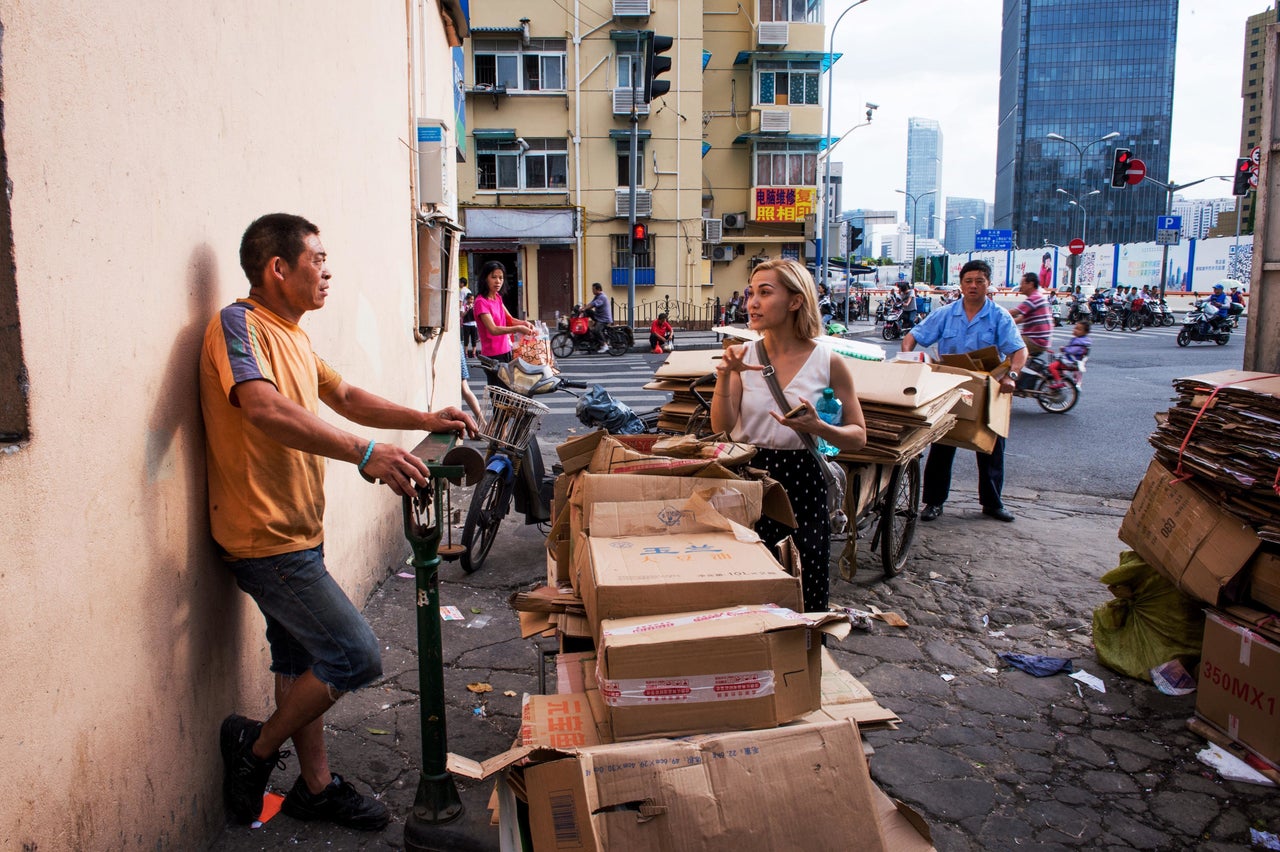 Taking a break from loading his truck, Mr. Wang leaned against a stack of TVs and lit a cigarette.
"Yes, I'm worried," he said, when asked whether he'd seen any changes in the recycling business lately. "I don't know what I'll do if I can't do this anymore."
For now, however, the recyclers of Shanghai continue their work.
"There is no rest for us," a jovial young man from Anhui province told me as he sorted through large bales of plastic bottles at a recycling site.
He looked up the sky, wincing at the sun. "Maybe if there's a typhoon, we can stop."
Support HuffPost
The Stakes Have Never Been Higher
Related
Before You Go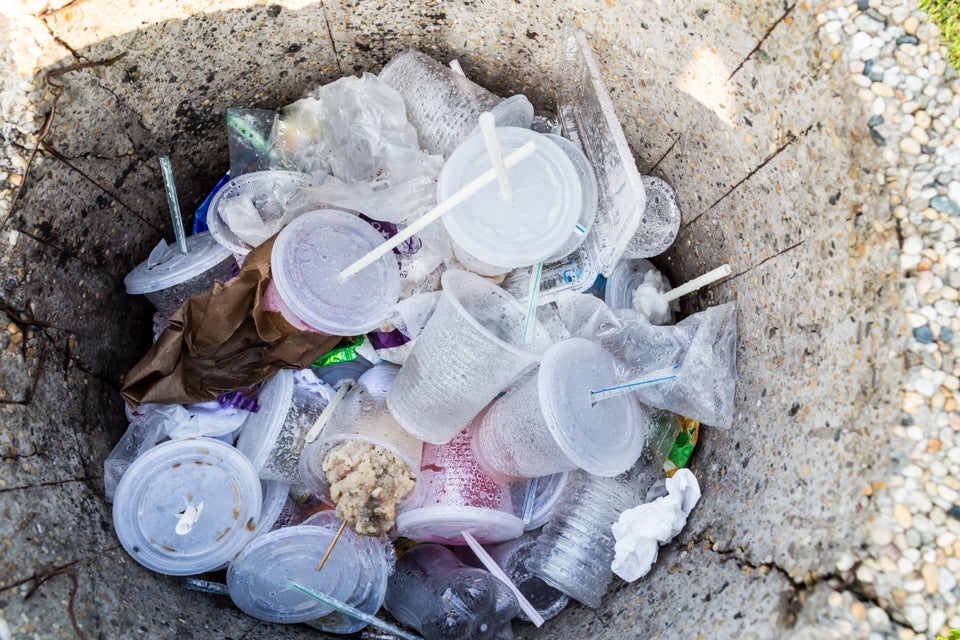 10 Things You Can Do To Help Curb Ocean Plastics
Popular in the Community