Seeing Tibet and Tibetans on the London stage is a rare thing indeed. When I was a child in the late 1980s, I remember being taken on an afternoon outing to the Arts Theatre in the West End to see a Unicorn children's play called "The Dragon Wakes". A Tibetan lady, Sedhar Chozam, was performing in the play and had given all the children of the Tibetan Sunday school (a handful of kids) free tickets to come and see it.
Even though Sedhar didn't play a Tibetan character, it was the first time that it had even entered my head that Tibetans could also be actors and performers. Up to that point, I think I'd only seen Tibet on the cinema screen, in Eddie Murphy's "Golden Child" (1986) - where the part of the Tibetan "priestess" had been played by Irish/Iraqi-Chilean Charlotte Lewis and the Golden Child himself had been played by a girl called Jasmine Reate. In 1985, Sedhar had played the part of Tibetan refugee girl called Kesang in "Thunderbolt" by Howard Purdie at the Traverse Theatre in Edinburgh.
On stage in London, Tibet hasn't had too much of a presence since the 1980s really. The Young Vic staged a production of "Tintin in Tibet" in 2005 and perhaps the last production with a Tibet connection was a small one man show at the Yard Theatre by Dominic Francis called "Younghusband" in 2012.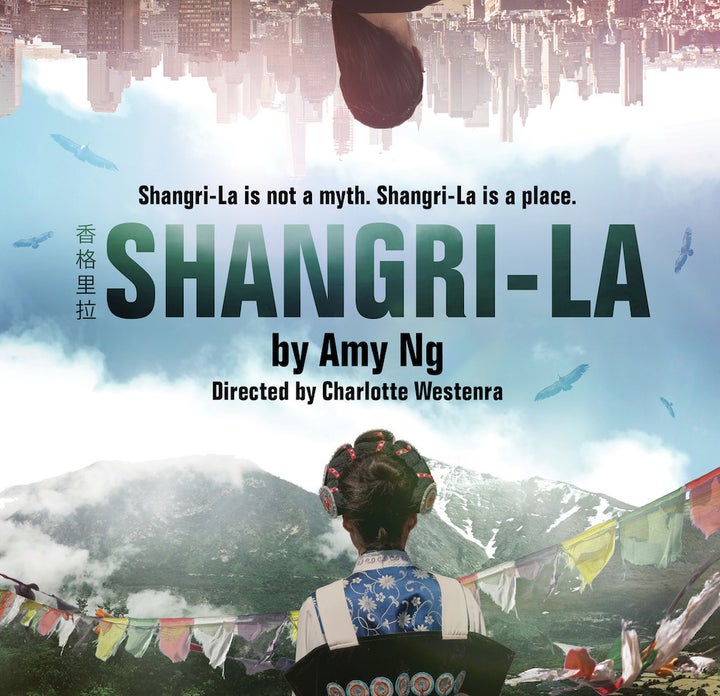 Over the last couple of weeks, therefore, a new London production called "Shangri-La" caught my eye on social media. Obviously the title made me think that it was Tibet-related and the blurb sounded intriguing: "What happens when the only thing you have to sell is your culture? When the only way to free yourself is to betray your roots?"
So trying to dig a bit deeper and keen to find out more about the play, I was disappointed to see no apparent Tibetan involvement in it. The writer Amy Ng is from Hong Kong, the director is British and the production company is Yellow Earth which highlights "British East Asian" Theatre. The play has one Tibetan character called Karma Tsering played by Andrew Koji.
I tweeted the play to ask two very simple questions, how many Tibetans are in the play and how many were involved in the production but their answer was not very forthcoming. Now I should say that I'm not against this play as such, what I have a problem with, is a production purporting to be about issues such as ethical tourism and cultural loss while simultaneously making very little effort to involve, include or amplify the voices of the people being portrayed and ignoring their agency.
The play claims not to "yellow face" but casting any Asian person as a Tibetan in this day and age isn't good enough. In approaching casting in this way, the production is showing Asians as a homogenised group with no recognition of the diversity within Asia. We've already had the Dr Strange controversy blow up this year and we'll soon also see the Chinese actress Fan Bingbing playing a Tibetan in her next film... So it seems that anyone can play a Tibetan, as long as they're not Tibetan.
This whole episode has been very disappointing - the simple answer to the questions I posted on Twitter eventually turned out to be 0, despite their blog response titled "Addressing the concerns of Tibetans who have tweeted us". What's interesting in the first instance is that they so clearly played up the connection to Tibet in their publicity material and social media whilst playing it down in their response to us: "For clarity the production is set in Shangri-La, Yunnan Province." That is painful to read, marketable Tibet in all the publicity materials becomes Yunnan Province when you are addressing Tibetans in exile who inconveniently called you out on social media. It's also not so smart to use the Chinese created name of the place when directly addressing Tibetans as we like to refer to the place using the good old Tibetan name, Gyalthang.
I really question how much effort the Shangri-La team put into finding Tibetans. Searching through the professional database for actors (Sedhar Chozam can be found on Spotlight but anyway) just might not work for Tibetans, a different approach is needed. Why didn't the team start at the most obvious place, the UK Tibetan Community? There are also UK based Tibetan academics such as Tsering Topgyal at Birmingham University, Lama Jabb - an expert on contemporary Tibetan Literature at Oxford University and Tsering Dhondup who teaches Tibetan there. The team could have asked all these people for advice and suggestions.
Here in the UK, just in my lifetime, the Tibetan community has grown from just tens to many hundreds and a growing number of young people spending their weekends learning Tibetan language and practicing Tibetan performing arts in the cultural group. Our very own Tibetan rock star, Ngawang Lodup will be gracing the stage at WOMAD next week for the second year in a row, having been discovered by BBC Introducing last year. A lot of Tibetans have been extras in major feature films such as "The Secret Life of Walter Mitty", "Batman Begins", "40 Ronin", "The Last Samurai". Nicolas Winding Refn's "Valhalla Rising" (2009) even managed to find 20 UK-based Tibetan guys to be in it. London-based Nawang Anja-Tsang, is both an actor and has made several documentaries about Tibet, the most well-known being 2011's "Little Tibet". I myself can proudly claim to have put together a fantastic cultural event at Kings Place in June 2015 called Banned Expression, using solely Tibetan talent to be found on these shores.
Are we Tibetans an invisible community, in Tibet and in exile? Are we not worth reaching out to? The production managed to get funding for Chinese outreach here in London, meaning they could give out 100 free tickets and they also partnered with something called the British Chinese Project which according to its website, "works with partner organisations, individuals and volunteers on community outreach events and projects to strengthen the social and political presence of British-Chinese community." It doesn't look good to make no effort to contact Tibetans and instead to contribute to the minoritisation of an underrepresented people who provide and are the basis of the material of your play. This is a problem. The idea that only the Chinese community are involved means you are endorsing the coloniser's view and your funders are thus dictating your actions.
Seeing oneself represented is such a powerful thing and can hugely boost the self-esteem of a people. If the 50 or so Tibetan Sunday School kids today could go and see a Tibetan actor on stage, it might inspire more to have and pursue an interest in the arts. In light of the marginalisation that Tibetans face in Tibet (and elsewhere), it is only fitting that representations of Tibet create agency and not ignore it.
Note 1: After our various tweets and their blog response, the Shangri-La team reached out to me personally as well as others to invite us to see the play tonight. Unfortunately I have a prior commitment but I do hope to catch it before the run finishes. For details and tickets for the play, here is the theatre's website: http://www.finboroughtheatre.co.uk/productions/2016/shangrila.php
Note 2: Over the course of writing this article I discovered in my research that Abhishek Majumdar is developing a play about contemporary Tibet for the Royal Court Theatre and has been doing research in Dharamsala, working and consulting with Tibetans. This sounds promising and hopefully indicates the direction of things to come.
Related
Popular in the Community