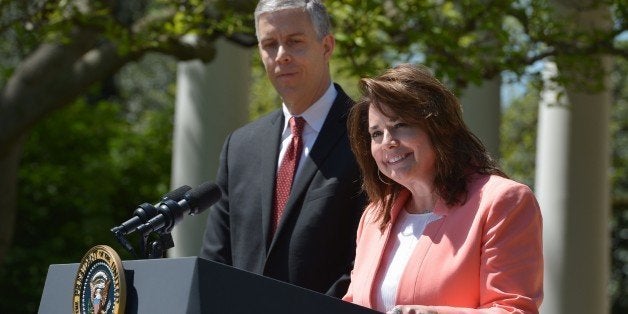 The 2015 National Teacher of the Year said she thinks now is a great time to into education, even though she acknowledged many challenges educators today face.
"It's sort of depressing because you don't go into [teaching] for money, at all," Shanna Peeples of Amarillo, Texas, said. "But there's a point where you do have to feed your family. And I really don't know any teacher that doesn't work another job of some kind."
The Council of Chief State School Officers named Peeples the 2015 Teacher of the Year late last month. Peeples, who teaches at Palo Duro High School, spoke to The Huffington Post this week -- teacher appreciation week -- about the current challenges facing teachers, why they often feel underappreciated and the students of whom she is most proud.
Unlike her peer and mentor Nancie Atwell, who was honored this year with an award that has been dubbed the "Nobel Prize of teaching," Peeples thinks "now is the time" to go into teaching.
In March, Atwell told CNN she would advise kids against becoming teachers, because "public school teachers are so constrained right now by the Common Core Standards and the tests that are developed to monitor what teachers are doing with them."
"I understand why [Atwell] said what she said and in context, that she felt there was a lot of pressure on teachers," Peeples said. "I'm going to take the exact other [approach]. I don't think that there's a better time to go in. I think now is the time you want to do it, especially if you're young and you want to make a difference and you're idealistic."
"To me," she continued, "there's nothing more meaningful than teaching."
Peeples, like Atwell, is an English teacher. She works with a range of students -- some are top performers in Advanced Placement classes, while others have recently been released from jail.
In a ceremony last week, President Barack Obama praised Peeples for her work with students who recently came to America from war-torn countries.
"Many of her students face challenges that would overwhelm adults, let alone kids. ... Many are refugees from places like Iraq and Somalia, many of them have known trauma and violence in their lives," Obama said. "Shanna's classroom provides them a safe haven."

Through working with these students, Peeples said she has learned lessons that can help teachers who find themselves in classrooms with students who experience violence in their homes or neighborhoods.
"My own background, coming out of a home with domestic violence, alcoholism ... the trauma is similar, unfortunately," said Peeples. "I see the same sorts of trauma responses in my students who were born and raised in Amarillo as I see with students who fled terrible things in Burma and Africa."
"I think the most important thing you can do is make [the classroom] a safe space ... work on building trust immediately, and that trust may mean that you have to make unique allowances for that student's unique situation," she continued. "It's sort of a plea to look at each child uniquely and find out what their greatest need is as far as feeling safe in your classroom."
She said that although local students and parents seem to appreciate educators, society at large does not always value the profession.
"There seems to be, in some places, a hostile climate for public education and teachers. That's definitely a shift I've seen," Peeples, who has been teaching for 13 years, said. "The people who love public schools and teachers don't really have a megaphone. ... I don't really understand what's going on, but you can feel it."
Appreciation from students, Peeples said, is "what teachers live on. I tell teachers when I speak to them ... save everyone of those drawings, everyone of those letters [of appreciation from students]. That's as close as you're going to get to a parade."
Finally, Peeples spoke about what she considers one of her greatest success stories, a student named Angel who was court ordered to attend a night program she taught.
"I did this ridiculous Jedi mind trick on him," she said. "I'm very proud of it. I went to him and I said, 'Angel, I do this class in the daytime and these boys I teach think all the books I teach are stupid and boring and dumb. You just came out of court and jail, you have a pretty exciting life, would you write me something so they could read it?'"
Peeples said Angel "was willing to do the editing and revision on it because he knew it was going to be for a real audience and a real purpose. To me, that's a success story that's as big as my student who went to Harvard, because that meant that Angel was going to keep coming back ... and he really saw the value of working on his voice and expressing himself in an authentic way."
Calling all HuffPost superfans!
Sign up for membership to become a founding member and help shape HuffPost's next chapter
BEFORE YOU GO
PHOTO GALLERY
Teachers We Wish We Had