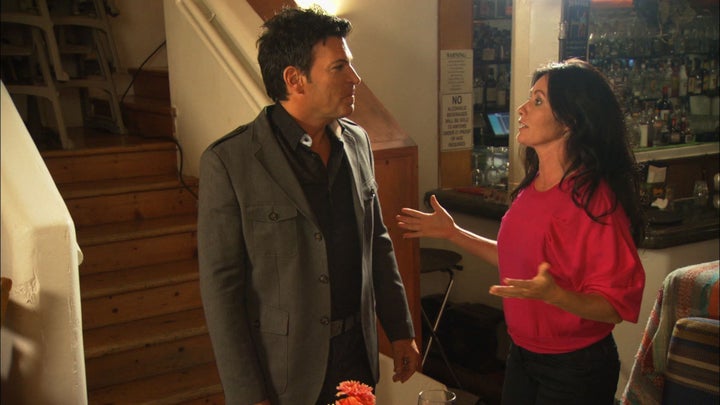 Shannen Doherty is nothing if not brutally honest -- and she wouldn't have it any other way. In a career move that would soften the image of almost any Hollywood bad girl, Doherty let a reality TV crew film her planning her wedding for "Shannen Says" (Sundays, 10 p.m. ET on WE tv) ... but is it working?
Doherty, who tied the knot with photographer Kurt Iswarienko back in October, seems pretty happy with how she's being portrayed on the show, but admits that because they set out to make the show really honest and authentic, "sometimes I'm not gonna come across great."
And although this is her third marriage -- the other two being to Ashley Hamilton in 1993 (whom she divorced after five months of marriage) and Rick Salomon in 2002 (which was annulled after seven months and one infamous leaked sex tape with Paris Hilton) -- it was her first real wedding, which brought added stress.
WE's resident wedding planner David Tutera is working hard to make the event perfect, but this week, things get especially tense with Doherty's soon-to-be-husband traveling on business and Doherty refusing to make decisions without him (watch the preview below). On a seven-week timeline, there's not much room for procrastination. "I'm stressed because I have a bride that's stressed because her groom is gone!," Tutera says.
Doherty opened up about her fans' reactions to the show so far, and if she'd do another season following the birth of her future kids, a la her old pal Tori Spelling. And speaking of old pals, I couldn't help but ask about a recent photo of Doherty with Jennie Garth, her one-time nemesis from their "Beverly Hills, 90210" days -- are they friends now? Let's just say they're not quite as tight as Doherty and her "Charmed" co-star Holly Marie Combs -- "we are sisters" -- but they've mended some fences, unlike her and offscreen "Charmed" sparring partner Alyssa Milano.
Keep reading for more, including Doherty comparing herself to Hannibal Lecter, admitting she's fine being a little boring and getting giddy at the idea of guest starring on a certain fan-favorite show ...
You're really active on Twitter -- what's been the best show reaction from your fans?
I love, love, love the fact that my fans have fallen in love with my mom. [Laughs.] Because I love my mom! To hear people talk about how great and funny and strong she is, and how she's a mom, is really important. I was having a conversation with her yesterday and she was like, "Oh god, I didn't look so great on the show." And I was like, "You know what? I think you should be super happy with the way that you're coming across, because you were yourself and you didn't sit there with a hair and makeup team for two hours, you didn't have a stylist. You were just a mom." For so many people, it's nice to see that someone is just a mom and that it's not about all this other stuff.
Well and it sounds so silly, but it's that someone like you has a normal mom. People forget!
Right! [Laughs.] And I only wish that they could've gotten to know my dad more as well. But I'm really happy that the fans are loving my mom as much as I love her.
So you like the way your mom is portrayed on the show, but are you happy with how you are being portrayed? Or have there been some things that have shocked you when watching it, like "I don't do that!"
I think overall I'm happy about all of it, and that's because it's really honest and authentic, which means sometimes I'm not gonna come across great. And yeah, maybe I'm like, "Oh I wish I hadn't said that," but at the same time, there's such a lack of authenticity on reality TV. What I love about my show is we just went out there and were ourselves. You're always going to have haters in the world -- you can't please everybody. All you can really do is please yourself and be authentic.
That being said, I think "Family Day" got blown so out of proportion, and you miss a lot of what Family Day actually means because of editing ... I actually blogged about it, because it wasn't about me being controlling, it was a tradition when my dad was alive. Every Sunday they'd come over and we'd spend the entire day with them. For me, Family Day is even more important now because it's honoring my father. It came off wrong, like I was controlling, on the show, but I can't be worried about stuff like that -- the minute you are, the minute your show becomes fake like so many reality shows out there. There were days when I'm sure the producers were rolling their eyes like, "This is so boring." But this is my life. If we're boring, I think that's good -- I think it's OK to have the audience relax with us.
So are you a reality TV fan? Did you watch any shows to prep yourself on what not to do?
[Laughs.] Yeah, there are some shows that I watch, not for research but for pure entertainment, like "Tori & Dean," and I have watched "[Keeping Up with] The Kardashians." I actually really like "Tori & Dean" quite a bit. I think there's something authentic about that show as well. But then there's the other shows -- I'm not going to be catty and name them -- but you're like "Where did they pluck this person from?" And you just know there's a producer on the sidelines, trying to get them to lose their mind on camera for the sake of drama, and those shows make me cringe.
But did you have fun shooting this show? Because planning a wedding is stressful enough, then you threw a reality TV crew in the mix ...
I did have fun ... there was a lot of joy in planning a wedding. Obviously planning it in seven weeks was incredibly stressful, and planning it in seven weeks when there was confusion about invitations and budget issues, that was stressful. And I definitely had a budget. This was my first actual wedding, so part of me wanted to go all out, and I did, but I did it within a budget. That was important to me because we want to have a child, and there's a future to think about ...
Oh a child. That's the storyline for Season 2, I'm guessing?
[Laughs.] Oh god -- no, no, no, no!
Would you do another season?
Oh god, I don't know ... I have no idea. Kurt and I are both a bit confused about it. The original idea was that it was a one-off -- it was about this time in a couple's life where they get married and how stressful it can be. That's what we were capturing. I don't know ... part of us is like, it'd be interesting to do it in other ways, and the other side is like, OK, let's just go back to what we do. First and foremost, Kurt is a photographer, and I'm an actor. What I love to do more than anything else is shed my skin and put on the skin of a character ... that sounds so Hannibal Lecter. I'm sorry. [Laughs.] That's so gross that I just said that, but it's true! I don't know ... if the audience responds, and we weigh how it would affect our relationship to do another season ... I have no idea. We'll wait and see.
I was so happy recently when you tweeted a picture of you and Jennie Garth. Are you friends -- really, legitimately friends -- now? Because you've got a tricky past ...
Yeah, I mean, I think that the one thing we can all agree upon is that I'm a brutally honest human being, and sometimes that has not served me very well. But it's something that I can't change about myself, and it's something that I really like. I like the fact that I'm honest, and I'm not going to pretend to be friends with somebody when I'm not friends with them. We can all look at cases where we can say clearly this is somebody she didn't vibe with and she's not pretending to.
Jennie and I reconnected on the new "90210" and, through that process, we were able to sort of talk and work out what our issues were with each other in the past, and look at each other and go, "OK, wow... I get where you were coming from." And she got where I was coming from back then. And then acknowledge that we're both incredibly different people now and that we've both matured quite a bit and we've both been through heartache and pain. We've both lost our fathers, and we've both gone through divorces and we can sort of be there, as women, for each other. And I do like her. Seeing her at her birthday, I was so happy for her, and so happy that she was doing well and she had a new show coming out, and she's happy for me. So yeah, I do consider her a friend.
And you and your "Charmed" co-star Holly Marie Combs are still tweeting about being BFFs ...
Holly -- that's never been a question. Holly's been my sister since I was 18 years old. [Aaron] Spelling offered me "Charmed" and was like, "Who do you want as your co-stars?" And I said Holly. I've championed Holly and her career for a really long time, as she's done for me. We're sisters. That relationship has never gone away. We've been sisters for a lifetime at this point.
You should actually play her sister on "Pretty Little Liars" ...
Oh yeah, I'd love that! You should be my manager! If you want a job, it's open right now. [Laughs.]
"Shannen Says" airs Sundays, 10 p.m. ET on WE tv.
Check out a preview of this week's new episode:
Related
Popular in the Community